Sky show: Perfect weather for seeing Comet Neowise this week
Clear skies, low humidity and no evening moon provide excellent viewing
Fish out those binoculars Minnesota. There's a rare sky show in the northern sky after sunset this week. And our weather looks perfect.
NASA's Near-Earth Object Wide-field Infrared Survey Explorer discovered C/2020 F3 Neowise in March. The comet's nickname Neowise comes form that acronym for that sensor.
So far, the images from NASA are stunning. NASA elaborates on what we're seeing in this image.
The twin tails of Comet Neowise are seen more clearly in this image from the WISPR instrument, which has been processed to increase contrast and remove excess brightness from scattered sunlight, revealing more detail in the comet tails.

The lower tail, which appears broad and fuzzy, is the dust tail of Comet Neowise — created when dust lifts off the surface of the comet's nucleus and trails behind the comet in its orbit. Scientists hope to use WISPR's images to study the size of dust grains within the dust tail, as well as the rate at which the comet sheds dust.  

The upper tail is the ion tail, which is made up of gases that have been ionized by losing electrons in the Sun's intense light. These ionized gases are buffeted by the solar wind — the Sun's constant outflow of magnetized material — creating the ion tail that extends directly away from the Sun. Parker Solar Probe's images appear to show a divide in the ion tail. This could mean that Comet Neowise has two ion tails, in addition to its dust tail, though scientists would need more data and analysis to confirm this possibility.
Minnesota's sky show
This looks like the best week for seeing Neowise in Minnesota. Weather conditions look excellent. Most of Minnesota will see a dry air mass with dew points in the 50s through Thursday. The lack of tropical moisture in the atmosphere makes for clearer skies and better viewing optics.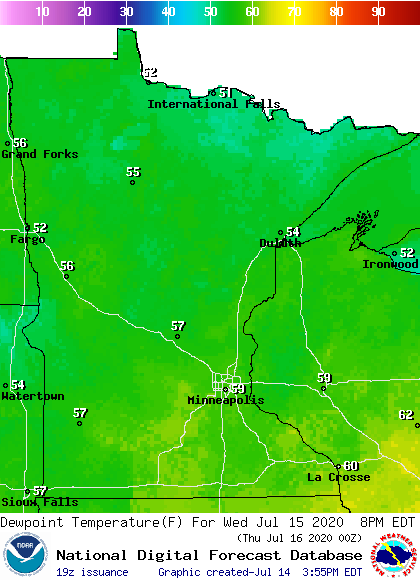 A few clouds linger across southeast Minnesota tonight, but the rest of Minnesota will enjoy mostly clear skies. Most of Minnesota will see clear skies Wednesday and Thursday evenings.
Look north-northwest after sunset
To improve your Neowise viewing, get away from city lights. Look NNW about an hour to 80 minutes after sunset. You should see Neowise with the naked eye. But binoculars or a telescope will greatly improve your view.
NASA experts will give viewing tips on #NASAScience Live Wednesday at 3 p.m. EDT — 2 p.m. Minnesota time.
Enjoy the rare sight in the northwest evening sky this week.
Your support matters.
You make MPR News possible. Individual donations are behind the clarity in coverage from our reporters across the state, stories that connect us, and conversations that provide perspectives. Help ensure MPR remains a resource that brings Minnesotans together.