Blue skies return: Upper wind trajectory blowing less smoke toward Minnesota
The mid and upper air flow has cleared most of the smoke from Minnesota skies.
Minnesota's trademark blue September skies are back.
The mid and upper air trajectory has shifted more into the northwest. The change is enough to blow the thickest smoke plumes from the massive western wildfires southwest of Minnesota.
NOAA's GOES-16 visible satellite loop shows thicker smoke smudges over the Dakotas and Nebraska Friday afternoon. Clearer skies and less smoke is visible over Minnesota.
Blue sky Saturday
The upper airflow should keep most of the smoke at bay again Saturday. A slightly thicker smoke layer may edge into southwest Minnesota Saturday.
In southwest Minnesota you may notice a white-tinted sky during the day, with a more vivid reddish sunset Saturday night.
Smoke layer scatters sunlight
Why is the sky white during the day and reddish at sunset when we see it through an elevated smoke layer?
It's due to the light scattering properties of smoke particles. Smoke is very efficient at scattering out the blue light wavelengths. As a result, redder tones make it through to our eyes here at ground level.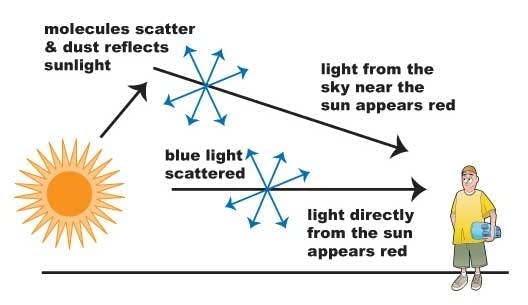 Enjoy our lovely Minnesota blue skies.
Your support matters.
You make MPR News possible. Individual donations are behind the clarity in coverage from our reporters across the state, stories that connect us, and conversations that provide perspectives. Help ensure MPR remains a resource that brings Minnesotans together.