Activist DeRay Mckesson to help with the no-knock policy in Minneapolis
It has been five days since 22-year-old Amir Locke was killed by Minneapolis police during a no-knock warrant when he was asleep on the couch. Police initially identified him as a suspect, but that was wrong.
In response to Locke's killing, residents across the metro area have a number of demands including the resignation of interim Minneapolis police Chief Amelia Huffman and a permanent ban on no-knock warrants.
Civil rights activist and podcast host DeRay Mckesson is credited with helping a number of states and localities pass laws banning no-knock warrants. He's been enlisted by Minneapolis Mayor Jacob Frey's administration to work on public safety policy.
The below interview has been slightly edited for clarity. Listen to the full story using the audio player above.
MPR News is Member Supported
What does that mean? The news, analysis and community conversation found here is funded by donations from individuals. Make a gift of any amount today to support this resource for everyone.
Working with leaders in Minneapolis on banning no-knocks
We have [Campaign Zero] led the national work around ending no-knock raids, and we connected as soon as I saw this. But we had actually been working with the Frey administration I think beginning in November, hoping to push these changes through.
The connection to Breonna Taylor
Breonna Taylor was killed in a raid gone wrong. The police entered the house. They said they did not execute it as a no-knock, but in practice that's what it was. They go into the house, kill Breonna and shoot her boyfriend, who lives. It was definitely the most high-profile case about a no-knock raid gone wrong that people have seen in recent history. It opened up the conversation and the question about why there are no-knock raids at all.
People have put too much focus on the warrant type and not enough focus on the activity. What we want to do is stop no-knock raids.
You can actually use either of the two main warrants to do a no-knock raid. The most common one that people know is called a no-knock. So that means that the police break into your house without knocking and then say that they're the police. The other kind that is actually the most used search warrant of the law is called a knock and announce. That means that the police wait outside, they knock and say they're the police and then they come in the door.
Functionally, they are the same because the threshold is so low for a knock and announce that the police can literally just whisper your name and break in the door and that would meet the requirements in almost every state until we work on the changes.
Campaign Zero has a public rating of all the policies we see around the country. Minneapolis gets a 5.5 out of 15. Some of the changes are pretty basic, like requiring a 30-second wait time before the police can enter anybody's property. Thirty seconds is the floor, not the ceiling — still low — but that would have saved Amir Locke's life.
Addressing loopholes in the laws
We believe that we can take the loopholes out. We believe that we can make the law reflect the best practices that will save people's lives and also encourage public safety.
Part of our work is to do the deep dive to make sure that we understand the rules and the policies, as well as the police, so that we can remind people that you actually don't need any of these tools to keep communities safe.
What changes he'd like to see
Banning no-knock warrants would be a big start that would make it harder for police to get permission to just break into people's houses without any announcement.
Also, the search warrant application is like Mad Libs, right? It's very much "fill in the blanks." We want there to be more information put in the application for all search warrants because these are planned encounters. The police are planning to do this. And if you're going to plan that, you should plan that really well. We should know the ages, genders and disability status of the people in the house. The judge should know whether the police are about to execute a search warrant in a nursing home or a nursery, right?
Making sure that the police are clearly recognizable and identifiable. Can they do plainclothes search warrant executions? They should not be able to. Should they be able to throw a flash-bang and stun devices in people's houses? No. Should we allow them to execute search warrants in the middle of the night when people are definitely going to be asleep? No.
It's a host of things that we want to put into law or policy to make sure that it restricts the power of the police to do damage.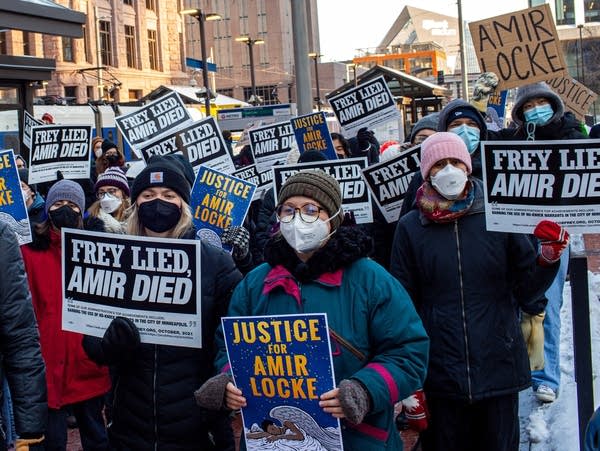 Policies beyond ending no-knock raids
There's no one thing that will be the great change. Only 5 percent of calls are for violent crime. Removing the police or people with guns from responding to the majority of things is a good thing. Restricting officer use of force is a good thing. There are a host of things that have to work in concert. There's no one strategy that wins.
MPR News' unanswered calls to Mayor Frey
I don't work for the mayor's office. I have no clue. I have no comment about that. That doesn't change our work at all.
The mayor's office has been really thoughtful about engaging in the substance of the content around these policy changes. I'm hopeful that we get to [a score of] 15. The most aggressive laws in the country around this are recent. Maryland has a 9.5 out of 15. We did that bill — that was hard to do, but we did it collectively with the Maryland State Legislature. And New Jersey as an 8 out of 15. Those are the two furthest. I'm hoping that Minneapolis goes even further than those. The mayor's office and the mayor himself has been receptive and open. So I'm hopeful that this is quick.
The future of public safety
I believe that we can win in this lifetime. I think that we can live in a world where we have an understanding of public safety that is not rooted in people with guns responding to every instance of a conflict or harm. As a Black man in America, I want to see as many people living as possible. I want to see as many people able to live out their dreams and live successful and beautiful lives and not be killed or hampered by the presence or the activity of the police.
I think that we are not as good at talking about the things that have changed. In the past year or so, six states banned or restricted the execution of search warrants to limit no-knock raids. That's actually really big. Nineteen states changed laws restricting officers' use of force. Real stuff is happening. That is really powerful. So I do think there's momentum.
Subscribe to the Minnesota Now podcast on Apple Podcasts, Google Podcasts, Spotify or wherever you get your podcasts.