Reports: Minn.'s air pollution levels dropped, but still caused early deaths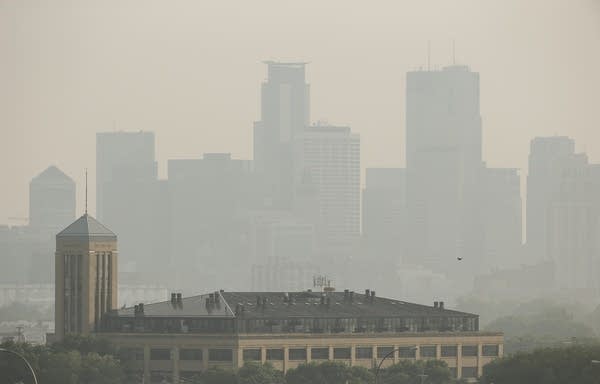 Air quality in Minnesota has improved but air pollution continues to contribute to premature deaths and hospitalizations — and its impacts fall disproportionately on communities where health disparities already exist.
Those are the findings of new reports released Tuesday by the Minnesota Pollution Control Agency and Department of Health. They analyzed 2015 data on air pollution and health in the seven-county Twin Cities metro area and three regional centers, St. Cloud, Duluth and Rochester.
The findings included some good news. In the Twin Cities, fine particle pollution declined by about 30 percent and ozone pollution by nearly 10 percent between 2008 and 2015.
The number of deaths among Twin Cities residents attributed to fine air pollution fell by about 26 percent during that time period.
But despite those improvements, air pollution still contributed to an estimated 10 percent of all deaths in the metro area, or about 1,600 people, and 9 percent of deaths in St. Cloud, Duluth and Rochester, or about 280 people. And it played a role in nearly 500 hospitalizations and emergency room visits in the Twin Cities due to heart or lung problems.
"We know that on average in Minnesota, the air quality is good, and it does meet federal standards," said Kathy Raleigh, an epidemiologist with the state Health Department. "But we have seen that even low and moderate levels of air pollution can contribute to serious illness and death."
Gain a Better Understanding of Today
MPR News is not just a listener supported source of information, it's a resource where listeners are supported. We take you beyond the headlines to the world we share in Minnesota. Become a sustainer today to fuel MPR News all year long.
Air pollution comes from a variety of sources, including transportation, energy-generating power plants, industrial facilities, wood-burning stoves and wildfires. 
Exposure to fine particle pollution can lead to acute symptoms such as shortness of breath, chest pain and difficulty breathing. Longer-term impacts can include heart and lung conditions such as asthma or cardiovascular disease.
Air pollution disproportionately affects communities with more people of color, those living in poverty or without health insurance, and people with disabilities, said David Bael, an economic policy analyst with the Minnesota Pollution Control Agency.
"We see wide and consistent disparities of who is most affected by air pollution," Bael said. "These disparities are driven both by differences in air pollution exposure, and by underlying health inequities."
One example: Areas with the highest proportion of residents of color had more than five times the rate of emergency room visits due to asthma linked to fine particle pollution, compared to areas with more white residents, Bael said.
Reducing air pollution is one of the state's strategies to address inequities in health care, housing and other social factors that influence health, Bael said.
Improving air quality by 10 percent from current levels could avoid more than 200 early deaths in the Twin Cities metro area and the three greater Minnesota cities, he said.