Minnesota man charged in fatal stabbing along Wisconsin river
Updated: 4:25 p.m.
Prosecutors have charged a Minnesota man with first-degree intentional homicide for allegedly fatally stabbing a teenage boy and wounding four other people while tubing down a western Wisconsin river over the weekend.
Nicolae Miu, 52, of Prior Lake, also faces four counts of attempted first-degree intentional homicide. He faces a potential life sentence if convicted of the most serious charge. He appeared in court via video link on Monday afternoon.
At the court hearing in Hudson, Wis., Judge Michael Waterman said the seriousness of the allegations called for Miu to be jailed on a $1 million bond.
The St. Croix County Sheriff's Office said a 17-year-old boy from Stillwater, Minn., died from stab wounds suffered Saturday along the Apple River near Somerset, Wis.
Grow the Future of Public Media
MPR News is supported by Members. Gifts from individuals power everything you find here. Make a gift of any amount today to become a Member!
Four other people — two men, ages 20 and 22, from Luck, Wis.; a 22-year-old man from Elk River, Minn.; and a 24-year-old woman from Burnsville, Minn. — were taken to Regions Hospital in St. Paul with "serious to critical injuries," the sheriff's office reported. The two men from Luck have since been released from the hospital, Sheriff Scott Knudson said Monday.
Authorities said the stabbing happened just before 4 p.m. Saturday, just upstream from the Highways 35-64 bridge in Somerset.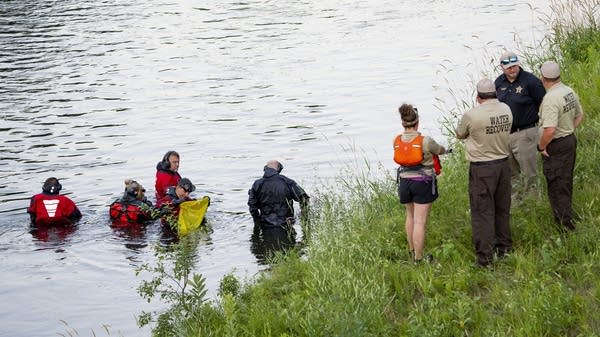 Details from criminal complaint
According to a criminal complaint filed just minutes before Miu's initial court appearance, the incident started with a confrontation between Miu — who was tubing down the river with his wife and several other people — and at least one other group of people tubing on the river.
Miu reportedly told investigators he was using a snorkel and goggles to look for a lost cell phone. Video and witness accounts of what happened next indicate bystanders accused him of approaching children in the water — sparking a confrontation between Miu and a surrounding group of people.
The complaint alleges that witnesses reported Miu "was bothering" a group of juveniles, and that other people then confronted Miu and told him to leave.
Miu appeared to have had time and a route to leave the confrontation, but did not do so, he complaint alleges. At least one of the witnesses told investigators that the fight started when Miu punched a woman in the crowd.
The complaint says video shows Miu falling into the river and then emerging with a knife in his hand and stabbing a person. The video shows at least one other person apparently being injured and shows, according to the criminal complaint, that "there was enough blood in the river that the water turned a red tint in places."
In an interview after his arrest, Miu claimed the stabbing was provoked. "They attacked me," he told an investigator, according to the complaint. "I was in self-defense mode." 
Miu told investigators that at least two other people in the crowd had knives, and that he actually took one of the weapons away from one of the males in the crowd, but didn't know what had happened to it.
Witnesses alerted authorities to the suspect's location, and he was arrested without incident at a park in Somerset where tubing parties exit the river.
Miu said very little during Monday's court hearing, and an attorney representing him told the judge that Miu was a longtime Minnesota resident and a ventilation engineer for a Bloomington company, and didn't represent a flight risk.
More than a dozen friends and family of the victims were in court for Monday's hearing, but did not speak during the proceedings or as they filed out of the courthouse.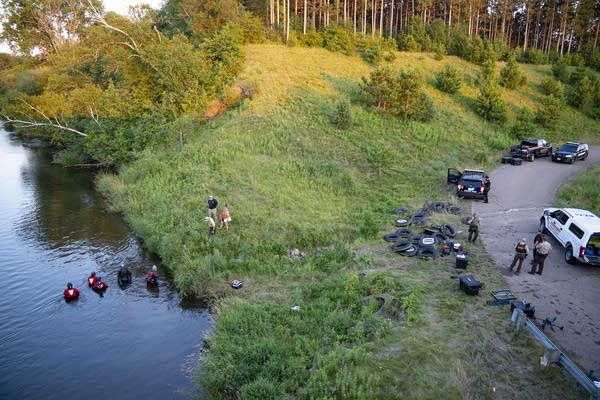 'Heartbroken and devastated'
KARE 11, citing family members, identified the boy who died as Isaac Schuman, who was set to begin his senior year at Stillwater Area High School.
"Isaac entered every room with a big smile, infectiously positive aura, and lifted everyone around him up. He had an incredibly bright future ahead of him and we are all heartbroken and devastated beyond words that his future has been tragically and senselessly cut short," the family said in a statement provided to KARE.
The family said Isaac had started a car and boat detailing business and was "mature for his age and had a forward-looking mentality that was uncommon for a high school junior."
In a message sent to school families on Sunday, Stillwater Area High School Principal Robert Bach wrote that "we extend our deepest sympathy to the family and everyone impacted directly or indirectly by their passing. During this time of grief we ask you to keep the family in your thoughts. The death of a classmate, even for those who didn't know them well, will impact each student differently and all reactions need to be addressed with great care and support."
The school provided families with a list of resources.
The Apple River is a popular summer destination, drawing crowds of people to tube downstream for several hours.
River's Edge Apple River Campground — one of several tubing operators along the river near Somerset — posted on its Facebook page that tubing on the river was halted for Sunday as authorities continued to investigate the stabbing, with plans to resume operations on Monday.
The business thanked first responders who came to the aid of the injured and helped others on a "difficult and tragic day on the river."
"The River's Edge family is saddened by this senseless act, and our hearts go out to those affected and their families and friends," the post stated.
Knudson, the St. Croix County sheriff, said the case is still under investigation, but his office also plans to boost its presence in the area.
"We're probably going to increase some patrols down in that area — if anything, as a deterrent, or to let people see that we're right there, a closer area for response," he said.
"Tempers flare, alcohol plays a part," Knudson said of summer tubing along the Apple River. "This obviously is about to the furthest extreme we can get. It's been a number of years since an incident even close to this has taken place up there. But you put heat, alcohol and sometimes tempers, it can sometimes be a very bad mix."