Aurora Alert: Geomagnetic storm watch for potential 'cannibal CME'
Northern lights could be visible over Minnesota and the Upper Midwest this week.
There could be an overnight light show in the northern sky above Minnesota this week. Several earthward-directed Coronal Mass Ejections (CMEs) could strike the earth's atmosphere this week. They have the potential to cause a burst of northern lights as far south as Iowa.
NOAA's Space Weather Center has issued a geomagnetic storm watch.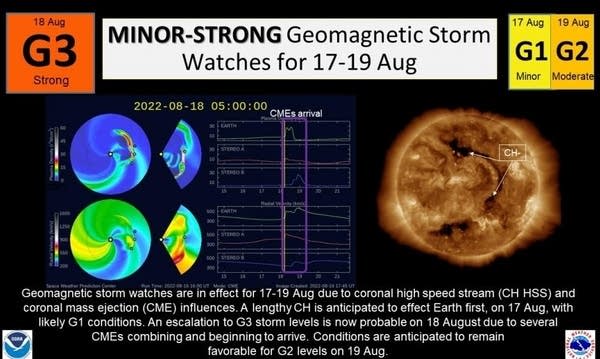 Here's more detail on possible conditions from NOAA.
G1-G3 WATCHES FOR 17-19 AUGUST, 2022

published: Tuesday, August 16, 2022 20:14 UTC

Geomagnetic storm watches are in effect for 17-19 August, 2022 due to likely CH HSS and CME influences. A recurrent coronal hole (CH) high speed stream (HSS) is anticipated to connect with Earth first, on 17 Aug. The resultant elevated and disturbed solar wind field is thought to be enough for potential G1 (Minor) geomagnetic storm conditions on 17 Aug.

Geomagnetic responses are likely to escalate to G3 (Strong) conditions on 18 Aug due to the arrival at or near Earth of multiple coronal mass ejections (CMEs) that have departed the Sun since 14 Aug.

Despite the numerous CMEs, most are expected to have little to no impact at Earth, however, at least four have potential Earth-directed components. The most recent flare-associated CME took place from small, but complex, Region 3078 at 3:58 am EDT (0758 UTC) on 16 Aug; while the first CME in this chain of activity took place on 14 Aug.

Forecast confidence is low to moderate regarding Earth impact of these CMEs, as most of the ejecta is expected to pass either ahead or south of Earth's orbit. However, model runs indicate combined arrival of some of these CMEs at or in the vicinity of Earth beginning 18 Aug – therefore, the G3 (Strong) storm watch is in effect for that day. Any CME influences are likely to continue on 19 Aug and a G2 (Moderate) storm watch is posted accordingly.

When the CME approaches Earth, NOAA's DSCOVR satellite will be among the first spacecraft to detect the real-time solar wind changes and SWPC forecasters will issue any appropriate warnings. Impacts to our technology from a G3 storm are usually minimal. However, a G3 storm has the potential to drive the aurora further away from its normal polar residence, and if other factors come together, the aurora might be seen over portions of Pennsylvania, Iowa, to northern Oregon. For additional information about space weather, geomagnetic storms, aurora and viewing tips, and CMEs – click the terms. NOAA's Space Weather Prediction Center is the official source for space weather forecasts, watches, warnings and alerts. Visit www.spaceweather.gov for updates. Learn about Solar Cycle 25.
Cannibal CME
This week's event could be what space watchers call a cannibal CME event. That happens when two CMEs blast off the sun in close proximity. If the second wave overtakes the lead wave they can combine to form a stronger solar storm as it hits earth.
Here's more from spaceweather.com.
POTENTIAL 'CANNIBAL CME' EVENT (UPDATED): On Aug. 14th, a dark plasma eruption hurled one CME toward Earth. On Aug. 15th, an exploding magnetic filament launched another CME right behind it. The two CMEs will arrive together on Aug.18th, according to the latest forecast model from NOAA:

This could be a "Cannibal CME" event. In other words, the second CME might overtake and gobble up the first, creating a mish-mash of the two. Cannibal CMEs contain tangled magnetic fields and compressed plasmas that sometimes spark strong geomagnetic storms.

Update: NOAA forecasters have upgraded their geomagnetic storm watch from category G2 (moderate) to category G3 (strong) in response to models that suggest multiple CME impacts on Aug. 18th. During such storms naked-eye auroras can descend into the USA as far south as Illinois and Oregon (geomagnetic latitude 50 degrees). Cameras with sensitive night-sky settings may record auroras even farther south than that.
Night owls may want to keep an eye on the nighttime sky especially Wednesday night into early Thursday. The best chance to see an aurora is far away from city lights in an area with a dark view of the northern sky.
Good luck!
Grow the Future of Public Media
MPR News is supported by Members. Gifts from individuals power everything you find here. Make a gift of any amount today to become a Member!