MN statewide offices: DFLers sweep AG, auditor, secretary of state races
Updated: Nov. 9, 2:10 p.m.
DFL incumbents completed an Election Day sweep Tuesday, holding onto all five Minnesota statewide offices.
Decisive wins late Tuesday by Gov. Tim Walz, Lt. Gov. Peggy Flanagan and Secretary of State Steve Simon left two very close races to watch — Minnesota attorney general and state auditor.
By Wednesday afternoon, though, the Republican challengers for those jobs conceded defeat.
Keith Ellison will return for a second term as Minnesota attorney general. Although the race hasn't been called officially for Ellison, "the results are now clear" GOP challenger Jim Schultz said in a statement, adding that he planned to call Ellison "to congratulate him on his reelection."
Grow the Future of Public Media
MPR News is supported by Members. Gifts from individuals power everything you find here. Make a gift of any amount today to become a Member!
With all precincts reporting, the DFL incumbent was leading Schultz by just under 21,000 votes out of more than 2 million ballots cast. That's a margin of just under a percentage point. If that unofficial result stands, it would fall outside of the margin for an automatic recount.
For statewide races, any race with a margin of less than one-quarter of 1 percent is subject to a publicly funded recount. Candidates can still potentially request a recount on their own.
The attorney general's office is tasked with protecting consumers, defending state agencies in court and occasionally prosecuting violent crime cases.
"This election was tough," Ellison said in a statement earlier in the day Wednesday that declared victory. "Millions of dollars were spent to sow division, hate, and fear. And we overcame it: we were positive, and Minnesotans responded."
Inside polling places across Minnesota
44 of 44
1 of 44
2 of 44
The candidates sparred for months over the state's approach to combating crime, ensuring access to abortion, guarding Minnesota consumers against scams, preventing fraud in state programs and more. 
During the campaign, Ellison sought to portray himself as "the people's lawyer," suing companies that price gouged during the pandemic and reaching settlements with opioid manufacturers for their role in the opioid addiction epidemic in his first term. 
He also highlighted his work prosecuting former Minneapolis police officer Derek Chauvin in George Floyd's murder while noting that Schultz, a corporate lawyer, has no courtroom experience.
"We've had our own hard times in the last few years, we've went through a the murder of George Floyd in our state, we went through an enormous trial which the whole world was watching us, we went through a global pandemic," Ellison told supporters at a Monday rally. "And through it all, we've stood together, and we have forwarded compassionate responses to the needs of people."
Partying and waiting for results
31 of 31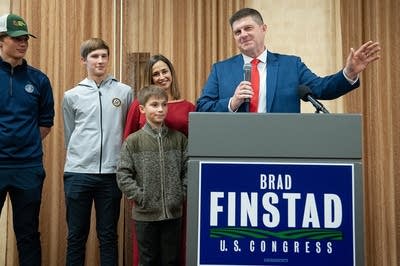 1 of 31
2 of 31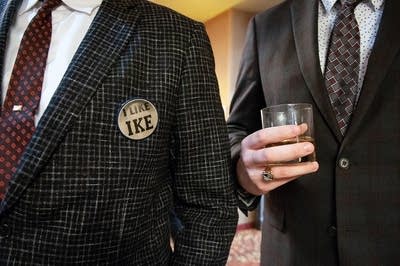 Schultz cast Ellison as weak on crime and touted the endorsements of dozens of county sheriffs and law enforcement groups saying he would support police. Minnesota last elected a Republican to the office in 1966, and voters should send a Republican to the office again to address growing rates of violent crime in the state, Schultz said.
"Minnesotans are ready for change," Schultz said Saturday after a campaign rally. "They're ready for an attorney general that is focused on public safety, that doesn't support defunding the police, that is focused on delivering change for the state of Minnesota."
Blaha reelected state auditor; challenger concedes
Control of the state auditor's office was also competitive late Tuesday into Wednesday, with incumbent Julie Blaha running against Republican challenger Ryan Wilson, Will Finn from the Grassroots-Legalize Cannabis Party and Tim Davis, of the Legal Marijuana Now Party.
By 8 a.m. Wednesday, Blaha declared victory in the race. By 2 p.m. Wednesday it was official, with Wilson posting a statement conceding that his campaign came up short of winning.
The office is responsible for acting as a watchdog over $40 billion in local government spending and, in some cases, investigating complaints. The auditor also sits on boards with the state's other constitutional officers.
On the campaign trail, Wilson and Blaha split on what the state auditor can actually do. Blaha said the office can assess documents and data for local governments and give them an evaluation of where things stand. From there, she said it's up to local officials to chart a course for what comes next.
Wilson disagreed with that assessment and said the auditor should do more to flag potential fraud or improper payments, even if that doesn't fit within the job description.
He also said Blaha should've done more to raise alarms about an alleged $250 million fraud scheme involving meals for children during the pandemic and cost overruns and delays on the Southwest Corridor light rail project in the Twin Cities.
'People in Minnesota know it'
In his quest to be reelected secretary of state, Simon ran on a message of aiming to uphold fair elections and ensuring access to the ballot, while GOP challenger Kim Crockett cast doubt on the outcome of the 2020 election and said the state should adopt tougher voting laws to prevent fraud.
Crockett had echoed former President Donald Trump's allegations that the 2020 election was "rigged" and called for election law rewrites. Trump endorsed Crockett's campaign.
After beating Crockett Tuesday, Simon told supporters in St. Paul that his victory was a vote of confidence in Minnesota's election system.
"Our system is not perfect but it is fundamentally fair, accurate, honest and secure and you know what? People in Minnesota know it."
Crockett did not immediately concede defeat in the election.
MPR News photographer Ben Hovland contributed to this report.