Weekend weather: Cold, breezy Saturday; temps recover a bit on Sunday
Friday snow accumulations highest in northern Minnesota
Our weekend weather will feature gusty winds and very cold temps on Saturday, then the winds ease off on Sunday as our temperatures recover.
Strong winds Thursday
Thursday's windy with the highest gusts over southwestern Minnesota, where a wind advisory continues until 4 p.m.
Here are details of the wind advisory:
URGENT - WEATHER MESSAGE National Weather Service Sioux Falls SD 1117 AM CST Thu Dec 1 2022 IAZ002-003-013-014-022-MNZ071-072-080-081-089-090-097-098-SDZ040- 056-012200- /O.CON.KFSD.WI.Y.0028.000000T0000Z-221201T2200Z/ Osceola-Dickinson-O`Brien-Clay-Buena Vista-Lincoln-Lyon-Murray- Cottonwood-Nobles-Jackson-Pipestone-Rock-Brookings-Moody- Including the cities of Sibley, Spirit Lake, Milford, Arnolds Park, Sheldon, Hartley, Sanborn, Spencer, Storm Lake, Tyler, Hendricks, Lake Benton, Ivanhoe, Marshall, Slayton, Fulda, Windom, Mountain Lake, Worthington, Jackson, Lakefield, Pipestone, Luverne, Brookings, and Flandreau 1117 AM CST Thu Dec 1 2022 ...WIND ADVISORY REMAINS IN EFFECT UNTIL 4 PM CST THIS AFTERNOON... * WHAT...South winds 25 to 30 mph with gusts up to 50 mph expected. * WHERE...Portions of northwest Iowa, southwest Minnesota and east central South Dakota. * WHEN...From 10 AM this morning to 4 PM CST this afternoon. * IMPACTS...Gusty winds could blow around unsecured objects. Tree limbs could be blown down and a few power outages may result. * ADDITIONAL DETAILS...Localized blowing snow may reduce visibility or lead to slick spots on some roadways. PRECAUTIONARY/PREPAREDNESS ACTIONS... Use extra caution when driving, especially if operating a high profile vehicle. Secure outdoor objects.
Snow spreads eastward on Friday
An approaching low-pressure system and its trailing cold front will spread snow across much of Minnesota and portions of Wisconsin Friday afternoon and evening, with the snow lingering into early Saturday morning in far northeastern Minnesota and parts of Wisconsin.
The National Oceanic and Atmospheric Administration's North American Mesoscale (NAM) forecast model shows the potential precipitation pattern from 6 a.m. Friday to 11 p.m. Friday:
The Twin Cities metro area and southern Minnesota could see a rain-snow mix toward midafternoon on Friday followed by some periods of light snow late Friday afternoon and into Friday evening.
Gain a Better Understanding of Today
MPR News is not just a listener supported source of information, it's a resource where listeners are supported. We take you beyond the headlines to the world we share in Minnesota. Become a sustainer today to fuel MPR News all year long.
Parts of northern Minnesota will see 1 to 2-inch snow totals Friday afternoon into early Saturday morning, with some patchy ice accumulations also possible:
Winds will be gusty Friday and Friday night, reducing visibilities and creating areas of blowing snow.
Find updated weather information for Minnesota and western Wisconsin on the Minnesota Public Radio News network, and on the MPR News live weather blog.
The daylight hours of Saturday and Sunday look dry in most of Minnesota, with a light snow chance returning to far northern Minnesota late Sunday afternoon and Sunday evening.
Weekend temps and winds
Our average Twin Cities high temperature is 33 degrees on Dec. 3. Metro area highs will only reach the upper teens on Saturday. Highs in the teens are expected in many locations on Saturday, with 20s in southern Minnesota:
Saturday afternoon wind gusts will be in the 15 to 22-mph range in many areas, with higher gusts in northeastern Minnesota:
Forecast wind gusts are in knots, with 14 knots equal to 16.1 mph.
Saturday afternoon wind chill temps (which are based on sustained winds, not gusts) will be below zero in northern and central Minnesota, and slightly above zero in the south:
Wear warm clothes if spending extended time outdoors on Saturday.
Sunday highs will range from teens in far northern Minnesota to 30s in the far south: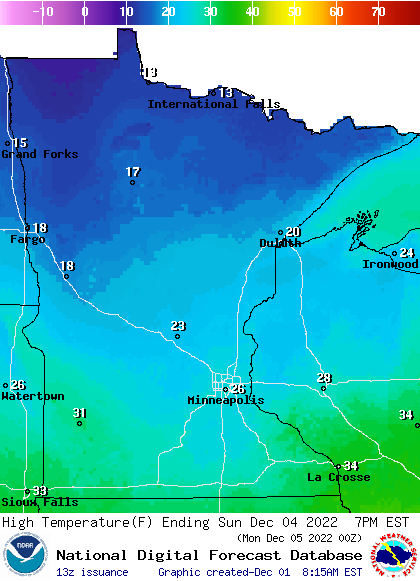 Sunday afternoon wind chill temps will be in the single digits and teens above zero in central and southern Minnesota, and slightly below zero in the northern third of Minnesota:
Programming note
You can hear my live weather updates on MPR News at 7:35 a.m., 9:35 a.m. and 4:39 p.m. Saturday and Sunday.