Fairview/Sanford merger plan criticized, praised in meeting called by MN attorney general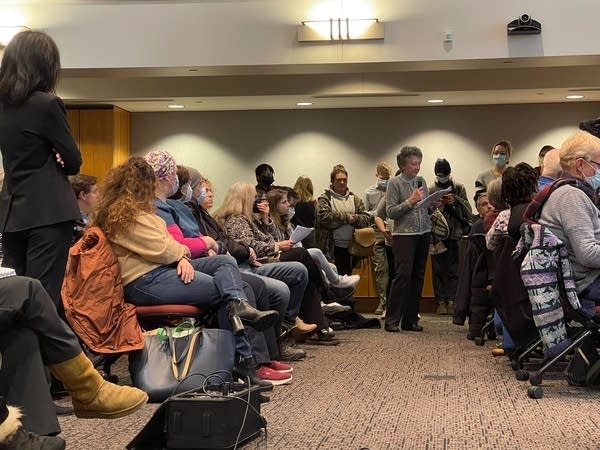 A huge merger proposed for two hospital systems ran into public criticism in the first of several meetings led by Minnesota Attorney General Keith Ellison in St. Paul.
Fairview Health Services and Sanford Health, based in South Dakota announced yet another attempt to combine in November.
Attorney General Ellison said his office is conducting its own investigation into the merger plan along with taking public comment and expects to make a decision sometime around the end of the month on whether to intervene.
"We're going to test it for its compliance with anti-trust laws, test it for its compliance with the charities laws. And then we're just going to ask ourselves, is it good for Minnesota?" Ellison said.
Grow the Future of Public Media
MPR News is supported by Members. Gifts from individuals power everything you find here. Make a gift of any amount today to become a Member!
Speaking at the standing-room-only event Tuesday, James Hereford, president and CEO of Fairview Health Services, said the past few years have tested the health care sector and that the merger will allow the two organizations to better invest in patient care. 
"We believe that together we can improve the experience for both patients and providers in a way that neither organization can do alone. Joining forces with Sanford is a proactive, bold change that will ensure we can continue to provide care for Minnesotans for decades to come," Hereford said.
But a majority of attendees raised concerns about the plan. One of the key issues is how a merger would impact the University of Minnesota Medical Center, which is currently operated by Fairview.
Sanford officials said the university would be given the option to repurchase the academic medical center from the combined system. Dean of the medical school Jakub Tolar said the merger should not move forward until these issues are resolved.
"Sanford and Fairview developed their proposed business merger without involving the University. We are not a party to the planning of this merger so we cannot provide assurance to you and the public, that the public purpose will be fulfilled," Tolar told Ellison.
Many of the concerns seemed to stem from the lack of concrete information about the proposed merger, including if a combined system of Sanford and Fairview would continue to support and provide reproductive health care and gender-affirming care.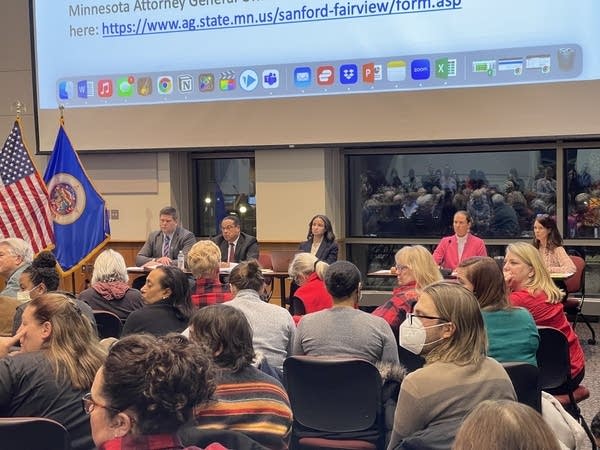 While Sanford Health officials said they would continue to support this type of care, Dr. Cresta Jones, who works with high-risk pregnancies that sometimes require abortion care at the University of Minnesota Medical Center, wants a formal commitment from Sanford leadership to support abortion access within its system.
"I am worried that if we don't have a formalized commitment, we will lose or have it chipped away at access to safe and effective reproductive health in the state," Jones said, "and that will compromise my patients' care."
Others at the hearing questioned Sanford's commitment to racial equity and reducing disparities within health care.
But Rebekah Fineday, Native American community advocate at Sanford in Bemidji, says the company provides better care, particularly for Indigenous Minnesotans.
"Growing up on the reservation and utilized both Indian Health Services and what was previously MeritCare, then North Country Regional Hospital and now Sanford Health, I have witnessed improved changes," Fineday said.
Additionally, members of the Minnesota Nurses' Association questioned if Sanford Health would honor their recently agreed-upon union contract. Representatives from the health care systems say they plan to honor and respect bargaining agreements. Nurse Sandie Anderson who works at M Health Fairview St. John's Hospital says she's still skeptical after what unfolded during the early stages of the negotiations.  
"Our negotiating teams were meeting with leadership since last March, before our contracts expired in June, we heard about the merger acquisition by the newspaper," Anderson said, adding she worries the post-merger company would not recognize the union.
Several other public hearings are scheduled across the state throughout January. The next meeting is scheduled for Bemidji on Jan. 17.