Minnesota, seen as abortion haven, still funds 'crisis pregnancy centers'
Published: 4 a.m. Jan. 23 | Updated: 4 p.m. Jan. 24
Fifty years after Roe v. Wade was decided and seven months after it was overturned, Gov. Tim Walz is set to debut his latest budget that may include the possible end of a little-known 18-year-old program that supports "crisis pregnancy centers," which are nonmedical anti-abortion organizations that deceive pregnant people and discourage abortion. 
Since 2005, Minnesota has given over $3 million in taxpayer money every grant cycle to 25 of these centers under the "positive alternatives grant," a program created by former Gov. Tim Pawlenty to discourage abortion. 
Now with a DFL hold on the state, Walz says he's ready to end the program, citing misinformation. 
"I think that there's a lot of misinformation that came out of that … I think women deserve better than that, I think they deserve to have the whole picture," he told MPR News in January.
Grow the Future of Public Media
MPR News is Member supported public media. Show your support today, donate, and ensure access to local news and in-depth conversations for everyone.
This comes after Minnesota Attorney General Keith Ellison issued a consumer alert in August against "crisis pregnancy centers" based on a 2021 study of nine states including Minnesota. He defined them as "private organizations that seek to prevent people from accessing abortion care as well as contraceptives."
"CPC is a term used to refer to certain facilities that represent themselves as legitimate reproductive health care clinics providing care for pregnant people but actually aim to dissuade people from accessing certain types of reproductive health care, including abortion care and even contraceptive options," the American College of Obstetricians and Gynecologists says.
Those in support of these centers, including some lawmakers, argue that they provide essential services and, post Roe, they're expanding across the country.
Alliance Defending Freedom, a nationally influential, conservative Christian legal advocacy group, says "these centers offer women life-affirming alternatives and emotional, mental, material and spiritual support when these women may be feeling alone and hopeless."
However, the study from The Alliance: State Advocates for Women's Rights and Gender Equality, called "Designed to Deceive," found that "crisis pregnancy centers" across states provide almost no actual medical care. The most common services offered were pregnancy tests, "free" material goods, "counseling" and "non-diagnostic" ultrasounds. Most don't offer prenatal care.
In Minnesota, research performed by legal and policy advocacy organization Gender Justice found found none of these anti-abortion centers offer contraception and 63 percent make false and biased claims about abortion, almost double the rate of such centers in other states.
It also found that while many claim to be medical offices, only 9 percent in Minnesota have a physician on staff and just 20 percent have a registered nurse on staff. At one Minnesota center, the medical professional on staff was actually an optometrist. 
Nine "crisis pregnancy centers" that receive funding from the state promote "abortion pill reversal," which the American College of Obstetricians and Gynecologists says is the "unethical" and possibly unsafe practice of prescribing progesterone to stop a medication abortion.
The group also says they "have no legal obligation to provide pregnant people with accurate information and are not subject to HIPAA or required by law to maintain client confidentiality" and often are affiliated with national organizations working with a "broadscale antiabortion agenda."
Even with this knowledge, there's nothing the Minnesota Department of Health can do to end funding unless the Legislature takes action. Department spokesperson Scott Simon explained that their role is to implement the program as required under state law. 
Minnesota isn't the only state that funds "crisis pregnancy centers." At least 13 states have given a total of $495 million to them since 2010, according to the Associated Press.
'Psychological warfare'
On Thursday, DFLers introduced HF 289, the "positive pregnancies" bill. If passed, the bill would require state grant recipients to provide medically accurate information about abortion and allocate funds to health care to assist pregnant people and young parents with prenatal care, medical care and reproductive health care, including abortions. "Crisis pregnancy centers" would have to change drastically to comply with new requirements if the bill passes.
State Sen. Kelly Morrison, chair of the Minnesota Reproductive Freedom Caucus , said in an interview with MPR News that the key for Minnesotans seeking abortion care is to know their options and "crisis pregnancy centers" block that. Morrison, a practicing OB-GYN, added that some of her patients have shared experiences with her in the past of being confused after seeking out help from these anti-abortion centers by mistake. 
"They really, really try to mislead people. They act like they are not designed to dissuade people from seeking out abortion care when, in fact, that's exactly what they are doing," said Morrison, DFL-Deephaven. "They are really dangerous."
While passing HF 289 would end state funding to "crisis pregnancy centers," it would not end their existence or their ability to spread misinformation. 
Rep. Peggy Scott., R-Andover, defended "crisis pregnancy centers," saying they provide care other places do not, such as post-abortion counseling.
Scott said abortions can be "really traumatic experiences" for people and told MPR News that a friend had a nervous breakdown after getting an abortion.
When asked about the misinformation these centers provide, she said it's not right to have misinformation but said the centers do not engage in it and only provide facts from medical providers and state data.
"Some women go through those doors, they don't even have health insurance and this is the only ultrasound they would see," Scott said. "The ones I have been inside help women with an unplanned pregnancy before, during and after."
A 2006 congressional investigation found that 87 percent of these federally funded centers "provided false or misleading information about the health effects of abortion."
This recent movement to defund these centers comes as abortion supporters take inventory of abortion restrictions and misinformation statewide in the wake of the overturning of Roe v. Wade. Among the people advocating for their end is Sarah Anderson, a former volunteer of a "crisis pregnancy center" in St. Paul. Anderson volunteered while in high school for a class.
She said on the day of her first shift 15 years ago she was asked whether or not she believed in abortion. She said yes, and then had to have a lengthy discussion about her values and what her role and others would entail — "pushing people away from abortion." 
Anderson said she was young and confused about what these centers truly did. She heard they gave people free strollers and car seats so she pushed forward with her volunteering hoping she could somehow make a difference. That never happened. 
"I do not want people in crisis to go to these places and think they will get any help — they won't. They are there to make sure you don't get an abortion. That's it," Anderson said. "They don't provide any medical ultrasound and they make that clear. They just say, 'Oh, there's the heartbeat; it has fingernails and hair.' It is psychological warfare."
A rural divide 
Brainerd is one of the areas of Minnesota that is farthest from an abortion clinic — the nearest is 100 miles away. It's also home to two "crisis pregnancy centers."
Becky Twamley, executive director of WeARE (Advocates for Reproductive Education) reproductive health clinic, feels like she is constantly fighting misinformation about reproductive health and abortion in part due to the centers and the overall lack of access to health care in rural areas.
"There is a lot of misinformation out there right now from social media to fake pregnancy centers. We are here to be trusted health care professionals," she said.
After Roe v. Wade was overturned, WeARE was busier than ever with requests for IUDs and other contraceptive methods. At the same time, anti-abortion centers in her area worked to spread misinformation about overturning's consequences.
Twamley shared a story from a patient who contacted her shortly after Roe v. Wade was overturned. 
"I got a late call in the summer and a woman was crying. She said, 'I just want to know the right pieces of information. I can't trust anyone. I just came from a pregnancy center. I want to have an abortion and when I went there they told me they would talk me through everything to get care and then they made me have an ultrasound." 
Twamley said the woman knew something was up and left, she said she felt harassed. Twamley said that she feels like this not only hurts abortion seekers in general, but rural America overall as they are left with the least amount of care. 
"People call me and say 'why can't I get the help I need?' We undermine the health care – real, legitimate health care — we need to be providing. That's the real crux of these centers. They're very misleading and based on an ideology, not medicine," Twamley said.
Dr. Sarah Traxler, chief medical officer of Planned Parenthood North Central States, agrees. She said the fact that Minnesota supports "crisis pregnancy centers" with state funding is particularly damaging for patients.
Similar to Twamley, she's had experiences with patients who say that their abortion was care was delayed because they were misled at one of these centers. 
"I have had patients who were told they were 'very, very, very early' in pregnancy by CPCs and have so much time to decide what to do and, by the time they decide, they find out they are actually well beyond the gestational age limits in Minnesota because they were deceived," she said. 
Minnesota law has restricted abortion after viability, generally considered to be around 24 to 26 weeks of pregnancy, except when pregnancy endangers the life or health of the parent, although the actual application of the law has been unclear. It's also rare to need to consider it: The state reported that just one abortion happened after the 24-week mark in 2021.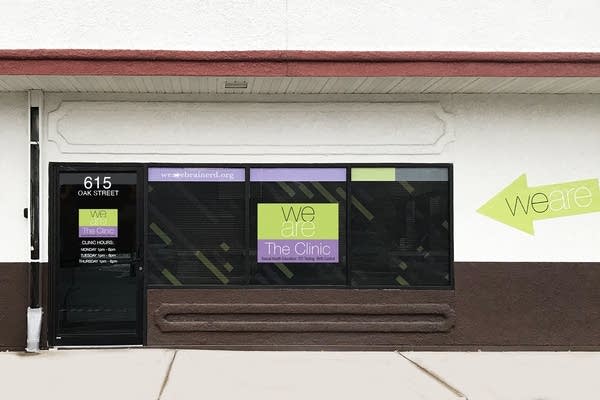 'They don't care about you'
MPR News contacted several "crisis pregnancy centers" in the Twin Cities and across the state, as well as Minnesota Citizens Concerned for Life, and all did not reply or declined to comment. But a pamphlet published by Pro-Life Action Ministries, an organization based in St. Paul that supports "crisis pregnancy centers," shows the work of these centers. 
"Having your baby is safer than having an abortion … We're here for you, you are not alone … Don't let an abortionist harm your baby!" the pamphlet reads. Photos of young children and Bible verses are accompanied by advertisements of weekend retreats to mend "the broken hearts of abortion." 
The pamphlets allege infertility, breast cancer and death are physical risks of abortion. According to the National Institutes of Health 2018 study, abortion does not cause any of the above risks. It found that when mortality rates from abortion and childbirth are compared, abortion is associated with fewer maternal deaths than carrying a pregnancy to term. 
Although Sarah Anderson volunteered nearly 15 years ago, she said she's confident nothing has changed. She recalled seeing religious crosses in the nonmedical ultrasound room. 
"They don't care about you as a person. It's about making sure you carry the fetus to term and that is a shame," she said.
Audio transcript
CATHY WURZER: So the legislature will get the governor's budget tomorrow. Also at the Capitol this week, the Minnesota State Senate is due to take up a bill that would enshrine the right to an abortion into state law. Now, this is a similar bill that the State House passed last week.

In addition to those measures that would protect the right to an abortion, Governor Walz has proposed ending state funding for pregnancy crisis centers across the state. Anti-abortion advocates say these centers offer important information to pregnant people about their other options. But critics say they mislead and intimidate patients with the sole purpose of preventing them from getting abortions and contraception.

They are more common across the state than abortion clinics and can play a major role in someone's experience of an unexpected pregnancy. MPR Digital Producer Sam Stroozas wrote about this. She's with us right now. Hey, Sam.

SAM STROOZAS: Hey, Cathy. How are you?

CATHY WURZER: I'm fine. Thanks for doing this. Say, for folks who are not familiar, what are crisis pregnancy centers? And how do they end up receiving state money?

SAM STROOZAS: So crisis pregnancy centers are non-medical anti-abortion organizations. They're centers that are against abortion and encourage pregnant people to carry their pregnancies to term. They began receiving funding in 2005. Former Governor Pallante introduced the Positive Alternatives Fund, and under this places that discourage abortion could get state funding. So then they started applying for state funding and for grants.

So besides the 25 anti-abortion centers on the list, there are also two other places, the Duluth Prison Project and division of Indian work that also get funding from the grant. But their work is a lot separate. So those in support of CPCs do argue that they provide essential services, but those again say that it's time to reduce the funding.

CATHY WURZER: What services do they offer? Do they offer supports for pregnant people? Do they offer adoption services? I don't understand. What do they offer specifically?

SAM STROOZAS: Exactly. So that's the thing that's fuzzy and a little bit hard to understand. So if you go to a website, a lot of times they look very similar to websites like Planned Parenthood or Abortion Clinics. They use a lot of the same names. So a lot of their titles are pregnancy choices, life care, stuff like that.

But if you do search abortion on the website, they usually do say they will not provide abortion. So a lot of the stuff that people are arguing that they do provide may be things like car seats and formula or classes that people can take. But in exchange for a lot of that, it's getting to hear this anti-abortion rhetoric that's prevalent at these centers.

CATHY WURZER: How much money does the state give to these facilities?

SAM STROOZAS: So it's about a five-year grant cycle. So within each grant cycle, they get about 3 and 1/2 million in funding. So some places get more than others. Within the funding application, they have to explain what services they provide. And then they have to follow certain stipulations.

So one of them, for example, is if someone comes in for a non-medical ultrasound, they have to provide characteristics of the fetus such as fingernail, growth hair, and then encourage them to carry to term. So a CPC in Alexandria, Minnesota got about $106,000 for the last five-year cycle. And then Options for women in East St. Paul got almost about 200,000.

CATHY WURZER: Now, you wrote that Attorney General Keith Ellison released this consumer report last summer about crisis pregnancy centers. And he cited a report that described them as deceptive and coercive. What did you find in your reporting? Are these clinics a source of misinformation?

SAM STROOZAS: Yeah. So in the study it was called Designed to Deceive, and it's by the Alliance State Advocates for women's rights. Gender Justice, the Minnesota Organization is a part of the alliance. So within the report, they did find that about 6 to 3% of these CPCs make fake claims.

About double at the rate of CPCs and other states. 22 promote the abortion pill reversal, which is actually not a practice medication in any way. It encourages folks not to take the second part of their abortion pill as there's two different steps to it.

And as far as in my reporting, I think that I spoke to a lot of folks that had really unique stories and brought a lot to the table. And I think it was definitely voices that we haven't heard from before, such as a former volunteer who did volunteer at a center and is now advocating against them.

CATHY WURZER: DFL members in the House have this bill that would address the funding. What would that do specifically?

SAM STROOZAS: So right now, we know the DFLers have a hold on a lot of Minnesota politics. So they are introducing HF289, which is the positive pregnancy bill. This wouldn't completely end the funding, but it would divert the funding. So this would change the qualifications of those who could apply.

So in the current funding under Pallante stuff, it says that you have to not promote abortion. You have to-- it doesn't say that have to have any accurate information. So what would change is that in able to get the money, you would need to be providing medically accurate information. So you cannot say things like abortion causes breast cancer or infertility like a lot of places do now.

So the funding would be redirected mostly to reproductive health clinics across the state and would work to fund things such as reproductive health care, including abortion, prenatal care, and birth control.

CATHY WURZER: Now, if the state does stop funding these crisis pregnancy centers, you wrote in your piece, @mprnews.org, they won't disappear. So where else are they getting their money?

SAM STROOZAS: So there is about 90 CPCs in Minnesota. And compared to abortion clinics, there's eight. So they receive a lot of donations in general from anti-abortion folks. They are nonprofits. They don't have to pay their taxes.

Life Lakes Care Center in Forest Lake Minnesota had a revenue of about 300,000 in 2021, and that's not including the grant. So they may receive less funding, but their donations are still going strong. But if they're viewed as legitimate or not, that's really up to Minnesotans.

CATHY WURZER: And before you go. Have you had a chance to talk to some of these crisis pregnancy centers? What did they say about your reporting and their work?

SAM STROOZAS: So I did contact a few of them. I left calls. I left messages. I was able to get someone on the phone who said they were not comfortable interviewing from options east in Saint Paul. So they said no comment. So right now, we haven't really heard from them.

CATHY WURZER: Sam, thank you so much.

SAM STROOZAS: Thank you.

CATHY WURZER: We just heard from MPR Digital Producer Sam Stroozas. You can read her story her news story about crisis pregnancy centers in Minnesota and the possibility that the state will stop funding them on our website mprnews.org.
Transcription services provided by 3Play Media.