New Warroad campus teaches robot maintenance as worker shortage continues
Updated: 10:06 a.m.
The Marvin Windows flagship factory in Warroad has a common problem: not enough workers.
"There's a scarcity and it's maybe even more exacerbated in a remote rural town like Warroad," said company CEO Paul Marvin. "We're trying a lot of different strategies."
Those strategies include bringing in temporary contract workers from other states for the first time to supplement the local workforce, creating a three-year plan to expand housing in Warroad and addressing a lack of day care access in the area.
Developing technology is also a tool for managing a worker shortage that will continue as the graying workforce of baby boomers retires.
MPR News is Member Supported
What does that mean? The news, analysis and community conversation found here is funded by donations from individuals. Make a gift of any amount today to support this resource for everyone.
"One strategy is just to become more efficient in our operations, so they require less people, and that's not about trying to replace human beings with robots or machines," said Marvin. "We just laid out a brand new five year strategy and automation and digital is a pillar of that five year strategy. But it's a marathon, not a sprint."
Marvin has factories and distribution centers across the country with a total about 7,000 employees.
About 1,800 people work at the flagship plant in Warroad and company officials said that's about 200 employees below optimum staffing.
Developing skilled workers
The Marvin factory is in the process of installing several robots. They will focus on replacing workers in repetitive or dangerous jobs, freeing those employees to do more skilled work.
Automation in manufacturing also requires people with the skills to operate and repair the technology.
Those workers are being trained in a college campus in downtown Warroad.
"We are the 55th MnSCU campus. And the farthest north," said Peggy Anderholm with the Advanced Resource Center for Innovation and Education.
Anderholm worked for five years to make what she calls a first of its kind collaboration with Northland Community and Technical College in East Grand Forks a reality.
Marvin owns the building and paid to remodel it. The program started late last year with a handful of students.
Mechatronics
The focus is on mechatronics, a combination of mechanical and electronic skills in high demand at manufacturing companies.
"Mechatronics, automation, robotics — that area was really very clearly the winner in terms of 'this is what is coming and coming quickly,'" said Anderholm. "So how could we get ahead of it, so that as we bring that equipment in, we have employees ready to work on it."
Students take online classes through NCTC in East Grand Forks and get hands on training at the state of the art lab in Warroad filled with equipment matching that used by local manufacturing companies. A private donor paid for $500,000 worth of tools and equipment.
"We call it the flex lab because it does have to be flexible and I try to make my schedule as flexible as possible," explained Jackson Harren, the only instructor based in Warroad.
"I've got students that work a day shift at their day job, so they're going to spend the time that they have available mostly in the evenings," he said. "So I have a couple of evenings that I'm here till 8 p.m. at night."
Studying while working
Quinn Tangen works at the Polaris factory that builds snowmobiles and off road vehicles 20 minutes away in Roseau.
He was planning to move to East Grand Forks for the mechatronics program and jumped at the chance to enroll in Warroad instead. He can keep working while he gets his two year degree with full company support.
"If I need days off and all that, they're like 'Oh yeah, gotta do what you gotta do to get it done.'" said Tangen. "Because they're all for me coming back and putting the skills I learned here into work down there."
Tangen said Polaris will be installing a new automated painting system and he hopes to use his new skills to help program and repair the robots.
Manufacturers offer tuition assistance said Anderholm, and the program works closely with companies that have students enrolled.
Anderholm also wants to remove as many barriers as possible, especially for students who might be intimidated by the higher education process.
"Jumping through hoops should not be part of your college experience. It was part of mine," said Anderholm. "It's notoriously been part of everybody's college experience, but I don't think it should be."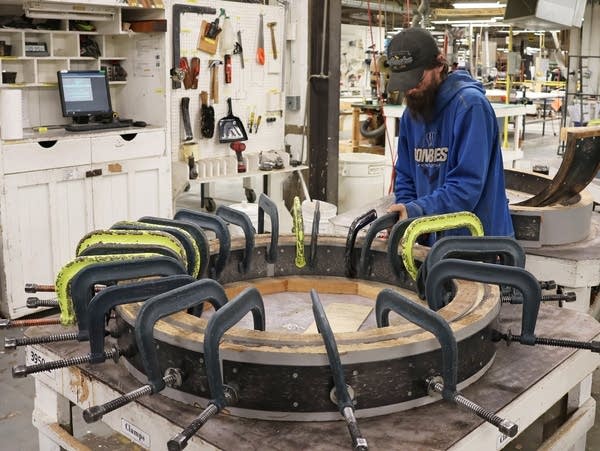 Jake Engler likes the flexibility of the program. He works days at the Marvin Windows factory in Warroad.
"I have a four year degree in psychology, so it's kind of a change in career path somewhere along the way," he said "But I've been into manufacturing now for probably about 12 years."
He likes his current job at the Marvin factory but he sees this training as a way increase his value as an employee.
"Many opportunities out there for maintenance careers in the future, engineering technician careers in the future, things like that," said Engler.
Understanding the technology will also make him more valuable in his current position.
Interest building
The new program is only in its second semester, but instructor Jackson Harren is seeing a lot of interest.
"A lot of conversations I'm having with students is helping them kind of relate where they're at in their career, what opportunity this can give them and then and what are some next steps and absolutely, it's higher skilled, higher pay and a more dynamic employee."
The program will roll out new classes each semester for two years until the program is in full operation. And it will likely be modified along the ways to adapt to industry needs, said Harren, a Warroad native who returned home after a career in the aerospace industry.
Marvin Windows CEO Paul Marvin calls the new program a valuable support for his company and the entire region.
"It's just also an aspect of small town pride in continued growth and momentum that feels good to everyone in the community to say this is a strategic piece, but it's also who we are — we continue to evolve and grow, it's maybe small, but mighty."
Correction (Jan. 30): An earlier version of this story incorrectly stated the number of people employed at the Marvin Windows factory in Warroad. The story has been updated.