Fairview and Sanford say they'll take two more months to finish merger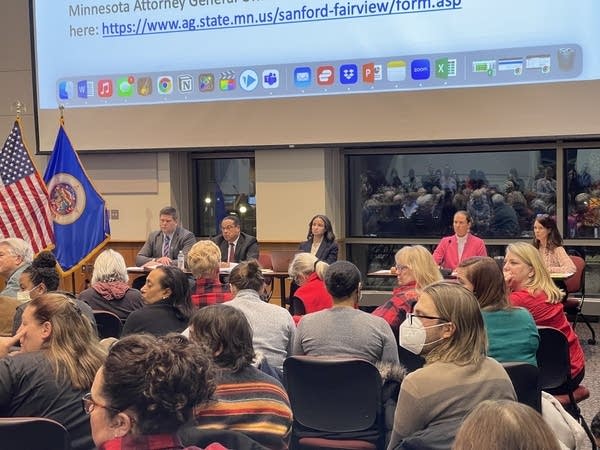 Two health systems proposing to merge say they will take more time after the University of Minnesota and state officials have pushed back on a previous target deadline of the end of March to finish the deal.
In a statement, Fairview and Sanford Health say they have "voluntarily extended our target planning date for completion of the merger to May 31, 2023."
The statement goes on to say that the move is in keeping with previous statements during public meetings, and that "we continue to work cooperatively with the attorney general to ensure they have the information necessary for the review."
But a statement from the Attorney General's office said the parties have not fully complied with repeated requests for information.
Grow the Future of Public Media
MPR News is Member supported public media. Show your support today, donate, and ensure access to local news and in-depth conversations for everyone.
"Additional time is not enough on its own to ensure that Minnesotans' interests are protected: the parties need to provide full responses to the Attorney General's Office's requests with sufficient time for review and analysis," said Deputy Chief of Staff John Stiles in a statement.
"We are considering all options available to us to secure compliance. Attorney General [Keith] Ellison is also aware of efforts legislators are exploring and has been in conversation with interested legislators."
The two health care giants first made public their plans to combine in November. Since then, there have been concerns raised by union leaders, legislators and others about how the merger would affect health care access in the state, including how it might impact the University of Minnesota's teaching hospital.
In mid-January, the U proposed a plan to reacquire the hospital, and others, from Fairview. Leaders at the University say until this and other questions about partnerships are resolved, the merger should not move forward. 
"The mission of the University and the public interests of the state must be front and center as we discuss this opportunity," Myron Frans, the U's senior vice president for finance and operations told lawmakers at the merger's first legislative hearing in January, as he requested "a delay of the merger until Fairview, Sanford and the University of Minnesota agree on a comprehensive plan to address essential issues in our five point plan."
Several legislators echoed concerns about the timeline, and some have drafted legislation that would add more oversight to health care transactions, like mergers. If passed, the bill would task the state Health Commissioner with reviewing and approving or disapproving the transaction, in consultation with the attorney general.
But officials with Fairview and Sanford have said that every day they wait is a missed opportunity.
"Health care delivery must adapt, innovate and seek ways to remove barriers and burdens faced by our patients and by our staff," said Fairview CEO James Hereford during the hearing.
"Our merger with Sanford means we can spread the costs of innovative new technologies across a broader care delivery system," as well as lowering cost structures, he said.