How rare is 100 degrees in the Twin Cities?
We may get close this week; severe storms favor southern Minnesota late Tuesday
There's talk of 100 degrees this week in the Twin Cities.
Forecast models are pushing temperatures close to the century mark across southern Minnesota Wednesday and Thursday. Most of us will probably end up between 95 and 99 degrees for peak temperatures this week.
Right now Thursday looks like the most favorable day to tickle the 100-degree mark in the Twin Cities. The National Oceanic and Atmospheric Administration's National Digital Forecast Database is cranking out 99 degrees Thursday afternoon at Minneapolis-St. Paul International Airport (see map above).
Wednesday will be no bargain either. Highs will push toward the mid to upper 90s across southern and western Minnesota, with more tolerable 80s up north.
Grow the Future of Public Media
MPR News is supported by Members. Gifts from individuals power everything you find here. Make a gift of any amount today to become a Member!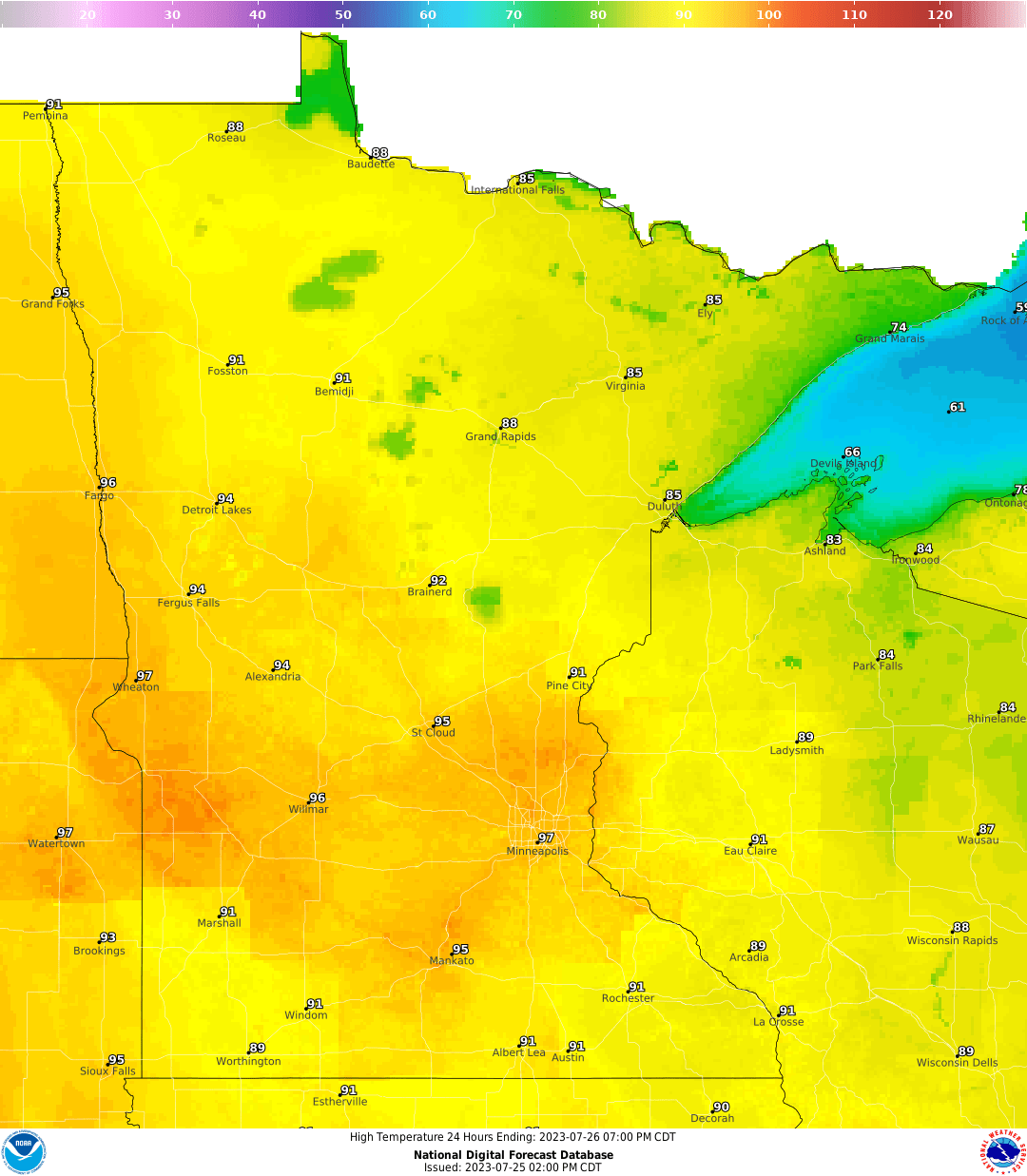 100-degree frequency
Let's face if, it gets hot and humid pretty much every summer in Minnesota for a few days to weeks. And as of this post, we've already hit 93 degrees at MSP airport Tuesday afternoon.
This is the 17th day of 90 degrees in the Twin Cities this year. That's well above the annual average of 13 days. We'll likely hit the 20-day mark by Friday afternoon.
But reaching 100 degrees in the Twin Cities is more rare than you might think. Looking at records that date back to 1873, the Twin Cities reaches 90 degrees about every four to five years on average.
MSP airport hit 101 last year on June 20. The last two times the Twin Cities hit 100 degrees before that were 2018 and 2012.
Here's a detailed description of the climatology of 100-degree temperatures in the Twin Cities from the Minnesota Climate Working Group.
The temperature reached 101 degrees F at the Twin Cities International Airport on June 20, 2022. This was the highest temperature recorded at the airport since July 6, 2012, and the first triple-digit temperature since 100 degrees F was recorded on May 28, 2018 (Memorial Day).

100-degree temperatures are relatively uncommon in the Twin Cities.  Looking back to 1873, the maximum temperature at the Twin Cities official measuring site has reached at least 100 F on just 67 days, covering 32 different years. Thus, these ultra-hot days only occur once every 4-5 years in the Twin Cities, but years that do have them often have more than one. The most was in 1936, with nine days.

The last time high temperatures reached or exceeded 100 degrees F twice in the same week was in July of 2012, and the last year with three or more100-degree maximum temperatures in the Twin Cities was 1988, when there were four.
Storms likely in southern MN Tuesday night
The next storm chances favor southern Minnesota, mainly south of the Twin Cities, overnight into Wednesday morning.
NOAA's North American Mesoscale Forecast System 3 km model develops a potential line of storms that is most likely to race from western Minnesota later this evening to southern Minnesota after midnight.
A few models suggest a storm at the northern end of this complex could clip the Twin Cities, but most of the activity will roll south of MSP airport.
There is a slight risk for severe storms through Tuesday night across western and southern Minnesota. A marginal risk runs eastward into parts of the Twin Cities.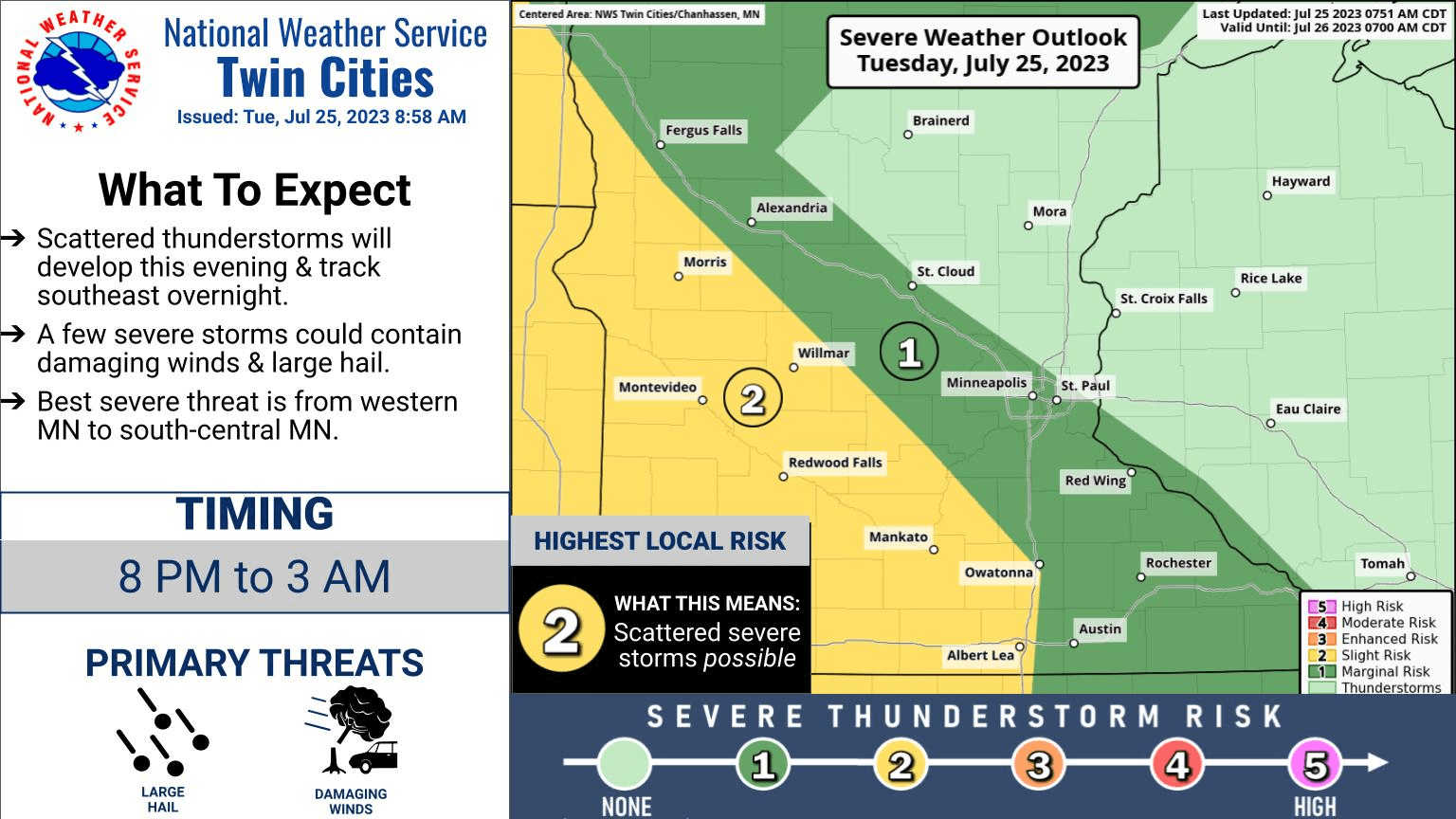 Keep an eye out for possible warnings Tuesday night into early Wednesday morning especially west and south of the greater Twin Cities area.