'World of spices' inspires Minnesota chef to celebrate Turkish-Latin fusion for Hispanic Heritage Month
Food writer and chef Amalia Moreno-Damgaard just returned from a trip to Turkey and brought back a basket full of spices. While the spices came from an ancient market in Istanbul, Amalia says they remind her of her homeland, Guatemala.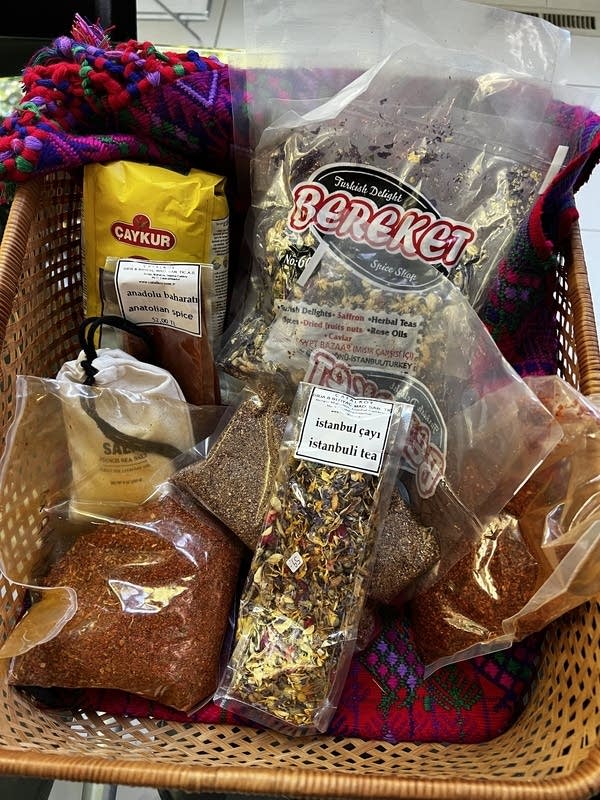 With spices in hand and Hispanic Heritage Month on the calendar, she invited MPR News host Tom Crann to her Twin Cities home to share chicken kebabs and tacos al pastor. The dishes are from different ends of the world but tied together by the historic spice trade routes they share.
"Most people know tacos al pastor because they are on a vertical spit. It's a grill that turns and then they slice it with a very thin knife. Well, that concept comes to Mexico from the Middle East." Moreno-Damgaard said. "When this concept comes to Mexico, then it acquires the local spices."
To hear the full interview, click play on the audio player above. And enjoy Moreno-Damgaard's recipes below.
Grow the Future of Public Media
MPR News is supported by Members. Gifts from individuals power everything you find here. Make a gift of any amount today to become a Member!
Tacos al pastor a la Amalia
By Amalia Moreno-Damgaard
3 to 4 pounds thinly sliced boneless country style ribs
4 seeded and stemmed dried guajillo chilis
3 seeded and stemmed dried ancho chilis
1/2 cup achiote paste with condiments
3/4 cup diced onion
4 medium cloves garlic
1 teaspoon ground cumin
1 teaspoon dried oregano
1 teaspoon ground cinnamon
1/2 teaspoon ground cloves
1/3 cup white vinegar
Juice of 2 oranges
Juice of 2 limes
Kosher salt and pepper
1 pineapple, peeled, sliced into rings, cored
Corn tortillas
Minced onions
Chopped fresh cilantro
Hot sauce
Preparation
Place chilis in a bowl (toast if desired) and cover with hot water, soaking for 15 minutes until softened.
In a blender, combine soaked chilies, achiote paste, chopped onion, garlic, cumin, oregano, cinnamon, cloves, white vinegar, orange juice, lime juice, and salt and pepper. Blend into a smooth paste.
Thoroughly coat pork in the paste, ensuring even coverage. Cover and refrigerate for at least 4 hours or, ideally, overnight.
Preheat a nonstick griddle over high heat, then reduce to medium-high.
Char the pineapple on both sides until medium brown. Set aflame with rum. Set aside.
On the same griddle, cook the pork until charred on both sides and cooked through.
Warm corn tortillas. Slice pork and cut pineapple into chunks.
Serve grilled pork on tortillas, garnished with minced onions, chopped cilantro and pineapple. Add your favorite hot sauce.
Shish Kebab with mint yogurt a la Amalia
By Amalia Moreno-Damgaard
Spice Rub
1.5 lbs. boneless, skinless chicken strips
2 teaspoons ground cumin
1 teaspoon Hungarian paprika
1 teaspoon pimentón (Spanish paprika)
1 teaspoon ground coriander
1 teaspoon dried oregano
1 teaspoon ground sumac
1 teaspoon ground turmeric
1/2 teaspoon cayenne pepper
1 teaspoon garlic powder
1 teaspoon onion powder
1 teaspoon ground black pepper
1 tablespoon kosher salt
Mint yogurt sauce (recipe below)
Warm flatbreads (naan) or pita
Preparation
Combine cumin, paprika, coriander, oregano, sumac, turmeric, cayenne pepper, garlic powder, onion powder, black pepper and kosher salt in a bowl for the dry spice mix.
Rub the spice blend evenly onto the meat, ensuring all sides are coated. Drizzle one tablespoon of olive oil to enhance spice adhesion.
Marinate the chicken in the refrigerator for at least 4 hours, preferably overnight.
Thread the marinated chicken onto skewers and grill until it reaches your preferred level of doneness, creating a delightful spice-infused crust on the exterior. 
Serve with mint yogurt sauce and flatbread.
Mint yogurt sauce
1 cup plain Greek yogurt
1 clove garlic smashed to a paste
1 tablespoon extra-virgin olive oil
1 tablespoon fresh lemon juice
1 tablespoon chopped fresh mint
Kosher salt and white pepper to taste
Place the plain yogurt in a mixing bowl.
Mix all ingredients in a bowl thoroughly to blend flavors.