Spring 2.0 this week: Wednesday soaker, 60s ahead
The weather maps may put a spring in your step this week.
More abundant sunshine and milder temperatures become more frequent in the next week. The jet stream appears to have finally performed the annual migration north into Canada. A higher sun angle and milder temperatures will make short work of remaining snow piles. More frequent 60s and possibly the season's first 70-degree temperature could arrive Saturday.
Cue spring fever.
Milder days ahead
Let's cut straight to the temperature chase. A few passing snow and rain showers linger across northern Minnesota Monday. Southern Minnesota enjoys plenty of sunshine Monday and Tuesday. Temperatures reach the 60-degree mark three or four days in the next week across much of Minnesota.
A few models suggest the season's first 70 in much of Minnesota Saturday.
Wednesday soaker
Our next storm wave arrives Wednesday. This week's low-pressure system will be about 15 to 20 degrees higher than last week. That means rain. Look for widespread showers and a few thunderstorms Wednesday, with a colder breeze and lingering rain showers Thursday.
Here's the National Oceanic and Atmospheric Administration's Global Forecast System GFS model.
Rainfall totals favor one-half to 1 inch north and west of Minneapolis-St. Paul. Soaking rainfall of 1 to 2 inches is more likely from the Twin Cities south and east.
Rivers: Second crest next weekend
The rain will send area rivers rising toward a potential second crest by next weekend.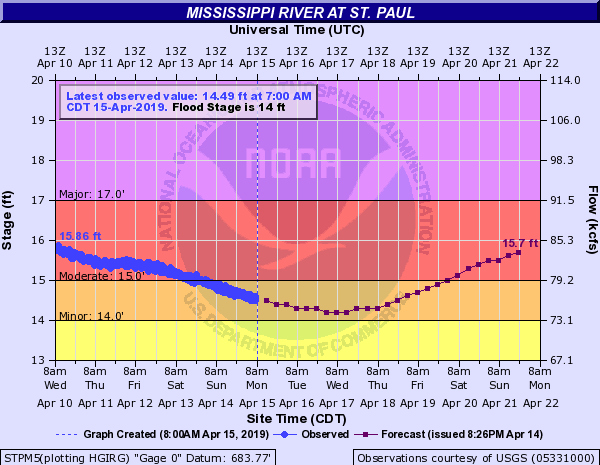 Ice out
Smaller lakes from the Twin Cities south are now ice-free. Most lakes are running near or a couple days behind average ice-out sates so far this spring. Check the ice-out progress on your favorite lake here.
The combination of sunshine, higher temps, wind and rain this week should take out bigger lakes like Minnetonka and White Bear later this week.
Ice-Out Loon-In
Speaking of ice-out, the Freshwater Society is holding the annual Ice-Out Loon-In Gala at the Metropolitan Ballroom on May 4.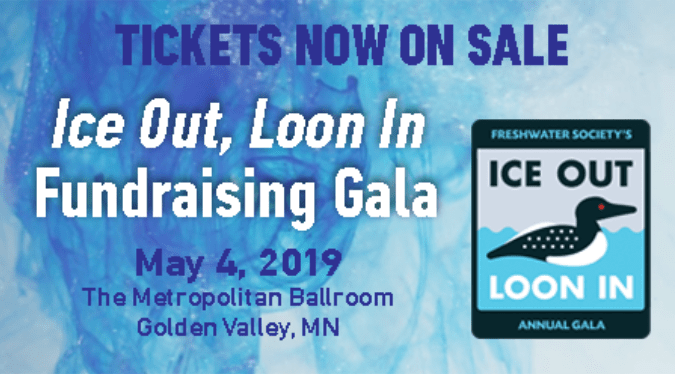 Beyond Weatherdome
It's always a treat to co-host an event with Minnesota climate guru Mark Seeley. We'll dissect the latest trends in Minnesota's weather and climate April 25 at the Bell Museum on the St. Paul campus at the University of Minnesota. Tickets for Beyond Weatherdome available here.
Enjoy our springy week ahead.