McClatchy selling Star Tribune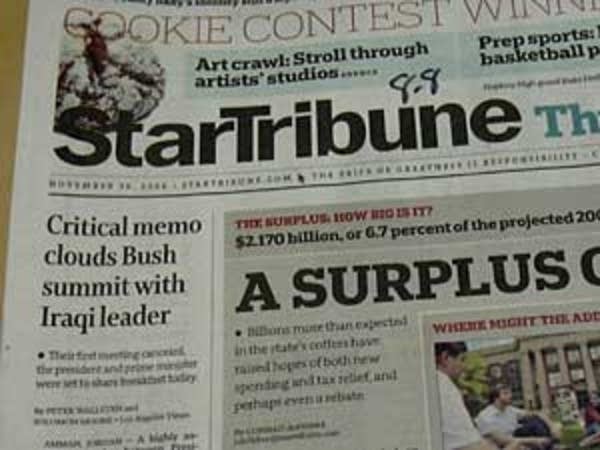 Avista Capital Partners has been looking at investing in the newspaper business for months. The company was among those interested in acquiring the Knight Ridder papers that McClatchy eventually bought earlier this year. Then about a month ago, the company got word of an unexpected opportunity.
"We knew there was a newspaper we were going to be invited to look at a few days before we knew the identity of it, and we were all guessing, and when we found out it was Minneapolis we were all very excited," said Chris Harte of Avista's advisory board.
Now we've been dealt off, spun off, dropped off, to a company that doesn't play that much of a role in the industry.
Harte says once he and his partners learned the Star Tribune was up for sale, they immediately started to crunch the numbers. Harte was especially excited about the prospect of landing a paper, having grown up with a father and grandfather in the newspaper business, and having been publisher at three papers himself.
Plus, Harte says the Star Tribune seemed like a smart investment to pursue.
"It seems to me to be well written, well edited, it seems to know the communities it's in and wants to cover them," he said. "Most of the things I look for in a newspaper, I found in the Star Tribune."
Including profitability. In 2005, the Star Tribune had nearly $380,000,000 in total revenues.
MPR News is Reader Funded
Before you keep reading, take a moment to donate to MPR News. Your financial support ensures that factual and trusted news and context remain accessible to all.
So the Avista partners put in a bid, which went through. They're acquiring the paper for $530 million. Harte will serve as chairman of the board overseeing the paper. The management team will remain intact. Harte says he can't reveal much beyond that.
"We have just barely gotten to know the paper well enough to know that we wanted to own it," he said. "We have not begun to know all the details of management strategy. We are so far away from any decisions about 'do we invest in this technology, do we expand into this geography.'"
All those ambiguities aside, some observers say there's a more pressing question to reckon with: namely, who are these Avista people?
"Haven't the foggiest idea," said media analyst John Morton. "I know they have offices in Texas and New York, but beyond that, I haven't the foggiest. They're a cipher to me."
Morton says if Avista behaves like most private equity investors, they'll come in to the Star Tribune with their knives sharpened, ready to slash costs. That could mean cutting staff in the newsroom, which Morton says might affect the paper's quality and reputation over time. But, he says, such concerns might not matter to Avista.
"If they're typical financial investors, they're not in this for the journalism," Morton said. "They're in this to try to improve the profitability so they can try to flip it in five years."
That feeling is shared by some Star Tribune staffers. Union leaders say they're glad for now to hear Avista will recognize the union's contract, which expires in August 2008. But beyond that, they don't know what's in store for job cuts. Star Tribune columnist Nick Coleman says that's making many in the newsroom feel dejected.
"Usually you get your lump of coal before Christmas or on Christmas, but this is a very unexpected development," Coleman said.
Coleman says when the McClatchy corporation took over the Star Tribune eight years ago, it built on the paper's staff and reputation to gain a strong position in the industry and purchase Knight Ridder. He says that engendered good feelings among Star Tribune staffers. But the latest deal with Avista, a fledgling equity firm, doesn't inspire confidence.
"Now we've been dealt off, spun off, dropped off, to a company that doesn't play that much of a role in the industry," he said.
Coleman also laments that the Star Tribune's value seems to have dropped so dramatically. When McClatchy bought the paper from Cowles Media Company eight years ago, it paid $1.2 billion - more than twice what Avista is paying.
But McClatchy spokeswoman Sarah Lubman says McClatchy is not simply trying to ditch an asset that's losing value.
"This decision is based more on the tax benefit and debt reduction for McClatchy at this time," she said.
McClatchy's sale of the Star Tribune to Avista Capital Partners will be finalized in a few months' time.
Gallery
1 of 1