New 35W bridge to open Thursday morning
[image]
Gov. Tim Pawlenty made the long-awaited announcement about the new bridge Monday morning.
"This bridge, of course, began its construction approximately 11 months ago, and it is slated to open this Thursday at 5 a.m.," he said.
[image]
MPR News is Member Supported
What does that mean? The news, analysis and community conversation found here is funded by donations from individuals. Make a gift of any amount today to support this resource for everyone.
That means the bridge will have taken just 340 days to build. And officials say it is an amazing feat of engineering and construction.
But for commuters like Linnea Tani, a mental health nurse from Roseville, the bridge's opening can't come a moment too soon. Like thousands of commuters, she used to take I-35W to work. She had to find another route back and forth to Abbot Northwestern hospital in Minneapolis.
"It's overall been pretty miserable," she said.
A trip that used to take about 25 minutes, Tani said, routinely takes nearly an hour. And that's when the weather is good.
"Like everyone else, the loss of life was of the primary concern, and the injuries to others," Tani said. "But I think it's also to fair to say that when the bridge went down, it altered everyone's life who either had a business around there, or drove on that bridge on a daily basis."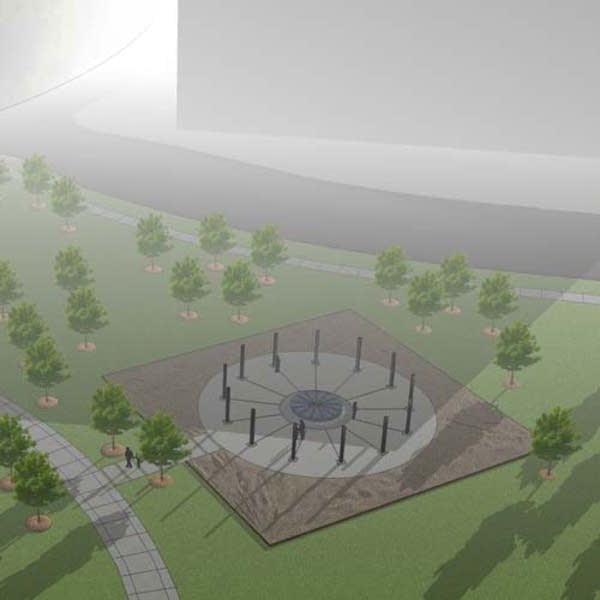 But now, for her and hundreds of thousands of other drivers, there will be a new normal.
The new state-of-the-art 35W bridge will cut miles from many commutes. It has two more lanes than the old one. It will be monitored constantly by real-time electronic sensors, and has an automatic anti-icing system. It can carry light rail if trains ever run to the northern suburbs.
Nearby, Minneapolis is building a $1 million memorial garden, with 13 pillars commemorating the people who died in the collapse. The city is asking for public donations to fund the project.
The memorial will stand in Gold Medal Park, where people gathered last year, trying to glimpse the disaster.
But you can't drive over or walk through the most important legacy bridge, according to U.S. Transportation Secretary Mary Peters, who was on hand to dedicate the bridge Monday.
"These lanes will forever be sacred because of the 13 people who lost their lives here," she said. "Nothing we can say makes that more of a reality. And nothing we do can ever take that pain away. But our continued actions can make sure that the correct lessons are learned and the right remedies are taken to ensure that no one ever has to worry, no one ever has to wonder when the cross a bridge in America again."
Still, some doubts still linger.
Bidding for the bridge sparked a lengthy court battle with the state and rival construction firms.
The construction also coincided with a battle over light rail's route through the University of Minnesota. The U didn't want the train running down the campus's main street, and proposed another route that might have taken trains over the new bridge.
[image]
Questions continued even during the announcement of the bridge's opening.
Flatiron Construction stands to earn a bonus of more than $25 million for completing the bridge nearly three months before a Dec. 24 deadline. That's nearly 10 percent of the bridge's $234 million pricetag.
Asked whether the state set too low a bar to earn the premium, MnDOT Commissioner Tom Sorel defended the project.
"It could have just as well gone the other way, where a contractor wouldn't get the bonus. And we were particularly concerned here when we started lifting the segments up, and something could potentially go wrong there," Sorel said. "And if that had happened, we would be in a situation where the bonuses might not even have been in play. It's a risk on both parties."
Whatever the ultimate price, though, Minneapolis mayor R.T. Rybak said Thursday's opening will lift a burden from his city.
[image]
"Minneapolis will be different in some very tangible ways," he said. "First and probably most important, some of our streets will not be as congested. Certainly the areas of Marcy Homes on the other side of the river, have been overwhelmed with traffic. Right across my window, on 3rd Avenue, the bridge has become the main way to get across the river, and that has meant that the 35W bridge will take a lot of that traffic off downtown streets."
Freeway traffic will follow a line of State Patrol squad cars across the new span on Thursday, and more than 140,000 cars a day are expected to return soon to the bridge.
Gallery
1 of 1