Michele Bachmann: From home-schooling mom to tea party rock star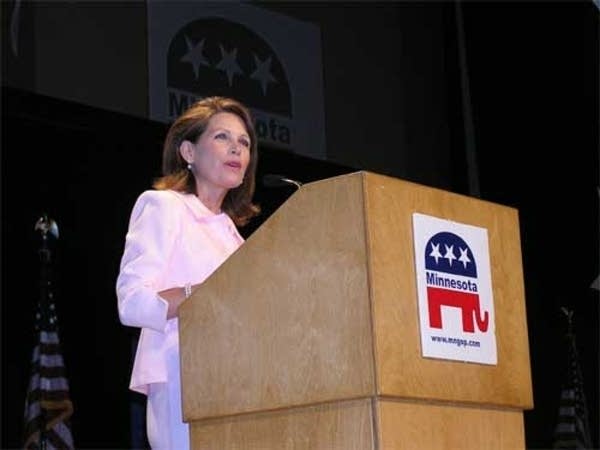 In a little more than a decade Michele Bachmann has risen from a suburban Twin Cities state lawmaker to a nationally known spokeswoman for conservative causes who has proven capable of raising huge amounts of campaign cash.
Her positions and gaffes have made her as unpopular with liberals as she is popular with conservatives, and she has become a cable TV regular who is increasingly quoted in the mainstream media and even lampooned on Saturday Night Live.
According to Federal Election Commission records, Bachmann raised more than $13.5 million for her 2010 re-election campaign, more than any other incumbent member of Congress in the country. A separate "Michele PAC" political action committee took in an additional several hundred thousand dollars.
That fundraising prowess, along with her comfort in front of a camera and her ability to fire up a crowd, have made Bachmann a presidential candidate to be reckoned with, especially in her native state of Iowa, where her socially conservative positions could resonate with next year's caucus-goers. Bachmann officially announced her run for president Monday.
HOMEFIELD ADVANTAGE IN IOWA
Ryan Rhodes, the leader of the Iowa Tea Party, said Bachmann could attract a lot of the people who helped former Arkansas Gov. Mike Huckabee win the Iowa caucuses in 2008. Rhodes said being born in Iowa is a big plus for Bachmann as is her connection to parents who educate their children at home.
Before you keep reading ...
MPR News is made by Members. Gifts from individuals fuel the programs that you and your neighbors rely on. Donate today to power news, analysis, and community conversations for all.
"The fact that she home-schooled her kids and then she had her foster kids, I mean that fits a high section of the grassroots people who are some of the very people who helped Huckabee get to where he was," said Rhodes.
Bachmann and her husband Marcus have five children and provided foster care for 23 children.
Political analysts said Bachmann could present problems for fellow Minnesotan Tim Pawlenty in Iowa and could overshadow the lesser-known, more conventional former governor.
A FIERCE SOCIAL CONSERVATIVE
Bachmann first became active in school board issues in Stillwater and won a seat in the Minnesota Senate in 2000 after defeating an incumbent Republican in the primary election.
In the Legislature, she earned a reputation as a fierce social conservative unrelenting in her ultimately unsuccessful effort to get a constitutional amendment on the Minnesota ballot to ban same-sex marriage.
In Congress, she was one of the loudest opponents of President Barack Obama's overhaul of the health care system, and also speaks frequently about runaway government spending and the skyrocketing federal debt.
Bachmann became the first Republican woman in Minnesota to be elected to U.S. House of Representatives, defeating Democrat Patty Wetterling in 2006. On her congressional campaign website, which has since been replaced by her presidential campaign website, she described herself as a constitutional conservative and a principled reformer who is a "staunch opponent of wasteful government spending."
A PENCHANT FOR PROVOKING NATIONAL CRITICISM
In 2008, Bachmann made national headlines by suggesting in a cable TV interview that Barack Obama had un-American views and that members of Congress should be investigated for similar views. The comments caused a flood of campaign donations for her opponent, but didn't prevent her from winning re-election. The flap also didn't prevent her from doing more interviews on the same program.
During her re-election campaign last year, Bachmann defended her out of state travel and cable TV appearances amid criticism from Democrats that she was ignoring her constituents in Minnesota's 6th District.
Bachmann said in March of 2010 that her outreach benefits the people she represents and that they appreciate her efforts.
"I'm a national representative and so I'm speaking on national issues of impact to people in the 6th District," Bachmann said. "That means that it impacts everyone in the United States, so they are very grateful for the work that I'm doing here."
Political fact checkers regularly find problems with Bachmann statements. On her first trip to New Hampshire as a possible presidential candidate political commentators ridiculed her for erroneously referring to the Granite State, rather than Massachusetts, as the place where the first shots of the revolutionary war were fired.
Speaking at a Republican Party of New Hampshire fundraiser outside of Manchester on that trip, Bachmann sounded like she planned on spending a lot of time in the state that holds the first primary of the presidential nomination battle.
"You're considered stoic, independent, blunt speaking people," said Bachmann. "I fancy myself one of you so I hope we can get along together."
Gallery
12 of 12
1 of 12
2 of 12