Appetites: Simple truths you are not hearing about cooking Thanksgiving dinner
This time of year can bring a lot of pressure and high expectations.
We've all seen magazine covers of Thanksgiving spreads and a perfect, glistening bird. Or cooking shows with the twist on the traditional holiday dinner. You might feel like you need an expert to get through the meal. Don't panic, we have one.
Lynne Rosetto Kasper of The Splendid Table tells people this year to focus on the basics and lets us in on some of the dirty little secrets behind Thanksgiving.
MPR News: There's a lot of attention on different ways to do a turkey, but in the end there are basically only two different ways?
Rosetto Kasper: There are only two basic ways when you're going to roast a bird: you roast it fast, or you roast it slow.
If you roast it fast, you want to brine it and don't stuff it. Put it in the oven at 450 degrees, and cook it 10 minutes for each pound of turkey.
If you roast it slow, put the unstuffed turkey it in the oven at 325 degrees for about 15 minutes to the pound; 18 minutes for a stuffed turkey, and baste it - a lot. That's a great way to prepare a bird that's not self-basting, or a bird that tends to be on the dry side like an heirloom bird, but may have a lot of flavor.
• Roast turkey instructions.
• Slow-roast turkey instructions.
All the other stuff, that's frosting. You can change seasonings to your heart's content, but there are really just two basic ways to roast.
That's the dirty little secret we food writers don't want to reveal because it doesn't make us special any more.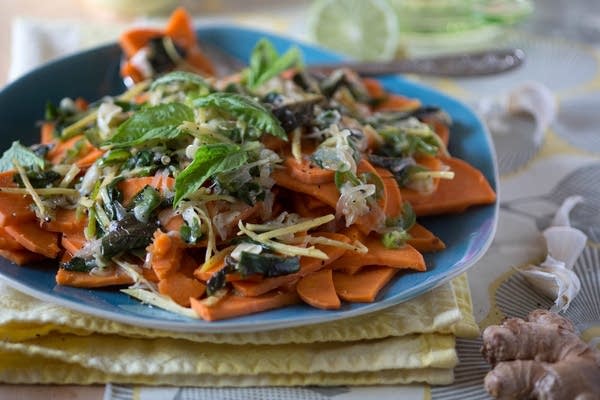 MPR News: It takes the mystery out of it. There's always mystery in getting the dishes done on time and hot to the table, especially if you're trying to get them all done on Thanksgiving Day. What's the secret there, for the side dishes?
Rosetto Kasper: The side dishes — try to do as much ahead as possible. If a recipe ends with the words "serve immediately," you will toss that recipe for Thanksgiving Day.
Anything that is mashed, or pureed, or has a "sauce," you know, like the onions in cream sauce, generally you can do it ahead and re-warm it. We tend to think that everything needs to be re-heated in the oven because of the time the turkey rests outside the oven once it is done. And it's true, if you have the room in your oven.
Don't forget that you can reheat things on the stovetop with the double-boiler method: a saucepan half-filled with water and metal bowls to hold whatever you're re-heating. Bring the water to a simmer, put the side-dish in the metal bowl, cover with foil and re-heat. The only thing this doesn't work for is green vegetables.
The second way to do this is to serve a dish that is never meant to be served hot. One of my favorite things, because it's so fresh and spicy and it livens up the meal — and it's unexpected — is a Sweet Yams in Ginger-Stick Curry salad.
Do this Thanksgiving morning because it can sit out. And it's the freshest, brightest, most delightful thing you've ever eaten.
MPR News: Sounds like it. Time for dessert — how do you get the pies done? If you do the pies a couple of days in advance, the crusts get soggy.
Rosetto Kasper: Here's the trick. Even if it's a two-crusted pie, pre-bake the bottom crust.
When you fill the pie and go to bake it with the top crust, just brush the rim of the bottom crust with egg and the press the raw top crust, bake it off, and that can hold over night and it's going to be crisp and wonderful.
Another trick is when you go to pre-bake the crust, brush the bottom with some egg white, it's like a sealer. That's it, no soggy bottoms.
MPR News: Thanks, Lynne, and Happy Thanksgiving.
Rosetto Kasper: Happy Thanksgiving to you, too.
Lynne Rossetto Kasper is host of American Public Media's award-winning radio show The Splendid Table, and her books include The Splendid Table, The Italian Country Table, and How to Eat Supper.
Gallery
1 of 1
Your support matters.
You make MPR News possible. Individual donations are behind the clarity in coverage from our reporters across the state, stories that connect us, and conversations that provide perspectives. Help ensure MPR remains a resource that brings Minnesotans together.