Judge confirms administrator for Prince estate
Updated 1:11 p.m. | Posted 9:39 a.m.
There's no indication that Prince left a will or any other estate plans when he died a week and a half ago, a Carver County district judge said Monday in the first court hearing on the music superstar's estate.
In what was largely a procedural hearing that lasted 12 minutes, Judge Kevin Eide affirmed his decision to appoint Bremer Trust special administrator of the estate for the time being.
The judge gave no time frame for any additional proceedings or how long it might take to settle the estate or calculate its worth. Prince, 57, was found dead April 21 at his Paisley Park studios in Chanhassen. His death is under investigation.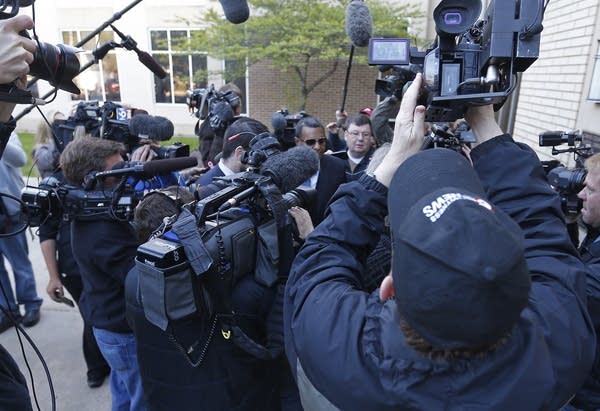 Eide asked a packed probate court hearing a series of questions, including whether anyone knew of a will, if there were any indications Prince did not live in Carver County or if there were any objections to appointing Bremer. The court was silent.
Several of Prince's siblings and half-siblings were in court, including his sister, Tyka Nelson. Family members left the courthouse without making any comments.
"It was a very perfunctory hearing, but it went well — brief, short, but everything we hoped to accomplish," Frank Wheaton, an attorney representing Prince's half-brother Alfred Jackson, told reporters outside the courthouse.
Jackson said the siblings were cooperating in settling the estate.
Even if all the heirs really are in agreement, it's going to take a long time to settle the estate, Judith Younger, a University of Minnesota law professor who isn't involved in the case, told The Associated Press.
Other claimants are likely to come forward, any disagreements with tax authorities over the value of the estate could result in litigation, and Minnesota courts haven't settled yet whether the rights to someone's likeness, such as Prince's, can be inherited.
"It's a real mess that he left behind," she said.
It's also possible that a will could turn up and that it could lead to fights over its validity, Younger said.
"I find it so hard to believe," Younger said, noting how careful Prince was to keep control of his music and other business affairs. "How can there not be a will?"
Bremer Trust continues to search for any signs Prince left behind a will or any planning documents prior to his death.
It's also filed a motion to dismiss a California man's claims that he's "the sole and exclusive owner of all intellectual properties after the death of Prince Rogers Nelson," including copy rights and music in the vault, according to court documents.
Rodney Herachio Dixon is asking the Carver County District Court to allow him to intervene in probate proceedings as an "interested observer."
Dixon references two cases from 1994 and 1995 in California that show an "implied agreement" between Prince and Dixon relating to $1 billion plus the music in the vault and says he's entitled to that.
Bremer Trust called Dixon's claims "frivolous" and asked the court to ban him from participating in the estate proceedings.
The Associated Press contributed to this report.
Your support matters.
You make MPR News possible. Individual donations are behind the clarity in coverage from our reporters across the state, stories that connect us, and conversations that provide perspectives. Help ensure MPR remains a resource that brings Minnesotans together.