Black drivers bear brunt of citations from routine stops by St. Anthony PD
When a St. Anthony, Minn., police officer pulled over Philando Castile in early July, it was a ritual the 32-year-old black man knew all too well. Before that night, officers had stopped him at least 45 other times on Minnesota roads.
Castile was shot and killed that day by the officer who pulled him over. His death has focused attention on one of the most common interactions between police and the public: The traffic stop.
Castile's mother, Valerie Castile, said those traffic stops seemed just a part of life to her son.
"I was the one upset about it. He didn't get upset about it," she said. "I told him, 'They're getting behind you, they're running your license plate, and once they figure it out, they're going to pull you over, even though you haven't done anything.'"
Grow the Future of Public Media
MPR News is supported by Members. Gifts from individuals power everything you find here. Make a gift of any amount today to become a Member!
African-American drivers in Minnesota and across the nation have long complained about being singled out by police for minor violations. The question of who is getting pulled over, whether black, white or another race, hasn't been widely examined.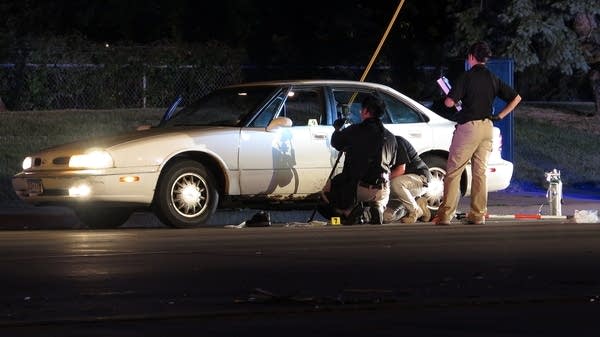 But a detailed analysis of St. Anthony police traffic stop data shows that officers in that department for years have been ticketing black drivers disproportionately in cases where they had wide discretion to pull someone over.
One month after the Castile shooting, St. Anthony released data from January 2011 to early July 2016 of more than 9,000 traffic citations its police department issued in the three suburbs it serves: St. Anthony, Lauderdale and Falcon Heights, where Castile was shot. The department has not kept records of everyone pulled over — it's not required to do so — only the instances in which a driver was cited.
MPR News focused its analysis on "equipment stops" — which are prompted by things like a busted taillight or headlight — and stops initiated by an officer's random check of the vehicle's license plate.
Disproportionate equipment stops
After Philando Castile and his girlfriend, Diamond Reynolds, were stopped on July 6, Reynolds said Castile was shot after telling St. Anthony officer Jeronimo Yanez that he had a gun with him and a permit to carry it. Yanez told the couple he had pulled them over for a busted taillight, Reynolds said.
That's a common reason why an officer might pull someone over.
According to the St. Anthony data, out of about 650 traffic stops prompted by faulty or tinted taillights, headlights or license plate lights, African-Americans made up 44 percent of those who were cited. Police ticketed those drivers for various violations — whether it was for the broken tail light, or for driving without a valid license or insurance, or another reason.
That's much higher than the percentage of blacks who live in the three largely white suburbs patrolled by St. Anthony police. Those three cities have an average black population of 7 percent.
It's also much higher than the percentage of blacks who live in Hennepin and Ramsey counties, which averages to about 12 percent.
St. Anthony city officials declined to discuss the data in an interview. But in a series of email exchanges with MPR News, St. Anthony Police Chief Jon Mangseth cautioned against using the traffic citations for "rigorous statistical analysis," saying the records his department maintains are not meant to provide comparisons among traffic stops.
Much of the detail of a police report is included in sometimes lengthy narratives in which officers describe an incident. But a careful reading of those narratives provided MPR News with enough information to sort through the data in a useful way. [A note about the analysis]
A lot of research has been done nationally about these equipment stops. They're prompted by things like broken taillights or headlights. Sometimes they're initiated when the little lights that shine on license plates aren't working. They are minor infractions in which officers have a lot of discretion when it comes to whether or not to pull over a driver.
"That's the area where people feel that if there is racial profiling, it's in that highly discretionary area that police are more likely to stop someone of color," said Jack McDevitt, a professor at Northeastern University in Boston, who's been studying traffic stops for over a decade.
Equipment stops are also seen by some officers as a way to gather information about a driver. Sometimes they're looking for drugs in the car — or evidence of more serious crimes. So they'll pull over the driver for a broken taillight and check for criminal activity.
These stops, known as "pretext stops," are perfectly legal in this country. Hanging a pair of fuzzy dice — or even an air freshener — from your rearview mirror can be grounds for being pulled over in Minnesota.
"I can tell you that nobody can drive very far without committing a traffic violation," said Michael Quinn, a retired Minneapolis police sergeant who now works as a consultant and trainer. "You either failed to signal a lane change, or failed to signal soon enough before you make a turn. Maybe you don't signal at all, because you're nervous now that the cops are behind you."
An officer then has legal grounds for pulling the driver over. "It's a legal stop," Quinn said, "but you're doing it because you want to see what else is going on in the car."
Not just a St. Anthony problem
National studies say black drivers are more likely than white drivers to be stopped when driving through predominantly white suburbs because officers presume them to be "out of place." Research also shows in general, African-American motorists are disproportionately pulled over and cited for equipment violations.
John Thompson, a friend of Philando Castile's, said he constantly feels under suspicion while driving in the suburbs.
"You have a cop that'll be driving eastbound, you're going west, and you just so happen to past each other, he looks you dead in the face, he hurries up, U-turns and gets behind you," Thompson said. "This is not just a St. Anthony or Falcon Heights problem. This is a Minnesota problem."
In addition to the equipment stops, the data from the St. Anthony Police Department included other scenarios in which officers had wide discretion. Nearly 600 stops resulting in citations grew out of what officers described as "routine" or "random" checks of vehicle license plates.
Those stops happen when, for instance, an officer is sitting in the parking lot of a gas station, stopped at a red light or parked on the side of the road. The officer decides to run the plates of people coming and going and ends up finding a violation like a revoked license. And that's legal, too.
In those instances, 41 percent of the drivers stopped and cited by St. Anthony police in the five-year period were African-American. They were typically cited for things like driving without a valid license or insurance.
The challenges of the data
But the data comes with a few limitations. The St. Anthony Police Department doesn't keep records on drivers who were pulled over, but got off with just a warning. Nor does it record drivers who had their license plates checked by police officers but weren't pulled over.
The records released in August, about a month after Castile was shot, reflect stops that resulted in actual citations. It's not clear what disparities might exist, had comprehensive data of all traffic stops been collected.
But the disproportionate citations in the data are even greater than they appear on the surface. MPR News' analysis of the citations revealed disparities in citations issued to African-American drivers only. But it's unclear how many Latino or Arab-American drivers, were stopped and cited. For the most part, the city of St. Anthony categorized those drivers as white.
Police bias — or something else?
To some Minnesotans, the fact that Philando Castile was killed during something as common as a traffic stop points to racial bias at play. Gov. Mark Dayton, a white baby boomer born into privilege, has said as much. Protesters got Dayton's attention by camping outside his mansion.
Nearly four months since Castile's death, the public is still waiting for answers on what exactly led up to the shooting of the school cafeteria supervisor. The Bureau of Criminal Apprehension completed its investigation into the case and turned over its findings to Ramsey County Attorney John Choi in late September.
In some ways, the Castile case has galvanized Minnesotans in a way that other fatal police shootings have not. Castile, a soft-spoken homebody who befriended the schoolchildren he fed as well as their families, didn't have a serious criminal history. He was licensed to carry a gun, which means he cleared a background check. The vast majority of his encounters with police were limited to traffic stops.
And while the St. Anthony numbers show huge racial disparities, they don't show the reasons for those disparities, researchers caution. Those disparities could be, in part, a result of police bias, but they could also stem from other factors.
Research of police bias shows it's not always explicit, said Lorie Fridell, an associate professor of criminology at the University of South Florida and a police bias expert. Sometimes, she said, that bias can be implicit.
"It can happen outside our conscious awareness, even as it impacts our perceptions and our behaviors," she said. "Even well-intentioned individuals, including well-intentioned law enforcement, have biases that can impact their perceptions, and impact their behavior, with no ill intention."
Mangseth, the St. Anthony police chief, said without statewide data to compare, or a way to factor in poverty, St. Anthony can't be assumed to be an outlier. "Are those living in poverty more likely to have an invalid driver's license?" he said in an email to MPR News.
Minnesota doesn't require police departments to collect demographic data in their police reports, but several departments, including St. Anthony, recently announced they'd start keeping records and race information of all vehicle stops, regardless of whether a driver is ticketed.
But even if it's not currently possible to compare the St. Anthony data to that of other communities, it's hard to ignore what the data that is available shows: Black drivers in Falcon Heights, St. Anthony and Lauderdale are being cited during discretionary stops at a rate at least three times higher than the black population in the surrounding counties.
And such a wide disparity reinforces the perceptions of people who frequent the area, not just black drivers like John Thompson who may be driving through, but white residents like Laura Boisen.
Boisen is originally from Iowa. She lives just across the street from open farm fields that give this first-ring suburb a rural feel.
Soon after she moved from Minneapolis to Falcon Heights, Boisen was unsettled by what became a familiar sight. On nearby Larpenteur Avenue, she noticed that nearly every time she saw a car pulled over by police, the driver was a person of color.
Then some of her nonwhite friends and students reported being stopped while driving in the area. Even roofers Boisen hired were ticketed along the way to her house.
"I was starting to warn anyone who came to my house that was a person of color, I warned them about driving in Falcon Heights," Boisen said. "I really felt that I needed to warn people because I was having friends and workmen be stopped."
So the Augsburg College professor — who's done research on racial bias — joined the Falcon Heights Human Rights Commission, whose members were appointed by the city's mayor. At a meeting in 2009, Boisen began asking the chief of the St. Anthony police if the department collected the racial data of drivers his officers pulled over.
"The police chief became immediately defensive," she said. "He explained that the Falcon Heights Police Department was not racially profiling, and that they were not racist."
Then-chief John Ohl did not return several messages asking for a response. Boisen recalled that Ohl said at the time that his department wasn't keeping track of the race of drivers cited by police.
Back then, Boisen said, she tried to press for answers. But she said Ohl insisted there was no racial bias among his officers. The discussion went nowhere.
Now, when she thinks about Philando Castile's shooting death, just a half mile away from her home, she tears up.
"We could have handled this years ago. We didn't have to wait for this to happen in our community," she said.
"I would suspect that there are a lot of white residents like me who feel a particular angst and sense of shame and guilt. We knew this was happening, and we didn't do anything. We could have stopped it."
Editor's note: The data analysis
The St. Anthony Police Department released data of more than 9,000 traffic citations it issued between January 2011 and early July 2016. MPR News focused its analysis on "equipment stops" — which are prompted by things like a busted taillight or headlight — and stops initiated by an officer's random check of the vehicle's license plate.
To isolate those stops from the rest of the data, we searched the records for references to "lights." Of those, we read the written narratives and flagged the cases in which broken or tinted taillights, headlights or license-plate lights were primary reasons for a stop.
That left us with about 650 stops to analyze, plus nearly 600 additional stops resulting in citations that grew out of what officers described as "routine" or "random" checks of vehicle license plates.
Anatomy of a traffic stop
Traffic stops represent the most common interactions between police and the public. And yet the death of Philando Castile, who was shot by an officer who pulled him over in Falcon Heights, has underscored how an everyday occurrence can turn tragic.
Police are trained to handle different types of traffic stops. Here's a breakdown of the three most common:
The 'normal' stop
No traffic stop is routine, as many officers point out. But in the most run-of-the-mill cases, an officer pulls a person over for a driving or equipment violation, such as running a red light, speeding, or driving with a broken taillight. The officer might call in the location of the incident to dispatchers and run the license plate number of the vehicle through a database from a computer in the squad car. The officer will direct the driver to pull over to the side of the road.
If the plate check comes back clean — the car is not stolen, for example, and the registered owner has no outstanding arrest warrants — the officer proceeds with normal protocol. As he or she walks up to the car, the officer assesses who or what is inside the vehicle.
An officer might stand near the vehicle door, but slightly at an angle behind the driver, for the officer's safety. Officers typically identify themselves and state why they pulled the driver over — though the law doesn't require it, and each department has its own policy. Many drivers, particularly drivers of color, have complained they aren't often given a reason for the stop.
Police advise drivers to stay in the car, keep the doors closed, and keep their hands on the steering wheel while following the officer's commands.
Felony stop
Maybe the officer received a call on the radio reporting a vehicle that had been described in a drive-by shooting report. Or a license plate check determined a car was stolen. These are considered high-risk situations.
When police officers have reason to believe the person being pulled over has committed a felony, they'll likely take extra precautions, which might include calling for backup.
Officers might give commands from the squad car using its loudspeaker. They might also direct the driver and any passengers to put their hands where the officers can see them, throw the car keys out of the window, open the door, and step outside the car, one at a time. Then they'll ask them to make a 360-degree turn with their hands in air.
Police may then order the occupants of the vehicle to walk backwards toward officers, and kneel. Officers will pat them down, place them in handcuffs and bring them to the squad car.
Pretext stop
For the most part, nobody can drive far without doing something wrong. That means officers won't have a hard time justifying their reasons for stopping a motorist — even if it's to ferret out unrelated suspicions about the driver.
Say you didn't signal your lane change, or you hang an air freshener from your rearview mirror. An officer can use these often minor violations to legally investigate suspected criminal offenses, such as whether you're carrying drugs in the car or if you match the description of a robbery suspect.
These stops are considered highly discretionary, and though they're legal, police have been criticized by some motorists who say they were pulled over because of bias rather than a serious violation.