Appetites: Mpls. chef shares her tips for kitchen rookies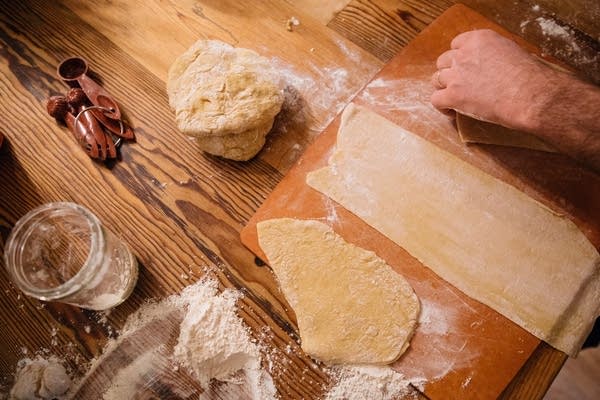 Cooking at home can be a healthy and fun pursuit, but that doesn't mean it's easy. Many of us find making dinner — or even thinking about making dinner — a little scary.
A Food Network survey showed that 28 percent of American's say they cannot cook, and studies show that those who cook at home make healthier food choices.
But if you're afraid of burning a pot of water, Molly Herrmann is here to help. She is the executive chef and owner of Kitchen in the Market — a Minneapolis commercial kitchen and cooking school.
The key is to just do it, Herrmann said. "You're not going to get confidence unless you start cooking, even if it's something small."
Different chefs might tell you there are certain dishes you need to be able to make — like an omelet or homemade pasta — but really all you need the confidence that comes with knowing any dish is attainable, you just might mess up a few times first, Herrmann said.
The aforementioned omelet might be a good place to start because it is made in one pan and can include extras like meat, cheese or vegetables.
As for tools, most chefs will tell you all you need is a few sharp knives, Herrmann said, although she adds a flexible spatula comes in handy too.
Green Bean + Goat Cheese Risotto
Makes 8 entree servings. Courtesy of Molly Herrmann.
6 cups chicken or veggie stock
2 tablespoons unsalted butter
1 pound green beans, small dice
2 tablespoons extra virgin olive oil
1/4 cup unsalted butter
1 medium onion, finely diced
1 pound Arborio rice
1 1/2 cups white wine
1/2 cup fresh goat cheese
Teaspoon of salt and freshly ground black pepper
In a large flat bottom saucepan over medium-high heat, add 2 tablespoons butter until melted, then add green beans and cook until lightly browned. Remove from heat and reserve.
In the same pan, heat olive oil. Add the onion and cook until tender and translucent.
Stir in rice, making sure it is thoroughly coated. Add wine and cook until absorbed.
Add 4 cups chicken stock, and stir frequently until absorbed. Continue process with remaining broth in 1/2 cup increments at a time until rice is tender with just a bit of a bite left, about 20 minutes. Season with salt and pepper to taste.
If needed: If your risotto is not to the desired consistency, and you have used all of your stock, add water in 1/2 cup increments until absorbed and desired consistency is reached. Stir in reserved green beans and goat cheese and serve.
Your support matters.
You make MPR News possible. Individual donations are behind the clarity in coverage from our reporters across the state, stories that connect us, and conversations that provide perspectives. Help ensure MPR remains a resource that brings Minnesotans together.