A week of traffic woes: What commuters should know for the Super Bowl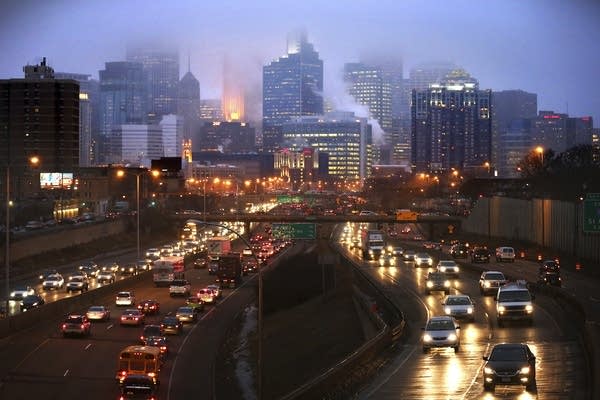 Updated: 9:30 p.m. | Posted: 7:23 p.m.
The Super Bowl is less than a week away. What does that mean for commuters? Downtown Minneapolis workers? People headed to evening concerts and other events?
In short, it means they need to plan ahead.
Minneapolis warned commuters to expect a busy evening rush Monday night, as workers leave and others drive in for concerts and other events. The city also says they've adjusted the timing of the stoplights and will have traffic control agents out at intersections to try to keep things flowing.
About 40 bus routes have been detoured in downtown Minneapolis. Some of those have been in place for over a week, and more were added this past weekend.
The big unknown is whether the influx of out-of-town visitors will use transit or other modes of transportation, said Metro Transit spokesman Howie Padilla.
"It's something that has been on our minds for more than a year now," Padilla said. "Our local commuters are going to be here long before the visitors here and long after the visitors have left, so we're doing what we can in order to make things the least disruptive as possible for them."
During rush hour Monday evening, Larry Eppens watched for the number 756 home to Golden Valley. He said the bus was late throughout last week and was running behind again.
"They should maybe move the buses over a couple of blocks further from Nicollet. Probably would have worked a lot better," Eppens said.
Buses that normally travel on Nicollet Mall are being rerouted. And there are lane restrictions on Sixth through Twelfth streets just east and west of the Mall.
A few stops down from Eppens on Marquette, Jen Amog waited for her ride to Richfield.
"I thought I was early for my bus, but it isn't here yet. So I'm still waiting," Amog said. "It wasn't this bad a couple weeks ago."
Amog said her employer gave workers the option of taking their laptops to work from home during business hours.
Luke Schlegel, an executive with the marketing agency Nina Hale, said business is largely done face-to-face, but this week most people are working remotely.
"Some of our employees lost their contract parking ramps as well as starting probably in the middle of last week, employees were experiencing significant delays on Metro Transit buses on the way home in the afternoon." Drivers into downtown without contract parking may see much higher prices.
Usually weeknight parking is as little as $6 in some of these downtown ramps, but there are free concerts on Nicollet Mall and other events and that some ramps are charging event rates for.
This weekend the prices will really go up, especially for game day, and there are some ramps that are already sold out. Event rates will range from $25 to $100 this Sunday. The normal range is $15 to $25.
Parking hopefuls can check out some of the apps that are available and reserve parking ahead of time in some places and check what they're charging.
Those who are planning to fly out of the Twin Cities this week should expect some crowding as well.
Likely starting Tuesday, the airport's fourth runway, which isn't used very often, will basically become a parking lot for private jets.
On a typical day MSP sees 15 to 20 private jets but this week is going to be unprecedented. The jets will be coming in, parking at the airport and then leaving either Sunday night or Monday.
On Monday MSP expects 180 private jet departures in addition to very full commercial flights. Next Monday is expected to be the busiest day MSP has ever seen with up to 60,000 people going through security and getting on flights out of the Twin Cities. On a typical day 30,000 - 35,000 travelers pass through.
MSP operations director Phil Burke said extra staff will be on hand at Terminal 1 to direct the crush of departing visitors to the correct lines.
"One of the things that we've found when we have these very heavy volume days is that the lobby gets full of people and nobody knows where one particular line ends and another one begins," Burke said.
Your support matters.
You make MPR News possible. Individual donations are behind the clarity in coverage from our reporters across the state, stories that connect us, and conversations that provide perspectives. Help ensure MPR remains a resource that brings Minnesotans together.