MSP's runway parking lot and other must-know Super Bowl transportation tips
Hoping to fly your private jet out of Minneapolis-St. Paul International Airport on Monday after the Super Bowl? You're out of luck.
All 180 private jet departure slots have been filled, according to Phil Burke, MSP's director of operations. It's an unprecedented number.
"Probably on a typical day there's 15 to 20 private jet operations," Burke said, adding that Sunday evening has 76 private departures lined up.
Where will the airport put them all? The airport's rarely used fourth runway and some taxiways will turn into private jet parking lots in the days leading up to the big game.
"It's going to look like it's never looked and probably will never look the same again with all of those planes parked all around our airfield," Burke said.
What about all the people taking commercial flights?
Those coming in for the Super Bowl will face MSP's busiest travel day ever if they have flights out of the Twin Cities on Monday. The airport typically sees 30,000 to 35,000 people make their way through security and board flights out of MSP. On Monday, that number could reach 60,000, Burke said.
"We get projected loads from all the airlines on a daily basis," he said. "I just marvel at the numbers.
Burke says concessionaires, the Transportation Security Administration and airport staff have been planning for over a year for this. Still, he advises that if you're local and have flexibility, avoid MSP on Monday.
I want to check out the action in downtown Minneapolis by bus or light rail. What do I need to know?
About 40 bus routes through downtown Minneapolis have detours, so it's best to check out Metro Transit's full list of Super Bowl changes. The good news is that Metro Transit has added service to some routes, including the frequencies of light rail trains.
Metro Transit has also put together info for those attending the Super Bowl, including special passes. Only Super Bowl ticket holders will be allowed on light rail trains in downtown Minneapolis on Sunday for security reasons. Other light rail riders will board replacement buses.
"What we don't know," says Metro Transit spokesperson Howie Padilla, "is when you talk about people coming from out of town, what's the ratio of those people being able to use transit vs. taking their cars, Uber or taxicab."
Is driving and parking in downtown Minneapolis a really bad idea this week?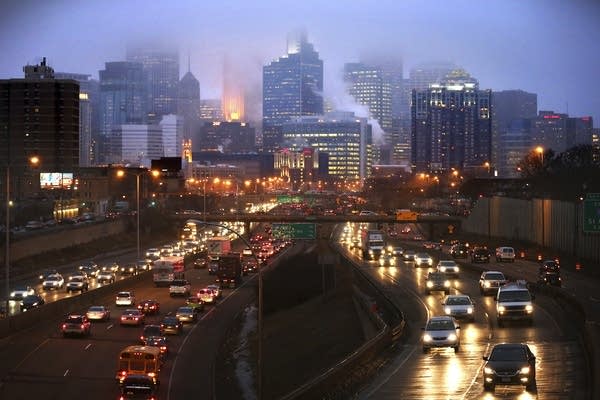 Not necessarily, but do your research if you want to avoid sticker shock when trying to park. There are parking apps and websites that allow you to reserve a space ahead of time. The advantage to doing it this way is you know the price and can save time if ramps start filling up. BestParking.com and Park Whiz are options.
If you're planning to just drive around for parking, keep in mind that many ramps and meters will be charging event rates, as there are Super Bowl-related events scheduled every day through Sunday. There's a wide range of parking rates.
One parking company quoted a $25 to $100 range for Super Bowl Sunday. If you're willing to bundle up and walk a few extra blocks, you could see significant savings. Parking adjacent to U.S. Bank Stadium and Nicollet Mall will be more expensive than other parts of downtown.
I'm planning to take Uber, Lyft or taxi home from downtown Minneapolis some evening this week. What should I expect?
Good question. Taxi and rideshare rates can depend on demand and traffic congestion. Make sure to check traffic maps. City officials have been working on synchronizing stoplights in downtown Minneapolis to improve flow.
We did an extensive query of Uber availability and pricing in downtown Minneapolis following the Prince tribute concert on Monday night. We found prices surged up to 1.7 times normal rates during certain hours, especially in the early morning hours within an hour or two of the special 4 a.m. bar close time. That could be due to fewer Uber drivers available. We'll be keeping tabs on the numbers throughout the week.
MPR News' Matt Sepic and Will Lager contributed to this story.
Your support matters.
You make MPR News possible. Individual donations are behind the clarity in coverage from our reporters across the state, stories that connect us, and conversations that provide perspectives. Help ensure MPR remains a resource that brings Minnesotans together.