Superior, Duluth mayors to refinery: Stop using toxic chemical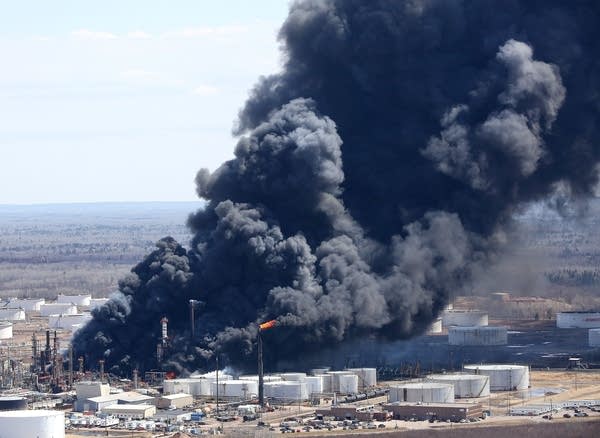 Saying the chemical is too much of a risk, the mayors of Duluth and Superior, Wis., are calling on Husky Energy to stop using hydrogen fluoride at the company's Superior refinery following last week's explosion and fire.
"There are other means to enable refining, and Husky has the capacity to choose new systems that maintain product integrity while protecting the health of their workers and decreasing risk to the families and loved ones in the Twin Ports," Duluth Mayor Emily Larson said.
Mayor Jim Paine of Superior said he has asked Husky's President and CEO Rob Peabody and the company's chief operating officer Rob Symonds to stop using hydrogen fluoride "and convert to a safer chemical process and to report back to me on any and all cost and infrastructure challenges that might prevent them from doing so." He also said he requested disclosure of safety procedures to guard against the chemical's release.
Company officials have said hydrogen fluoride did not leak during the incident last Thursday. But had the tank ruptured, it could have been devastating for anyone caught downwind. The acid can travel in a cloud for miles and can eat into skin and other tissues.
Grow the Future of Public Media
MPR News is supported by Members. Gifts from individuals power everything you find here. Make a gift of any amount today to become a Member!
Refineries use the chemical as a catalyst for making high-octane gasoline. The United Steelworkers Union, which represents many refinery workers across the country, wants the oil industry to stop using hydrogen fluoride. In a 2013 report, the union said the chemical presents too great a risk to workers.
The report says hydrogen fluoride is used at about 50 American refineries, including the Andeavor refinery at St. Paul Park, just down the Mississippi River from the city of St. Paul.
A hydrogen fluoride leak at the plant under a previous owner in 2003 sent 14 workers to the hospital. Last year, five people were treated and released after they were exposed to the chemical.
Andeavor public affairs manager Kate Blair said the refinery has emergency plans in place that are updated annually, and staff hold regular drills with first responders from surrounding communities. She said if there's an accident at the plant, staff are trained to secure the hydrogen fluoride.
"We have a great mitigation system in place. It's the best. It's the gold standard across the country of mitigation systems that would prevent HF from going off-site and would also allow us to take our systems down as necessary," Blair said.
The St. Paul Park refinery also has its own fire department, which Blair said sent five firefighters to help with the response in Superior last week.
For its part, Husky Energy said in a statement that the hydrogen fluoride unit in Superior and its safety systems will be part of a thorough investigation that's underway with regulators.
Husky officials haven't said whether they'll continue using hydrogen fluoride at the Superior plant, but they are "looking at a number of options for the refinery configuration."