Hundreds protest Minneapolis police shooting of 31-year-old man
Updated: 11:45 p.m. | Posted: 4 p.m.
City and police leaders vowed a full and transparent investigation into the fatal shooting of a 31-year-old man in north Minneapolis Saturday, even as community members and activists questioned their account of the death during a daytime protest and nighttime vigil Sunday.
The state's Bureau of Criminal Apprehension, which is investigating the shooting of Thurman J. Blevins, said he was armed and running from Minneapolis police officers who fatally shot him a short time later. The BCA said in a written statement that its agents found a black and silver handgun at the scene of the shooting.
Grow the Future of Public Media
MPR News is supported by Members. Gifts from individuals power everything you find here. Make a gift of any amount today to become a Member!
James Lark said at the vigil held near the scene of the shooting that he saw the initial confrontation. He said police officers approached Blevins near 48th and Camden avenues north and told him to put his hands up, at which point Blevins turned and ran.
Lark said he didn't see a gun. He said Blevins was drinking out of a cup, and sitting on the curb with a woman with a baby in a stroller.
Other protesters said they heard that Blevins had been shot in the back, but those details had not been released as of Sunday. The BCA did not release if the Minneapolis officers had been fired upon. Nor had the results of an autopsy been released by the Hennepin County Medical Examiner.
But one witness told the KARE 11 that he repeatedly heard officers yell to drop the gun just before the shooting.
"I heard the police say 'drop the gun.' I heard them say that three or four times," Robert Lang said. "So I just stayed by the corner of my garage."
Lang, whose garage is on the alley behind his home in the 4700 block of Bryant Avenue North where Blevins was shot, said he heard two or three gunshots, a delay and then another eight or nine shots.
Lang said when he went around his garage, toward the alley he saw a man lying in a pool of blood.
"The police hadn't even come up to the body yet," he said. "And about a foot and a half to the right of this individual there was a black handgun. And then a police officer approached, kicked the gun away, and then when he saw me he told me to get back in the yard, which is what I did."
Police: 911 call of man with gun
Callers reported a man firing a gun toward the ground and in the air in the area around 46th and Lyndale avenues north, just before the confrontation. At least one of the callers gave police a detailed description of the man that included his clothing.
Body cameras worn by the officers recorded the shooting, but squad car cameras did not, the BCA said in a written statement.
The names of the two officers involved in the shooting were not released. They remain on paid administrative leave, which is standard procedure.
Very few other details were released Sunday.
Minneapolis NAACP President Leslie Badue said community members want answers.
"Honestly, I don't know what's going through the community's minds, but I do know that we continue to be traumatized one time after another," Badue said shortly after the shooting Saturday night. "It's extremely unfortunate."
Protesters call for answers, outside investigation
Badue's sentiments were echoed throughout Sunday by family members, community leaders and activists alike, many of whom said they didn't trust the BCA to conduct the investigation.
Protesters called for an out-of-state, independent, third-party agency to investigate the shooting.
"We do not trust the BCA as far as we can see them," said lawyer and activist Nekima Levy-Pounds during a midday protest in front of the Minneapolis Police Department's Fourth Precinct.
Blevins' father Thurman Moore and uncle Manuel Moore appeared there briefly to thank protesters.
"We just want to know the truth," Thurman Moore said. "No one should get shot down like a dog. I know he may have made some bad decisions, but we just want everything to come to light, and we don't want no secrets. And we just want to honor him."
Police conduct has been a focus of intense debate across the nation and in Minneapolis, particularly following the fatal shootings of Jamar Clark in 2015 and Justine Ruszczyk last July. Protesters repeatedly mentioned those shootings as evidence of their distrust in the police.
Crowd have little patience for chief, mayor
Minneapolis police Chief Medaria Arradondo, who watched the midday peaceful protest outside the precinct on the city's north side, promised a thorough investigation during a press conference Saturday night.
Arradondo did not speak to the crowd but did speak individually with several of the 350 to 400 protesters who gathered. That inflamed some who asked him to stop talking and show respect.
Levy-Pounds and others also noted the absence of Minneapolis Mayor Jacob Frey at the protest.
The mayor had earlier posted on Facebook he was canceling his plans to march in the Twin Cities Pride parade, saying that he wanted to focus on the community.
"We don't know where his is today. If this was southwest Minneapolis, Frey would be here ... this signals to us that we don't matter," Levy-Pounds said.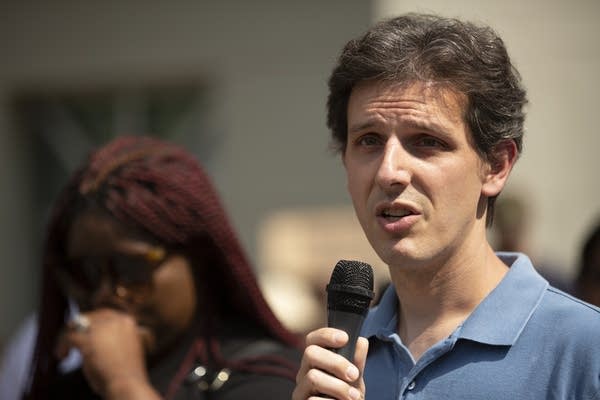 "Show up when it's time to show up and don't be a coward," she said. "Don't be afraid. We need to see your face. And, more importantly, we need to see action."
Todd Schuman, a member of Justice for Justine, was among the people who spoke at the afternoon protest Sunday.
He encouraged others to get involved.
"I can assure you this happens not just here," Schuman said. "But it can happen here and in southwest Minneapolis, it can happen anywhere.
"This is not the last time the Minneapolis police will kill," he said. "So get involved. Join one of the groups represented here. Make your voices heard."
Frey did attend the night-time vigil that was attended by about 100 people, but did not speak publicly. Several community members directed their comments at him, asking him to hold police accountable.
Shortly after, Frey left the vigil to yells from the crowd.
Frey had earlier released a written statement that, in part, said, "no matter what transpired in the moments leading up to the shooting, we know with certainty that the outcome is a tragedy."
Minneapolis Police Federation President Lt. Bob Kroll praised the north Minneapolis residents who dialed 911, and he called the officers' actions heroic. Kroll said he has not seen video of the incident, but spoke with the officers' attorney.
"It's our belief that the body camera will reveal what happened," Kroll said. "That the officers were subjected to a threat. There were numerous commands to drop the firearm. The suspect did not comply with these commands."
Kroll said they're expected to give voluntary interviews to BCA investigators Monday or Tuesday.
Cousin: 'He was turning his life around'
Several family members attended the vigil Sunday evening. They said Blevins was a good father to his three daughters and one of eight children raised by a single mother.
"He struggled as a child; in and out of jail, but he was turning his life around," said his cousin Antonio Moore at the vigil that ended just after 10 p.m. and after the group formed a prayer circle with candles.
He said he got a place nearby in north Minneapolis and was a "family man," always there for his three daughters.
Another cousin, Melinda Blevins, who also addressed the crowd, said his death would not be in vain.
"This time someone will pay," she said. "I will be his voice."
MPR News reporters Briana Bierschbach, Jon Collins and Matt Sepic contributed to this report.