They dwell in possibility? Questions abound for Vikes, Packers
Soon, it will all be revealed.
We've been wondering for months about Kirk Cousins' arm, Dalvin Cook's knee, and just how hacked off Aaron Rodgers remains roughly a year after Vikings linebacker Anthony Barr's big hit short-circuited his season.
Now, we're a couple days from finding out. Here's our look at what to watch for when the fun starts noon Sunday.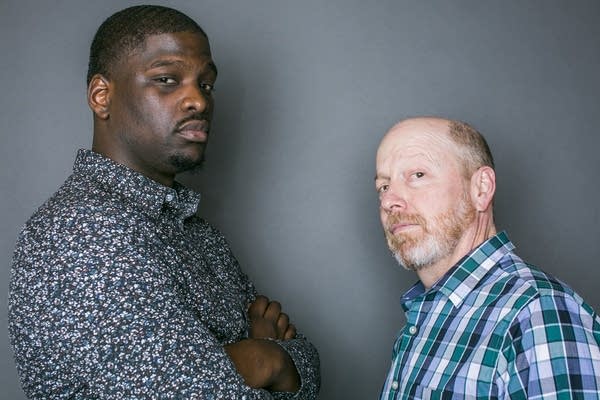 Grow the Future of Public Media
MPR News is supported by Members. Gifts from individuals power everything you find here. Make a gift of any amount today to become a Member!
Jeffrey Bissoy-Mattis
The Minnesota Vikings will be Super Bowl champions this year! Or, possibly not. But the expectations could not be higher heading into the new season, which starts Sunday when the squad takes on the San Francisco 49ers in Minneapolis.
Bouncing back from a devastating loss to the Philadelphia Eagles in last year's NFC Championship, the Vikings hope to put the past behind them and run it back.
We saw preseason flashes of what they could become, but what can we expect from the 2018-19 Vikings? Here are the essential questions.
1) How big is Cousins?
Minnesota let all three of their quarterbacks, including breakout star Case Keenum, pick their own destiny, this summer. Keenum headed to Denver, Sam Bradford took off for Arizona, and Teddy Bridgewater joined the New York Jets.
Making up for a clear lack of depth at the quarterback position, the Vikings made the headline of the summer, signing Washington quarterback, Kirk Cousins, to a three-year, $84 million, fully guaranteed contract — the first of its kind.
Last season, Cousins completed 64 percent of his passes, throwing for 4,093 yards, 27 touchdowns and 13 interceptions. The numbers look good — but Washington finished 7-9 for the season.
Cousins has the arm strength of Bradford, the gutsiness of Keenum, and the sweetness of fan favorite Teddy Bridgewater. These are great qualities, but analysts don't know how to assess Cousins, after his time in Washington: Is he a franchise signal caller, or a simple quarterback with an arm?
Adding to the intrigue, the Vikings plucked away Eagles' quarterbacks coach John DeFilippo to replace Pat Shurmur as offensive coordinator. DeFilippo was the mastermind behind the Eagles' league-leading red-zone efficiency. He now has the keys to the NFL's ninth-ranked red zone offense.
After helping guide the Eagles to a Super Bowl championship, DeFilippo was in no rush to leave Pennsylvania, but it likely took only a few Google searches for him to grasp the unique opportunity at hand in Minnesota.
"When you go and take a chance on a situation, there's three things you want to look at: Stable ownership, stable front office, stable head coach. This place was 3-for-3," DeFilippo told the Star Tribune.
Preseason left more to be desired. There will be growing pains on offense with a new quarterback and offense coordinator. When they start clicking, though, expect touchdowns. Many touchdowns.
2) O-line up to the challenge?
It's great to be optimistic, but will the Vikings ever have a dependable offensive line? It's hard to keep your quarterback healthy if he's constantly taking hits (CC: Sam Bradford).
The Vikings just invested big money into Cousins, but the next task is making sure he stays on the field. It's harsh, but that's the reality.
The offensive line is a sore spot for the Vikes. Last season, the Vikings were one of three teams that surrendered fewer than 20 sacks. That number is a tad bit inflated, as Keenum was ranked second in avoiding sacks.
How DeFilippo goes about protecting the less-agile Cousins while also putting him in situations to make plays down the field will be worth watching.
3) Big foot near?
Who would've thought that finding a good kicker would be so hard? But the Vikings are once again in search of their franchise kicker after releasing Kai Forbath following a poor preseason. Luckily, there's still rookie, Daniel Carlson. (That was a little sarcasm, there.)
Carlson will be fine in the long-term, but is the fifth-round draft pick from Auburn University ready for the pressures that come with being a Vikings kicker? He'll be given a shot (there's not much of an alternative). But if he proves to be a liability, Zimmer will make two-point conversations a favorite pastime at U.S. Bank Stadium.
Someone please tell Vikings general manager Rick Spielman that ex-Cowboys' kicker Dan Bailey is available!
4) Who steps up?
Keep your eyes on wide receiver Laquon Treadwell. Last season, Treadwell had 20 receptions for 200 yards. No touchdowns. The previous year, his rookie season, he had 15 yards. No touchdowns.
The former first-round pick has been in Zimmer's doghouse, but he's been clawing at the seams and has played well in preseason. Stefon Diggs and Adam Thielen are tough competition at both receiver slots, but Treadwell should get more chances in his third season.
Second-year running back Dalvin Cook is listed as active for the season opener. Cook tore his ACL four games into the 2017 season. Zimmer has said that Cook's foot quickness and acceleration are back to normal, but there are still questions about his workload.
Phil Picardi
My friend Jeffrey left out the most important player who might have a (right) hand in determining the Vikings' fate. His name is Aaron Rodgers.
Rodgers is the highest paid gun in all the land (he just signed a $134 million contract extension). And, he's more accurate ... more deadly ... when he has a chip on his shoulder.
After last year's encounter with the Vikings, that chip is firmly planted, and on a cracked shoulder.
Remember when Rodgers was injured a year ago? He was brazenly slammed to the turf and suffered a broken collar bone. That happened at U.S. Bank Stadium, and it was showboating Vikings linebacker Anthony Barr who did the deed.
Just a few snaps into the 2017 Vikings-Packers rivalry the finest quarterback on the planet was sent to the injured list, and Green Bay's hopes went into the dust bin.
Rodgers is back now, and by all accounts knocking tin cans off fence rails at 50 yards.
The Packers have also bought him a shiny new six (point) shooter. They signed tight end Jimmy Graham, who was the best tight end in football when he played with the Rodgers-like Drew Brees in New Orleans.
Graham has 69 career touchdown catches. His specialty is the red zone, and he will probably be Rodgers' favorite target when the Packers get close to the end zone.
Another boost for Rodgers is an improved defense under a new coach with a new scheme. The Packers have bolstered a formerly leaky defensive backfield with free agent Tramon Williams, and two sensational looking rookies, Josh Jackson and Jaire Alexander.
Will that defense be airtight against the likes of Kirk Cousins? It really doesn't have to be. It just needs to be tight enough to give Rodgers more shots on offense.
Oh, Vikings fans, don't be smug about the team to the east. When he's healthy, the NFC North has always been Mr. Rodgers' neighborhood.
Jeffrey Bissoy-Mattis is an assistant producer for MPR News who knew France would win the World Cup. Phil Picardi is a newscaster who admits to watching too much sports, but he was right about the Eagles winning the Super Bowl.