Hundreds in favor of impeachment protest in St. Paul, but others are opposed
U.S. House to vote Wednesday on 2 articles of impeachment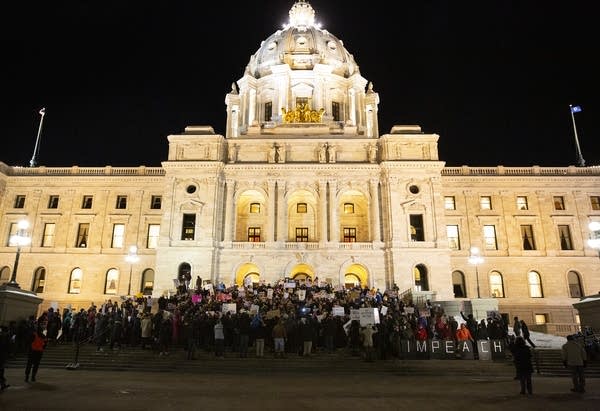 The U.S. House of Representatives is expected to vote Wednesday on two articles of impeachment against President Trump, one for abuse of power and another for obstruction of Congress. The process comes at a time of heightened partisan division, and that's the case in Minnesota, too.
Following the Tuesday breakfast rush at Kay's Kitchen in St. Joseph, diners said their support for the president remains strong even as he faces the biggest challenge of his presidency. Trump carried Stearns County in 2016 with 60 percent of the vote.
Bruce Batzer of Avon, who runs a road construction business, said he doesn't think Trump did anything that warrants impeachment, including the president's July 25 phone call with his Ukrainian counterpart Volodymyr Zelensky, in which Trump asked Zelensky to investigate Joe Biden and his son Hunter in a conversation about military aid, according to a written account of the call.
"This president holds everyone accountable. These countries are only our friends because we pay them to be our friends. I don't care what he says to them or how he handles them. I think he's the greatest and most powerful president that I've ever seen," Batzer said.
Grow the Future of Public Media
MPR's budget year comes to a close on June 30. Help us close the gap by becoming a Sustainer today. When you make a recurring monthly gift, your gift will be matched by the MPR Member Fund for a whole year!
Batzer said politicians of both parties are failing the voters who elected them, but most of his criticism focused on Democrats, who led the impeachment inquiry and drafted the two articles of impeachment.
Larry Wensmann of St. Joseph worked for 50 years at a cardboard box factory in nearby St. Cloud. The retired union member and lifelong Democrat believes Trump must be held accountable. "He crossed over lines he shouldn't," he said.
In St. Paul
3 of 3
1 of 3
2 of 3
Outside the State Capitol in St. Paul, hundreds of people huddled together outside against the Tuesday evening cold, including Sue Scott of Edina and six of her friends. As they stood on the steps, each held a letter made of Christmas lights that together spelled the word "impeach."
Scott lives in the 3rd Congressional District, where a Democrat flipped a House seat long in GOP control. Even though an impeachment trial in the Republican-controlled Senate appears unlikely at this point to result in Trump's removal, Scott said American citizens still need to speak up.
"You have to make a statement that what he has done is unconstitutional and worthy of impeachment. And if the Republicans in the Senate won't remove him from office, that's too bad, but you have to set a limit somewhere," she said.
Democrats appear to have enough support in the House to impeach President Trump. After Wednesday's expected vote, the matter goes to the Senate, where an impeachment trial is expected to begin next month.