Navigating black manhood with mentorship, self-discovery and 'sankofa'
Two Twin Cities coaching programs try to demonstrate the essence of a West African tradition of learning from the past
As Malaki-Milton Jackson recited his speech, the Wayzata High School football player revealed how he may appear to the world — and how it's at odds with who he truly is.
"All my life, I've been perceived as a big, tall, scary guy. But in reality, I am very soft caring and kind at the heart," he said.
His message? He's kind and he's gentle. As a young black man at a predominantly white high school, he said sometimes it's hard for people to see him as anything but just a big athlete. It took some time to form what he wanted to say. Then his mentor, Quincy Lewis, jumped in.
"You're not going to shrink, you're not going to be white, so just take it for what it is and go with it. Don't be apologetic," Lewis said
Lewis was helping Jackson prepare for a big day. Next month, the 17-year-old will graduate from Rites of Passage, a Twin Cities program that for the past 22 years has been helping young black men form their identity while equipping them with the tools needed to navigate black manhood in America.
Run by the Minneapolis chapter of the leadership organization Jack and Jill of America, the program has strong roots in African traditions. It uses the seven principles of Nguzo Saba, or the principles of Kwanzaa.
Before you keep reading ...
MPR News is made by Members. Gifts from individuals fuel the programs that you and your neighbors rely on. Donate today to power news, analysis, and community conversations for all.
At the heart of the teachings is the spirit of sankofa, a Ghanaian principle that has guided generations. It means "to go back and get it" — in other words, to learn from the past and bring forward what is good.
Jackson is completing his journey with nine other high school seniors, who, on a recent Sunday, practiced their speeches at Sanctuary Covenant Church in north Minneapolis with the help of a public speaking coach.
When Lewis advised him to be unapologetic for being a black man, he was speaking from experience.
Lewis is a former All-American basketball player at the University of Minnesota, where he now directs a program to support Gopher athletes, and went on to play basketball professionally.
"Trying to figure out what the true identity is between being a young black man and playing sports, because it's very polarizing and very different," Lewis said.
'Go back and grab something'
Experts say this kind of intergenerational mentorship is important in the development of black men.
"It's not just a symbol of becoming an adult; it's being a responsible adult that's committed to the development of your people," said Adrian Mack, a family life professor at Concordia University, St. Paul.
It's also representative of the principle of sankofa.
"Ideally, the meaning is to just kind of go back and grab something, but the principle of it, as we understand it in West Africa into African American adoption, is to go back to our roots or to grab from what's in the past that is good and bring forward to today," he said.
As part of Rites of Passage, the scholars have taken classes on everything from financial literacy to interactions with law enforcement. A recent lesson on what to do at a fancy dinner gala instructed the men to properly set a table and know which fork to use for the salad.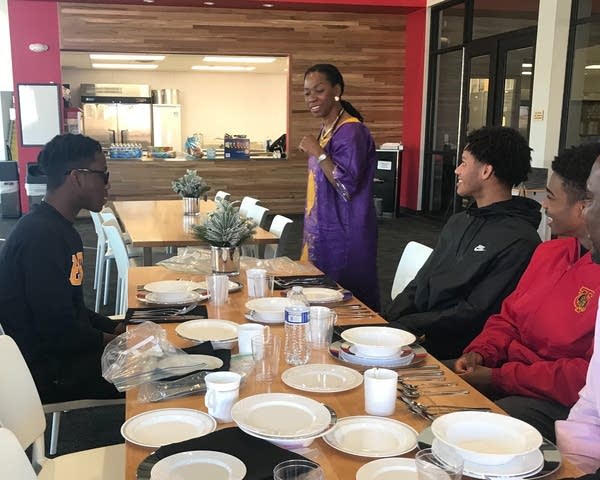 Some of this may sound trivial, but instructor Juliet Mitchell said these social norms are important to know to make sure the men aren't denied opportunities down the road.
"You're working on increasing that social capital so you can walk in any room, in any environment, sit down at the table and dine accordingly," Mitchell told the group.
After etiquette, it was time for step practice. Ten initiates perfected their routine with sharp arms and crisp stomps in unison. Step coach Profit Idowu, an alum of the program, said he came back to Rites of Passage because he wants to pass on the lessons he absorbed.
"To just pull young people of color together and saying, 'Hey, we're a culture, this is how we're progressively moving, and we want you to think about what your story is,'" he said.
Idowu told the young men they can "have an impact on not just black culture around Minnesota but wherever you go."
From formerly incarcerated to mentor
Rites of Passage isn't the only black male mentorship program in Minnesota that relies on the wisdom of older generations to help shape the younger generation.
Through a partnership between Power of People and North 4 in north Minneapolis, the mentors are formerly incarcerated men.
They've made an impression on 24-year-old Markess Wilkins, who earlier this month beamed as he finished an eight-week diversion program that paired young men like him with older men who had done hard time. At the celebration, the mentors cheered and shouted his name like he was a headliner at a concert. Wilkins grabbed a certificate representing the change he was taking in his life.
Since Wilkins was a kid, the only life he knew was the streets, he recalled. Then four years ago, when he was 20, his world came to a halt. His 11-year-old cousin was wounded in a crossfire shootout that involved Wilkins. She survived, but the experience gutted him.
Wilkins started the North 4 program after a referral from his probation officer. At first, he thought it was another way for authorities to keep tabs on him, but when he looked around, there were older men who were once in his shoes. They poured their lessons into him. He listened.
"Their favorite line to us is, they was us and we is them," he said. "They did the gang-banging and the shooting and all the crimes. 'Y'all don't have to do that.'"
North 4 is designed for young black men who may have had run ins with the juvenile justice system. It's been around for 10 years, but recently, it added a mentorship component with men from the Power of People replanting program, which works with men who were formerly incarcerated. That night, director Shane Price spoke to the men for their last session.
"I just want to talk to you about being brilliant, Markess," he said. "Just being brilliant, and then what could you do with your brilliance that your pistol could never do?"
His words resonated with Wilkins. In their last meeting together, the mentors shared how proud they were and the journey they went through. The mentees listened and chimed in about the changes they've made in themselves. Price asked each of the mentors how much time they served in prison. The numbers ranged from four years to 24.
"Do you think we need anymore years out of you?" Price asked the mentees in the room.
Tierre Caldwell is one of the men of the replanting program who got a chance to mentor Wilkins and others in his cohort. Caldwell said the only way he made it out was having people in his corner who didn't give up on him. That person for him was Price. Now, Caldwell is the employment navigator for Power of People, and wants to ensure that he's that person for the men of North 4.
"Being able to speak life into a lot of young brothers who society has kind of just wrote off for dead and just said, you're either gonna be dead or jail by the time you're a certain age, but we're like, no," he said.
For Price, the principle of sankofa is what guides the men — "to go back and get what belongs to you," he said. "These young people, they are ours, they belong to us, and it's incumbent upon us to go back and reach for them."