Cruise ship with COVID-19 cases seeking permission to pass through Panama Canal
Four passengers have died aboard the Zaandam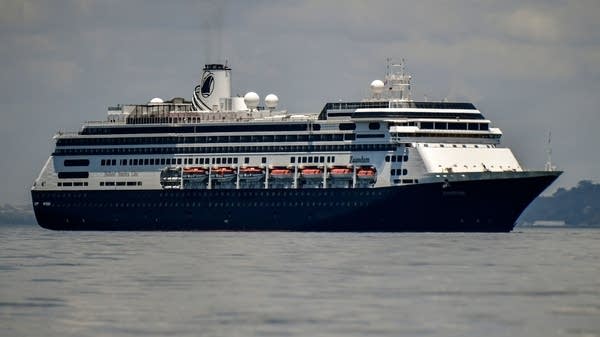 Updated: March 29, 9:45 a.m.
A cruise ship that had been stranded off the coast of Panama after four passengers died and dozens of others aboard were stricken with possible symptoms of coronavirus may be allowed to pass through the Panama Canal, Reuters reported.
The news agency reported Saturday that the Holland America Line's Zaandam was granted permission to pass through the canal on its way to Florida, as long as no passengers or crew are allowed to leave the ship. The cruise line said later Saturday that the situation remained "dynamic," and details were still being finalized. And it remained unclear where the ship eventually will be allowed to dock.
Two people aboard the ship have tested positive for the coronavirus, the cruise line said Friday. Holland America Line said in a post on its Facebook page that more than 130 people aboard the Zaandam had reported flu-like symptoms. Several Minnesotans were among the passengers.
"Holland America Line can confirm that four older guests have passed away on Zaandam," the statement said. "Our thoughts and prayers are with their families and we are doing everything we can to support them during this difficult time." It did not identify the cause of death.
The ship, which had been turned away from other ports before waiting for passage through the Panama Canal, was receiving medical supplies and medical personnel from another Holland America ship, the Rotterdam, and the company planned to begin transferring healthy passengers to that ship.
"Priority for the first guests to transfer will be given to those on Zaandam with inside staterooms and who are over 70," the statement said. There are 1,243 guests and 586 crew on board the Zaandam.
Late Friday, the Panama Maritime Authority said in a statement that 401 passengers not showing symptoms of the virus would be transferred to the Rotterdam. It said medical supplies were being delivered to the Zaandam until midnight and then the shipments would resume Saturday.
The authority said the bodies of those who died aboard the ship would remain on the Zaandam until the liner arrives at its final destination.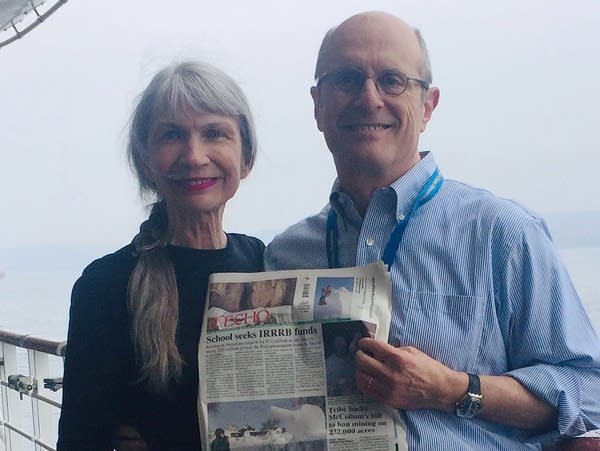 At least two Minnesotans are among the passengers. Valerie Myntti of Ely told MPR News from the ship on Friday night that she and her husband Frank Sherman boarded in Buenos Aires, Argentina, on March 7. Myntti said word of trouble came last weekend, when the crew canceled a black-tie event.
"We were told to go to our staterooms," she said. "Multiple people had been going to the infirmary for the first time complaining of respiratory distress."
In recent days the couple, both in their late 60s, have been under the weather with fever and a dry cough.
"I would say that there's probably 150 (passengers) at the moment who have real symptoms — I mean, respiratory distress. I would say there are many, many more than that who have dry coughs and occasional fevers, like my husband and I. We had to fill out a health affidavit this morning ... If we said that we had either of those illnesses, we would have to stay on the Zaandam, or go to the Rotterdam if we had no symptoms. And we, being good folks we are, we told the truth and now we're on the Zaandam."
Myntti said she and her husband had been confined to their stateroom for a week.
"It's slightly surrealistic," she said. "We don't have a window. So we have no idea what time of day or night it is. It's a lovely, well-appointed room (and) not having a window was not a problem for the first (few days). ... But now that we're confined, it's slightly surrealistic."
Myntti commended the crew and said she and her husband were being treated well, with food and drink brought to the door of the stateroom, free WiFi and free international calls.
The ship was trying to get to Fort Lauderdale, Fla., after being denied permission to dock at its original destination of San Antonio, Chile, a week ago. The cruise line said no one had been off the ship since March 14 in Punta Arenas, Chile.
There are four doctors and four nurses on the Zaandam, according to cruise line statement, while the Rotterdam had two doctors and four nurses aboard.
Holland America Line had announced March 17 that it was voluntarily suspending its cruise operations for 30 days "Due to the continued port closures and travel restrictions surrounding COVID-19 and in an abundance of caution." At that point, the company said none of its passengers or crew had tested positive for the virus.
Your support matters.
You make MPR News possible. Individual donations are behind the clarity in coverage from our reporters across the state, stories that connect us, and conversations that provide perspectives. Help ensure MPR remains a resource that brings Minnesotans together.