FAQ: What's behind the N95 mask shortage?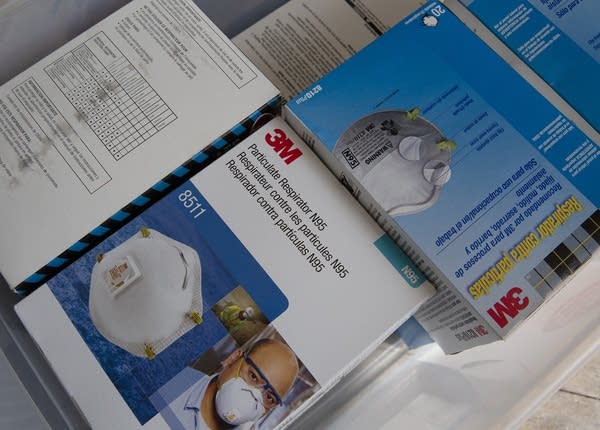 Gov. Tim Walz says, for now, Minnesota's health care workers have enough N95 respirator masks and other personal protective equipment to deal with patients with COVID-19. But he says they would be short of protective equipment if steps hadn't been taken to slow the spread.
Medical personnel in Minnesota and across the country have reported critical shortages of N95 masks, a standard piece of equipment when interacting with infectious patients.
The governor said last week his stay-at-home order would give officials more time to build up supplies of masks before cases reach a peak.
"But this is one of the leading problems," he said on Monday. "The state is not just praying that we get them or hoping that we get them. … We are planning so we will have them when the time comes."
Grow the Future of Public Media
MPR News is supported by Members. Gifts from individuals power everything you find here. Make a gift of any amount today to become a Member!
What is an N95 respirator mask?
An N95 respirator mask meets federal standards for protecting the wearer from inhaling hazardous airborne particles, including bacteria and viruses. These respirator masks filter out at least 95 percent particles three-tenths of a micrometer in size.
It's important that the masks fit tightly. Medical personnel are tested to make sure they know how to fit them so that they leak less than 1 percent, enabling almost all of the air the wearer breathes to pass through the mask's filter.
Many other face masks, including surgical face masks, are loose-fitting and offer only barrier protection against droplets and large respiratory particles. Those masks can prevent contamination of the surrounding area when the wearer coughs or sneezes.
But the Centers for Disease Control and Prevention says most surgical face masks do not effectively filter small particles from the air and do not prevent leakage around the edge of the mask when the user inhales.
3M has an online video about how N95 respirator masks work and how they compare to surgical masks. There's an infographic about the differences from the CDC.
Who makes them?
Maplewood-based 3M is a major manufacturer of N95 respirator masks. The company has manufacturing plants in South Dakota and Nebraska. It does research and development and testing in Maplewood.
There are many other manufacturers, including Honeywell.
3M says it has doubled its worldwide production since January to a rate of nearly 100 million N95 masks per month.
In the United States, the company has said it is producing 35 million respirators per month. As the virus started to spread in the U.S, 3M sent more than a half million respirators from a South Dakota plant to New York and Seattle.
The company says it expects to double its worldwide production of N95 respirators to almost 2 billion within the next year. But many countries have blocked or restricted the export of N95 masks and other protective equipment, keeping those safety items for their own citizens.
How many of these N95 and other masks for medical personnel do we need? And what do we have?
The number of masks we have in the U.S. is unclear, but it appears to be far from enough. There is certainly a great shortage, as medical staff reuse and try to clean what masks they do have. Minnesota officials are trying to assess the supply of respirator masks and other protective equipment. They say as that becomes clear, the allocation of the protective masks and other devices can be prioritized and optimized.
In testimony before a U.S. Senate committee early in March, Health and Human Services Assistant Secretary Robert Kadlec said the country would need 3.5 billion N95 respirator masks for a "severe" pandemic. But he said the nation had only 35 million masks in its strategic reserves. That's one percent of what Kadlec said would be needed.
In 2015, experts at the CDC and related organizations forecast the country could need even more respirator masks. They said "providing these numbers of respirators and surgical masks represents a logistic challenge for U.S. public health agencies. Public health officials must urgently consider alternative use strategies for respirators and surgical masks during a pandemic that may vary from current practices."
We're hearing that different clothing makers, even amateurs, are making masks. Would they afford the same protection?
No. But they're something to use when nothing else is available. And it's possible some health care personnel may find themselves without the masks they usually use to protect themselves.
The CDC says it recognizes some health care providers may run out of masks, even as they try to reuse and clean them, which is not in keeping with health and safety guidelines. The masks are meant to be replaced after each patient encounter.
The CDC website says that health care personnel might use homemade masks, including bandanas and scarves as a last resort. But the CDC cautions that the capability of such items to protect healthcare personnel is "unknown."
The organization says "caution should be exercised when considering this option" and homemade masks should ideally be used in combination with a face shield that covers the entire front and sides of the face.
The FDA cautions that 3D-printer respirator masks and other hopefully protective equipment are "unlikely to provide the same fluid barrier and air filtration protection as FDA-cleared surgical masks and N95 respirators."
What's next? Production only for health care? Prohibitions on the sale of masks to the general public?
3M has said 90 percent of its U.S. N95 respirator mask production is designated for health care workers. The rest is going to workers in the energy, food, pharmaceutical and other industries critical to the fight against COVID-19.
There was quite an outcry when a Target store in Seattle recently put out some N95 masks for sale. The retailer apologized and said it was searching its inventory for masks that could be donated.
What about fraud and price-gouging for N95 masks?
3M says people have fraudulently misrepresented themselves as being affiliated with the company and having authentic 3M products to sell, as well as selling counterfeit 3M products and claiming to manufacture 3M products.
The company recommends purchasing products only from a 3M-authorized distributor or dealer. 3M says it has not increased the prices it charges for N95 respirators and will not increase prices for respirators used to help address the pandemic.
The company says it is working with sellers of its products to identify and remove counterfeiters and price-gougers and bring them to the attention of law enforcement authorities. 3M says it wants individuals and organizations held accountable for making counterfeit respirators or inflating prices.
What's the difference between industrial- and medical-grade N95 respirators?
N95 masks meant for industrial uses are not made to the standards of medical-grade N95 masks but they do offer protection against disease.
According to 3M's website, N95 surgical-grade respirators are typically designed to resist the splash and splatter of blood and other bodily fluids. Surgical respirators do not have exhalation valves or those valves are shrouded.
But 3M says that in times of limited supply, health care providers may want to consider using nonmedical N95 respirators for other tasks. Recent legislation allows manufacturers to sell industrial-grade N95 face masks for use by health care workers.
The industrial-grade masks are what consumers could buy at Home Depot, Menards and other retailers. Those N95s masks are hard, if not impossible, to find now, too.
Do N95 masks expire?
Yes, the elastic straps and other components can degrade, compromising their ability to provide a tight seal and protect the wearer. But the CDC says "consideration" can be given if circumstances warrant to using masks past their designated shelf life when responding to COVID-19.
Some expired masks may be protective but the CDC says they should only be used as outlined in the its strategies for optimizing the supply of N95 respirators. The U.S. government believes expired respirators in good shape will likely offer greater respiratory protection than surgical masks alone, bandanas and other improvised mouth and nose covers or no protection at all.
How did we end up so short?
We rely heavily on imports for much of our supply of masks, gowns, gloves and other protective medical equipment. Countries are blocking the export of masks and other equipment, keeping it for their own citizens.
The offshoring of production, the resulting reliance on global supply chains and the strategy of keeping inventories low figuring you will get what you need when you need it all contributed to the supply crunch we face.
The machines to make N95 masks are costly and in short supply in the U.S. and demand for the materials used to make the masks has skyrocketed.