Coronavirus fueling 'total chaos' and tough decisions for Minnesota's immigrant workers
The transition to working remotely is full of hiccups for just about anyone who doesn't do it on a regular basis.
But for the state's immigrant workers and their employers, it's "total chaos," said Minneapolis immigration attorney Sandra Feist.
Take a university professor who is in the United States on an H1-B visa and needs to teach classes online.
"Technically, that university should be filing an H1-B amendment, which is crazy," Feist said. "It adds a huge amount of work, it's pieces of paper that need to be assembled and mailed, and it requires people to leave their homes. It doesn't make any sense. So that's one example."
Grow the Future of Public Media
MPR News is supported by Members. Gifts from individuals power everything you find here. Make a gift of any amount today to become a Member!
Another: Feist is advising visa holders who are now working from home to display public disclosure notices on their refrigerators to be extra safe. Businesses are required to post the notices informing the public when they hire someone with an H1-B visa, and when those workers change job sites.
And more sobering, employers considering furloughs due to lost revenue during the pandemic don't exactly know how it may impact the legal status of their immigrant employees.
Work visas come with specific employment conditions — navigate any of these scenarios the wrong way and it could jeopardize someone's ability to live and work in the United States.
That's why the American Immigration Lawyers Association, or AILA, filed a lawsuit against U.S. Citizenship and Immigration Services (USCIS) April 3. It's asking a judge to pause visa deadlines and protect the legal status of foreign nationals who are legally living, working or studying in the U.S. That includes Dreamers, whose parents illegally brought them to the county as children. The Supreme Court will soon take up the Deferred Action for Childhood Arrivals program that shields them from deportation.
USCIS offers some flexibility
USCIS declined to take such action after the lawyer's association sent acting Director Ken Cuccinelli a letter with its recommendations last month.
The agency also declined an interview for this story. In an emailed statement, a spokesperson said USCIS is responding to the crisis. It has suspended face-to-face appointments and is "continuing to perform mission-essential services."
"We continue to monitor this evolving pandemic and remain prepared to take necessary steps in order to protect the health and safety of our employees, applicants and the nation," the statement said. "We have also made announcements to provide applicants and petitioners with flexibility during this time."
That flexibility includes an additional 60 days for appeals, using previous biometric scans rather than collecting new biometric data and providing "special supports" to individuals on a case-by-case basis.
USCIS does, however, still encourage people to submit "renewals or re-registration on time and in accordance with existing instructions."
'Willing to go to great lengths'
For Chris Smith, the agency's complex policies have been near impossible to sort through as he watches payments to his Minneapolis tech firm seize up.
Smith is co-founder and CEO of a company called Kipsu that lets travelers give feedback to their hotels via text. With travel at a near standstill, hotels are increasingly unable to pay Kipsu for its services.
"We've been heads down, focused on dealing with the fire in front of us" Smith said. "It's been a lot of real-time decision making just to preserve our business."
One of those decisions was to furlough workers. Once it became clear his staff would receive unemployment benefits while on furlough, Smith temporarily laid off two-thirds of his team.
Less clear, however, was what to do about an H1-B visa holder on staff. Traditionally, if that employee isn't working for 60 days, they would have to leave the country. The injunction AILA is seeking would prevent that from happening.
Smith ultimately decided not to furlough the worker to protect their legal status. He said the decision did right by the employee and won't put the time and money he's invested in them to waste.
But it's a financially risky decision.
"We're trying to figure out how to make sure that our cash flow lasts for as long as possible, and so any sort of employing we're doing during the window of time when our customers can't pay us takes away from our long term stability," Smith said. "We're willing to go to great lengths to keep our team, but this is especially challenging for us."
'It's just really a mess'
Smith isn't alone in grappling with these decisions. Feist, who helped advise him on the matter, said she's been fielding frantic and tearful calls from across industries.
"I've got two advertising professionals, an I.T. professional, an engineer, a mechanical engineer, a stage director and a tennis coach [as clients]," Feist said. "And all of these people are facing furloughs, salary reductions and remote work situations that don't quite comply with their legal status. It's just really a mess."
Last fiscal year, there were 3,655 H1-B visa workers approved to work in Minnesota, according to USCIS. The largest share — 23 percent — work in "professional, scientific and technical services." A smaller number, 151, work in health care and social services.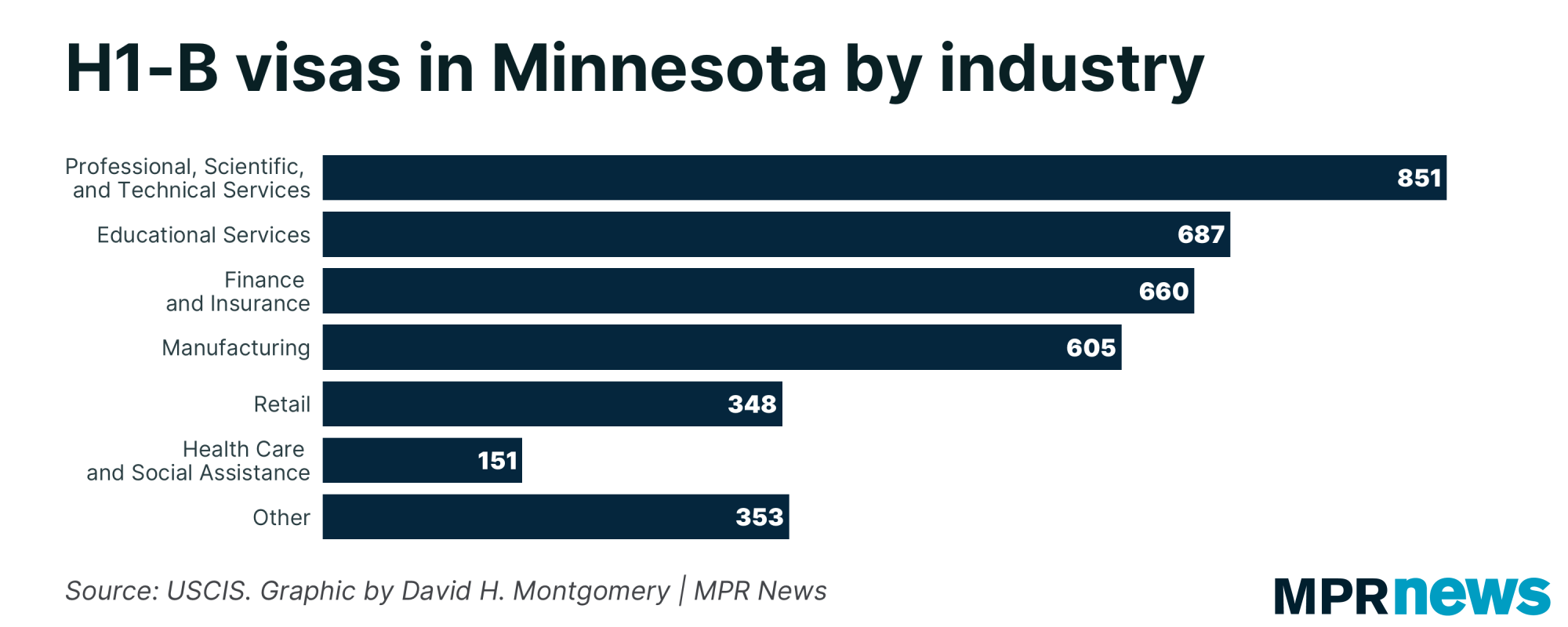 And then there are the more than 2,000 seasonal workers whom Minnesota farmers rely on. They participate in a different visa program managed by the U.S. Department of Labor. Feist said that program is functioning much more smoothly during the pandemic.
"It's kind of a stark difference between how the Department of Labor has treated these seasonal workers to the way that the Immigration Service has really ignored all of the other workers," Feist said.
As she and her colleagues across the country turn to the courts, Smith said he hopes the conversations COVID-19 has fueled about cracks in health care and the social safety net extend to the nation's immigration system.
"I definitely think we all need to stand back and rethink the original rules and say, 'Hey, is this the right thing? Does it make sense for right now? And how do we move forward under that?'"