Minnesota's stay-at-home order: What you need to know
The order lasts until May 18.
Updated: May 14, 9:46 a.m. | Posted: March 25, 5 p.m.
Gov. Tim Walz extended Minnesota's original COVID-19 stay-at-home order until May 18 in a continued effort to give the state's health care system more time to prepare for an expected surge in COVID-19 cases. The original order went into effect March 27 — and the extension has meant several adjustments for the state.
On May 13, the governor announced that he would let the order expire while keeping some key restrictions. Find out what you need to know about the new "stay safe" order in our guide here.
But there are still several days left in the stay-at-home order, here's what you need to know:
Minnesotans must continue to work from home if possible. Bars and restaurants will remain closed to dine-in customers — and are still allowed to provide take-out and delivery services. Schools will also remain closed, and instead will provide distance learning to students through the end of the academic year. 
Grow the Future of Public Media
MPR News is supported by Members. Gifts from individuals power everything you find here. Make a gift of any amount today to become a Member!
Retail stores are allowed to offer curbside pickup for shoppers. 
Recent revisions to the weekslong order have also allowed factories and office buildings without direct customer interactions to reopen, if they implement safety measures and health screenings for employees.
But what does all this mean, in practical terms? Read on for more specifics from the order and answers to frequently asked questions. 
If you have a question about how this will impact your life, please share it with us. We'll continue to update this FAQ as the order continues.
How long will the stay-at-home order last?
The order went into effect at 11:59 p.m. on Friday, March 27. It was originally set to last until Friday, April 10, was extended to May 4, and is now set to expire as of 12:01 a.m. on May 18.
So, what am I still allowed to do?
Lots of things. Minnesotans are allowed to leave their homes for several reasons — as long as they follow social distancing recommendations. 
Get "necessary supplies and services." If you need something, you can go out to get it. This includes food (groceries, delivery or carry-out), beverages (including alcohol; liquor stores are not closed under the order), gas, supplies that will help you work from home, and products you need to clean and maintain homes, vehicles, bicycles and businesses. You can also leave to do your laundry.
Starting on May 4, other retailers will also be allowed to offer curbside pickup for products. The governor's latest order says that "businesses that provide services such as household goods rental, maintenance services, repair services, and pet grooming are included," as long as they adhere to the state's guidelines on safely reopening. Salons and barber shops will be allowed to sell products curbside, but cannot yet provide haircuts or other services.
State officials said they're still asking residents to use their best judgment and purchase only what they need.

Get medical care. If you need emergency medical services, of course you're allowed to leave your home. You can also leave if you need other medical services, supplies or medications — or to visit a health care or dental professional or facility.
The governor recently announced a new executive order that will allow doctors, hospitals and dental clinics to resume elective surgeries and non-emergency dental procedures as well.
You can also leave to visit a veterinarian or to donate blood. 

Care for others. You may leave to care for a family member, friend or pet in another household, or to provide transportation for them. The order specifically identifies "existing parenting time schedules or other visitation schedules pertaining to a child in need of protective services" as acceptable reasons for leaving home under the order.
Get out of an unsafe situation. You may move to another residence if your home becomes unsafe, or if you're in an unsafe situation — the governor's order specifically referenced those "who have suffered or are at risk of domestic violence." 
Minnesota Day One Crisis Line | Call (866) 223-1111 | Text (612) 399-9995
People without a home are exempt from the restrictions in the governor's order, and are allowed to move among emergency shelters, drop-in centers and encampments. The order also specifically forbids "sweeps or disbandment" of homeless encampments, saying that such actions would exacerbate the potential spread of the coronavirus.
Get home. The order allows people to travel within the state and out of state for allowed activities — and to return home.
Take a drive. The order says people are allowed to "drive for pleasure," and may go to public parks and other public places that are open, as long as they maintain safe social distancing.
Attend a funeral. You may leave your home to go to a funeral, provided that the gathering consists of no more than 10 people. The funeral home, place of worship, cemetery or similar location must allow for proper social distancing. People at high risk from COVID-19 are strongly encouraged to attend funerals remotely.
Travel within or between tribal lands. Minnesota's Native American reservations, federal trust lands and activities on the state's treaty territories are exempt from the restrictions in Walz's order. Several Native nations have already put in place their own restrictions. The Red Lake Nation, for instance, enacted a curfew that restricts movement on the Red Lake reservation between 10 p.m. and 6 a.m. The Walz order also allows tribal members to travel among reservations.
Can I meet in person with a friend or family member?
That's what everyone wants to know: But the stay-at-home order — and its subsequent adjustments — includes no specific exception for this kind of meeting. People are allowed to leave their homes to care for family members. And they're also allowed to recreate outdoors. State officials have encouraged Minnesotans to consider the spirit of the order when making decisions about how to do those things safely. 

Big-picture: Stay at home as much as possible. Limit unnecessary travel. Wear a mask when you're out in public. Practice social distancing. "The best thing we can do is the social distancing," Walz has repeatedly said. "The best thing we can do is be smart about how we go about our daily business."
Here's some general advice given by Walz and other state officials to similar questions: Stay 6 feet apart, even when outside. Avoid large gatherings. Wear a mask to reduce the risk of infecting others. Wash your hands. Don't touch your face. And don't leave home if you're sick.
Can I move to a new residence?
Yes. If you need to move to a new residence at any point while the order is in place, you are permitted to do so — as long as you follow the state health department's prevention guidelines to the best of your ability. Moving services are also considered essential under the order. 
The order does include a few new caveats when it comes to home-cleaning services. "Workers doing ordinary residential house cleaning of individual homes are not exempt," it says. But those who clean common areas in residential buildings or provide cleaning services for those with disabilities are exempt.

Can I go outside?
Yes, people are still encouraged to head outside. When he first announced the stay-at-home order, Gov. Walz emphasized that getting out for a walk is a "good thing," that fresh air is crucial for maintaining physical and mental health. But Walz also cautioned people to "be smart about this."
People must maintain 6 feet of social distance from members of other households — and continue to take the same precautions we have put in place so far: covering coughs, washing hands and disinfecting surfaces.
The Duluth parks department has even released a handy graphic detailing exactly what 6 feet looks like.
Allowed activities include: walking, hiking, running, biking, driving for pleasure, hunting and fishing. People are also allowed to go to public parks and other public spaces that are still open, though the order notes that events and gatherings at those public spaces should remain canceled for the time being. The order also states that this does not necessarily mean businesses that provide an element of outdoor recreation are exempt from the order. 
It's not yet clear whether summer camps or sports leagues will be allowed to take place this year.  However, Walz said the situation with COVID-19 and restrictions in Minnesota is changing rapidly and he's hoping some activities will be able to take place soon.
"I wish I could be definitive," Walz said, acknowledging that some camps and organizations have already called off summer programs. 
The Minnesota Department of Natural Resources, which runs state parks, is maintaining a page of updates related to the COVID-19 outbreak, including cancellations and closures. State parks, recreation areas and other public lands remained open to the public and no restrictions had been put on DNR-controlled fishing ramps, though season maintenance may impact accessibility. 
The DNR has closed campgrounds, group camps, remote campsites and other overnight lodging facilities. Visitor centers and contact stations are also closed. The Wisconsin DNR has also canceled events and reservations — and as of April 10, is closing 40 of its state parks "for the duration of the COVID-19 emergency." Both DNRs ask that people not travel too far from home to visit a park and to observe social distancing guidelines.
Should I let my kids play on a playground?
Playgrounds present unique challenges: Social distancing isn't exactly a concept that toddlers or preschoolers understand. Keeping them at least 6 feet apart while they're sliding on a slide or climbing on equipment is virtually impossible.
Minnesota's stay-at-home order doesn't specifically require that public playgrounds close.In some cities, playgrounds in public parks are closed, as part of efforts to tamp down the spread of COVID-19. In others, they remain open and busy. That's left many parents wondering whether they're safe.
Public health experts say the main way the new coronavirus is spread is through respiratory droplets — when an infected person coughs or sneezes, and another person close by inhales the droplets. However, the Centers for Disease Control and Prevention says it's also possible that a person could pick up the virus by touching a surface that it's on, then touching their own mouth, nose or eyes.
It's still unclear how long the virus can live on a surface. Some studies have suggested it can survive for hours — or even days — on plastic or metal. And playgrounds aren't sanitized on a regular basis, if ever. Read more in this report by MPR New reporter Kirsti Marohn.
Can I go to work?
It depends. State officials are still urging people to work from home if they can. The original order only allowed those who worked in a "critical sector" to physically go to work. Subsequent orders have allowed more Minnesotans to return to work, including those in factories or office settings where social distancing and other safety measures are maintained and retailers that would be able to sell their products through curbside pick-up service.
Is my job in a critical sector?
The Department of Employment and Economic Development is maintaining a detailed list of the jobs that are exempt from the travel restrictions in the order. The order lists about three dozen sectors that are deemed critical, including:
Health care and public health

Law enforcement, public safety and first responders

Child care

Transportation, including public transit workers

Construction and critical trades, including skilled trades like electricians and plumbers, and janitorial staff of commercial and government buildings.

Food and agriculture

Water and wastewater

Critical manufacturing, including iron ore mining and processing operations.
On April 28, factories and office buildings without direct customer interactions were allowed to reopen if they adopted safety measures and health screenings for employees. And earlier in April, Walz gave the go-ahead for golf courses, marinas, outdoor gun ranges and other recreation-themed businesses to reopen, as well.
If you have a question about whether your business or employer is considered "essential," or if you are allowed to go back to work under the new rules you can send an email to state economic development officials at criticalsectors@state.mn.us
If you're wondering whether a certain business is open: Many are — including pet supply stores, hardware stores, grocery stores and restaurants and stores that are able to comply with the pickup and delivery-only rules. 
However, you will want to check on a businesses' website or official social media accounts to see if their hours have changed. Some may have had to adjust or close temporarily based on health officials' guidance and/or other business concerns.
I think I'm vulnerable to COVID-19, but my boss says I have to come to work. What can I do?
Individuals with conditions that elevate their risk for contracting COVID-19 can request reasonable accommodations with their employer under another Walz executive order.

Walz said that employees who say they can work from home, but whose employers are preventing them from doing so, should bring complaints about these policies to his administration. And he reminded employers that his executive orders are clear that all workers who can work from home should work from home. He added that employers should also use his administration as a resource if they're not clear on how these rules should be implemented.
Can I apply for unemployment if I've lost my job because of this pandemic?
DEED Commissioner Steve Grove provided some clarification about unemployment filing during an interview with MPR News' Tom Crann. "You are eligible to find employment insurance if you are displaced from your work. [Was it through] no fault of your own? And so if for whatever reason that you are no longer working, you are now eligible for unemployment insurance, even if, for example, your hours have been severely cut. We may still be able to cover some of that gap with unemployment insurance," he said.
He went on to add: "For any applicant [for] unemployment insurance, there are unique details of their workplace that our team needs to review. There are not always universal answers to these questions. … Generally, we can get payments out the door within a week or two."
On a related note, Walz has issued orders halting evictions and establishing emergency loans for small businesses. The Minnesota Multi Housing Association also issued a statement to its members to halt evictions and temporarily stop new rent increase notifications on all renters from April 1. Under the small-business loan program, any business closed under government order is eligible for loans of between $2,500 and $35,000.
Can I go to my family's cabin?
That answer is a little trickier. Under the order, people are allowed to travel for exempted activities, as outlined above: Get "necessary supplies and services," get medical care, care for others, get out of an unsafe situation, drive for pleasure while social distancing, travel within or between tribal lands and travel home from any of these activities. 
It's worth noting that before the stay-at-home order was issued, many resort owners in northern Minnesota had already made the tough decision to cancel cabin reservations.
And some local officials in northern Minnesota and Wisconsin are asking cabin and second home owners not to visit during the current outbreak.
In March, the Cook County Board of Commissioners unanimously approved a travel advisory requesting that seasonal or second homeowners stay home — for the time being."Due to our very limited health care infrastructure, please do not visit us now," the county's advisory reads.
Cook County lies at the tip of Minnesota's Arrowhead region and borders Canada, Lake Superior and the Boundary Waters; includes four state parks, the Gunflint Trail, Grand Portage National Monument; and the towns of Lutsen, Tofte and Grand Marais. Tourism makes up more than 80 percent of its economy.
Commissioners took action after they heard from county residents about what they perceived to be an influx of visitors from the Twin Cities and elsewhere — opening up their seasonal homes and staying at local resorts during a time when state health officials are emphasizing the need for social distancing to tamp the spread of the coronavirus.

The advisory is not mandatory — and it's not legally enforceable. But county leaders are concerned that its limited health care infrastructure, grocery stores and other retailers aren't equipped to handle additional visitors. It was modeled after a similar advisory passed by Bayfield County in northwestern Wisconsin, another tourism area with an aging population.
Can my kids go to school?
Walz issued an order in the middle of March to close schools — which has been extended through the academic year. Since the initial closing, districts and parents have adapted to the change, trying to figure out creative ways to meet students' food, educational and care needs.

Schools have been providing distance learning since March 30. So, for the rest of this academic year, Minnesota schools will be closed to in-person instruction, but "must provide continuous education." Schools are required to allow their employees to work remotely, whenever possible.
Schools have been providing distance learning since Monday, March 30.
So, for the rest of this academic year, Minnesota schools will be closed to in-person instruction, but "must provide continuous education." Schools are required to allow their employees to work remotely, whenever possible.
Asked if parents should expect distance learning to continue into the next school year? Walz, a former high school teacher and coach, conceded: "The answer is I don't know yet on fall." He said it was under study.
Can I still bring my kids to day care? Is it safe?
Minnesota's stay-at-home order does not prohibit families from taking their kids to day care, but officials note that the goal is to keep providers open specifically for the children of emergency workers.
According to guidance the governor's office shared with day care providers, families are ordered to stay home unless they're taking part in exempted activities. There is nothing in that order that expressly prohibits families from taking their kids to day care, the guidance noted.Children transmitting the disease is a concern, however. While scientists are still learning about the ways COVID-19 behaves, some studies suggest that many children are either asymptomatic or don't get severely ill from the disease.
Many child care providers have implemented strict measures to keep COVID-19 out of centers and homes. They screen families at drop-off, limit outside visitors and sanitize and disinfect more often than they have in the past. The uncertainty of how the virus will continue to spread in Minnesota has many families keeping their young children at home, forcing full-time working parents to merge work life and home life in unprecedented ways, and taking away income from the already not-so-lucrative profession of early childhood educators.
But what about family members who pitch in to help with child care? Experts say that, as long as relatives trust each other's outside interactions — and that they are social distancing everywhere else — they can safely help with child care to alleviate a stressful environment. And traveling to care for friends, family or pets is admissible under the state's stay-at-home order.But note that the official guidance from health care professionals is that older adults should avoid contact with children during the COVID-19 outbreak, because their risk of severe illness from the infection goes up significantly after age 50.
You can read more on this topic in MPR News reporter Riham Feshir's recent report.
Is my dated driver's license still valid?
Expired Minnesota driver's licenses will be considered valid for several more months. People whose license or ID card lapsed during the ongoing coronavirus epidemic will get a reprieve. Under a law that Walz signed, expiration dates will be pushed out until the health emergency is over.The new expiration date will be two months after Walz lifts the peacetime emergency.
The federal government has already delayed its Real ID deadline from October of this year to October of 2021. That is key people who will eventually need that card or another security-enhanced ID to get through airport security or into various federal buildings.
Minnesota vehicle registration won't be granted extensions because people can still do that function online or by mail. Currently, car owners have 10 days beyond the end of their annual registration month to display updated stickers. Find out more about what services are still provided via the department of public safety's FAQ page.
How will the new restrictions be enforced?

According to the executive order, anyone who willfully violates the restrictions could be punished with a fine up to $1,000 or 90 days in jail. However, Walz is urging Minnesotans to voluntarily comply with the executive order. If someone does violate it, he said, "we don't want them to be arrested. We want to educate people. This requires voluntary social compliance."While the state would have the ability to arrest someone, Walz said, "we have no desire to do that."
During a recent press conference, Walz said that the majority of tickets issued to people who violated the order so far were connected to other crimes, such as drunk driving.
Do I need a permit to travel?
In a word: No.
Walz clarified during a March 26 news briefing that no one is required to carry special documentation proving their job or destination meets state guidelines in order to travel while the order is in place.
How is the stay-at-home order different from the ones that have already been issued?
Walz has issued several orders since early March, all aimed at keeping Minnesotans from congregating in ways that might aid the disease's spread. 
So far, bars and restaurants have shifted to takeout-only service. Businesses that provide "public accommodation," like gyms and health clubs, theaters, museums and bowling alleys — and those that require close human contact, like salons and tattoo parlors — have been closed or significantly limited. 
Other businesses where customer interaction is less important or can be limited are being allowed to open.
Will public transit keep operating?
Yes. Transit workers are considered essential employees.However, many systems have cut back service. Metro Transit in the Twin Cities, for example, has cut back on its daily service in an effort to curb the spread of the coronavirus.
Several public transit organizations have also implemented rear-door boarding to limit interaction between drivers and passengers, and some, including Fargo, N.D.-Moorhead, Minn., buses, are going fare-free during the epidemic. Airports also remain open for essential travel and for those returning home.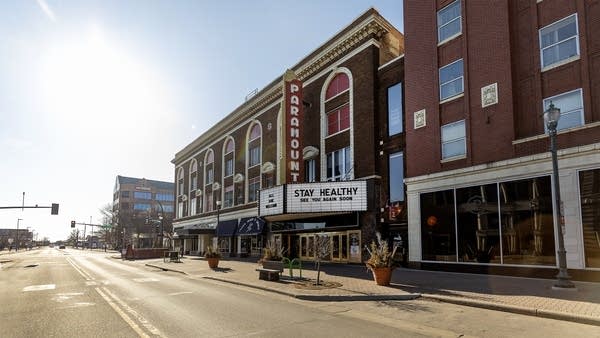 MPR News reporters Brian Bakst, Catharine Richert, Riham Feshir and Kirsti Marohn contributed to this report.
---
What have we missed?
Let us know! We're planning to continue to update this page, with answers to your questions about this latest development in Minnesota's work to combat the spread of the coronavirus.
---
Government and medical leaders are urging people to wash their hands frequently and well, refrain from touching their faces, cover their coughs, disinfect surfaces and avoid large crowds, all in an effort to curb the virus' rapid spread.