What you need to know about Minnesota's 'stay safe' order
Updated: May 26, 5:49 a.m. | Posted: May 14, 8 a.m.
Read this story in Hmong, Somali and Spanish, via Sahan Journal.
Gov. Tim Walz is loosening social distancing restrictions that he put in place at the end of March to slow the spread of COVID-19.
The "Stay Safe Minnesota" order replaces his stay-at-home order, which expired May 18.
Under the new order, retail businesses will be allowed to reopen with limited capacity and group gatherings of 10 or fewer people will be permitted once again.
Restrictions on restaurants and bars are starting to lift, slowly. And theaters, bowling alleys and venues that attract large crowds must remain closed.
You can read more about the incremental changes happening June 1 on the state's website.
Here's a look at some of the topics that have been top of mind for Minnesotans.
What businesses will reopen?
Retail stores, malls and other businesses can reopen for in-person shopping if they have social distancing policies in place for workers and customers — and if they operate at no more than 50 percent capacity at any time.
Can I dine in at a restaurant?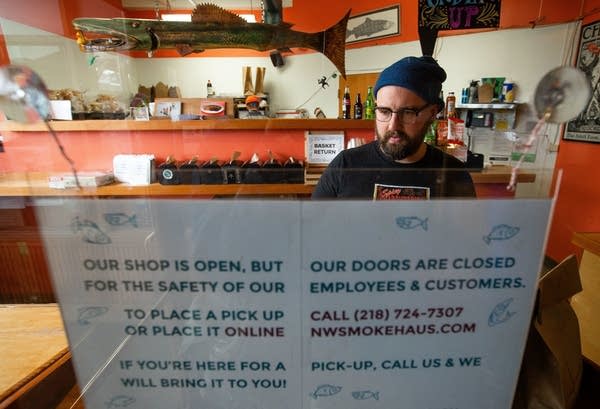 In a cautious plan for reopening close-contact businesses, Walz announced that restaurants can serve sit-down customers only at outdoor tables beginning June 1.
The new rules stop short of allowing customers to sit at the bar, in restaurant dining rooms or other indoor tables — for now.
Restaurant staff have to wear masks; customers who are waiting for food are encouraged to. There must be 6 feet between tables, and patios will have to operate at a lower capacity than normal — no more than 50 people at a time, with parties limited to four, or a family of six. Reservations will be required. Curbside pickup will be permitted as before.
Can I get a haircut?
Beginning in June, hair care businesses can provide in-shop services at maximum 25 percent capacity. Both workers and customers are required to wear a mask and workers must be stationed and remain 6 feet apart. Reservations will be required.
The same guidance allows tattoos parlors and spas to reopen.
Businesses are required to have clear plans for social distancing, sanitizing and other safety measures to keep coronavirus risks down. That includes mandatory mask wearing and a 25 percent capacity at first.
Can I attend church services?
Starting May 27, places of worship will be allowed to open at 25 percent occupancy if they adhere to social distancing and other public health guidelines and specific requirements of each, including the posting of a plan.
The maximum event gathering size is 250 people for both indoor and outdoor services, which applies to both weddings and funerals. It does not include "related celebrations or social gatherings," according to the guidelines.
When will gyms and entertainment venues open?
These and other spaces that tend to attract crowds are not part of this latest round of reopenings.
How will the 50 percent capacity rule be enforced?
It's a bit unclear. The new order allows businesses to open if, among other requirements, they operate at no more than 50 percent capacity at any time.
Throughout the stay-at-home order, state officials have repeatedly said they prefer to enforce the law through education, rather than fines. Walz has said he wants Minnesotans to voluntarily comply. 
"I'm not sure if every store is going to have someone standing out there with a clicker," DEED Commissioner Steve Grove said of the 50 percent rule. 
"Each store is going to handle this in a way that makes sense for them," he said, to reduce the number of people in stores, and keep those people 6 feet apart. 
Can household workers like cleaners and nannies return to work in people's homes? Are there guidelines homeowners must follow?
Businesses that provide household services — like house-cleaning, maid services and piano tuning — can return to work. But they must develop plans that show how they intend to keep customers and workers safe.
Can I renew my driver's license or take a road test?
Many state driver and vehicle services are available once again as of May 19 — with some substantial changes to how office visits can be conducted.
Only 14 regional exam stations will open to start, including: St. Paul, Arden Hills, Anoka, Eagan, Plymouth, Rochester, Mankato, Marshall, Willmar, Detroit Lakes, St. Cloud, Duluth, Grand Rapids and Bemidji.
Available tests will include knowledge tests, permit applications and motorcycle and commercial driver's license road tests. Starting May 26 the open stations will also offer class D road tests in addition to other services.
There will be new regulations during your visit, too. DVS staff and customers are required to answer health-screening questions upon entering. Staff will also wear personal protective equipment, and customers are strongly encouraged to do so as well. And be prepared to social distance; signs will be in place to help customers stay 6 feet apart.
Those who have a driver's license set to expire soon, or one that has already expired, are encouraged to pre-apply for renewal online.
Walz also signed a bill into law on March 28 that provides an extension for Minnesotans whose driver's licenses or ID cards expire during the peacetime emergency. The peacetime emergency is currently in effect until June 12. Those with expired licenses will have two months after that to renew under the law.
Read more about the changes at the Department of Public Safety's website.
Are group gatherings allowed?
Yes, with limits. Group gatherings of 10 or fewer people are permitted once again. People are still being asked to maintain 6 feet of distance from each other.
However, all gatherings of more than 10 people are still prohibited — even if it's possible to social distance. For example: Sporting events, concerts, fundraisers, parades, festivals and other gatherings that bring together more than 10 people from more than one household are still not allowed.
Ideally, people should also wear masks, said state Health Commissioner Jan Malcolm. She also encouraged people to meet outside, which she said presents a bit more of a "safe zone" as compared to confined indoor spaces, and also stressed not to gather if anyone in the group is ill. 
One big caveat: Officials strongly encourage the elderly and people with underlying health conditions to stay home as much as possible, because other people can transmit the coronavirus to members of vulnerable populations before they develop symptoms. And some people never develop symptoms, or the symptoms can be quite subtle. 
This is "a stealth virus," said state epidemiologist Ruth Lynfield.
Read more in our guide to gatherings here.
Do I have to wear a mask in public? Or maintain 6 feet of distance from others?
Even as he announced the end of the stay-at-home order, Walz pleaded with Minnesotans to stay smart about being safe. He said he was counting on people to work from home if possible, wear masks when they leave the house, stay 6 feet away from others — even when they're in groups of 10 or fewer — and get tested if they show symptoms of COVID-19.
Walz also signed a separate executive order strongly encouraging people at the greatest risk of serious illness — the elderly, and people with underlying health conditions like lung and heart disease, asthma or diabetes — to continue staying home. 
"We are not requiring it, but it is strongly encouraged that if you are able to stay home — continue to stay home," Walz said.
Does this change anything about schools for the year?
No. Distance learning will continue through the end of the 2019-20 school year.
The state is allowing school districts and charter schools to offer summer programs, either through distance learning or a hybrid model that employs both distance learning and in-school instruction. 
Schools will only be allowed to offer in-person instruction if they follow state guidelines on masking, social distancing, cleaning, and other measures. 
Will camps and youth sports be allowed this summer?
According to the new executive order, day camps that provide youth summer programming are allowed, but overnight camps are not. Those camps are working with the state Department of Health to determine how they may safely operate.
There's no specific mention of team sports in the executive order. Outdoor tournaments, competitions, practices and sports that allow for social distancing and do not require groups of larger than 10 are permitted. 
But Walz told reporters that state officials are continuing to work with youth sports groups to see if there are ways to allow those activities while also preventing the spread of the coronavirus. 
"Some of them have put together some really great plans," he said. For example, he said, some of those plans "showed us how they might be able to get youth tennis camp going."
Walz said that the goal is "to get some real guidance on what's possible and what's not" by June 1. 
Some cities have already taken action. The city of Duluth, for example, has banned competitive team sports in city parks through the end of June, as well as pickup games of contact sports like basketball or soccer. 
Can I go camping? 
Campgrounds, public and private, will be allowed to reopen June 1 with new cleaning and social distancing protocols in place. Charter boats were also cleared to conduct business under this guidance.
But through the rest of May, there is no camping allowed at developed campgrounds, with amenities like bathrooms and electrical hookups. Both private campgrounds and public campgrounds, like those at state parks, remain closed. 
However: Overnight camping is allowed for people within the same household at dispersed or remote sites that are not part of developed campgrounds. Dispersed camping is allowed in state and national forests and is only recommended for experienced campers who have wilderness skills to help them navigate the deep woods. Camping is also allowed in the Boundary Waters Canoe Area Wilderness and Voyageurs National Park.
What about other kinds of outdoor recreational activities?
In general, activities like hiking, biking, golfing and fishing are still allowed, as long as they are done in groups smaller than 10 and allow for proper social distancing. 
However, outdoor facilities that involve large groups of people, or where social distancing is difficult — such as pools, mini golf courses, outdoor racetracks and concert venues — remain closed for now.
Should I continue to work from home if I'm able to?
Yes. Workers should continue to work from home whenever possible. 
The executive order states that "any worker who can work from home must do so."
My workplace is reopening but I don't feel safe. Should I worry about retaliation or losing unemployment?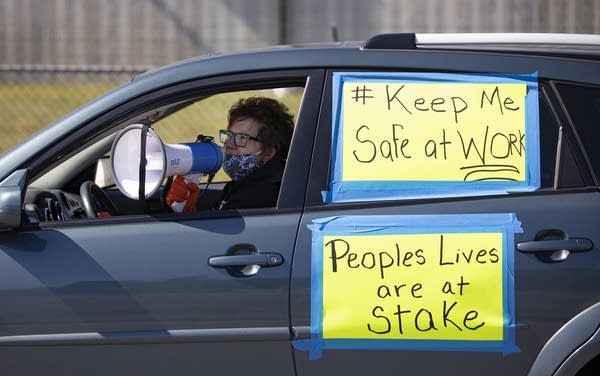 Walz issued an executive order that bars retaliation against employees who don't feel safe in their workplaces. The order says workers in those situations would qualify for unemployment, if they felt at risk of contracting COVID-19.
"We have to understand there are going to be situations where people say, 'I don't believe my store is safe or things are being followed,'" Walz said.
What happens if there's a spike in cases? Could restrictions come back?
Walz said that reopening businesses could worsen the spread of COVID-19 in Minnesota, and that if he needs to shutter businesses again he will do so.
What questions do you have about the new 'stay safe' order?
We're planning to continue to update this page with answers to your questions about the latest developments in Minnesota's work to combat the spread of the coronavirus.
---
COVID-19 in Minnesota