Minnesota is loosening its COVID-19 restrictions. Here's what you need to know
Updated: Nov. 11, 10 a.m. | Posted: May 14, 8 a.m.
As new cases continue to surge in Minnesota and across the U.S., Gov. Tim Walz has issued an executive order, putting new restrictions on restaurants, bars and some venues.
Find a more recent, in-depth explainer on these restrictions here.
At the end of March, as the coronavirus accelerated its spread across the state, Walz put in place a series of stay-at-home measures that moved schools online, limited restaurants and bars to takeout only and prohibited most gatherings across the state. 
The moves encouraged mask-wearing and introduced the now-common idea of social distancing — keeping at least 6 feet apart from other people from different households. 
Grow the Future of Public Media
MPR News is supported by Members. Gifts from individuals power everything you find here. Make a gift of any amount today to become a Member!
By mid-May, those stay-at-home restrictions had evolved into "stay safe" guidance, with retail businesses reopening with limited capacity and group gatherings of 10 or fewer people permitted again.
In mid-June, Walz issued an order that allows restaurants, bars, places of worship, hair salons, fitness centers and places like theaters and bowling alleys to operate indoors and outdoors at limited capacity. The reopening process limits the amount of people allowed in any setting to 250, indoors or outdoors, continuing the prohibition on large gatherings.
In July, Walz issued and order under which Minnesotans are required to wear masks in restaurants, stores and other public indoor gathering spaces as well as on public transportation.
A full explanation of the state's response to COVID-19 and each of Minnesota's four phases of reopening is outlined on Minnesota's Stay Safe Plan website.
Here's a look at the latest.
Should I wear masks and practice social distancing?
Yes. Walz and health officials unveiled a statewide mask mandate, which requires Minnesotans to don a face covering while in indoor public spaces such as eateries, bars and retail stores. The order goes into effect at midnight Friday — in other words, Saturday morning.
Children at and under age 5 and people with certain medical conditions that make it difficult to safely wear a mask are exempted.
Social distancing and the other basic prevention practices, such as washing hands, that have been put in place as either requirements or recommendations are also strongly encouraged.
The third phase of Minnesota's reopening plan includes capacity limits for various activities — indoors and outdoors — based on the type of setting and the ability to social distance. 
Is anyone still being asked to stay home?
State officials continue their monthslong plea to Minnesotans to stay smart about being safe.
They said they are counting on people to work from home if possible, wear masks when they leave the house, stay 6 feet away from others — even when they're in groups of 10 or fewer — and get tested if they show symptoms of COVID-19.
"If you can work from home, you must continue to do so," Grove said.
In May, Walz also signed an executive order strongly encouraging people at the greatest risk of serious illness — the elderly, and people with underlying health conditions like lung and heart disease, asthma or diabetes — to continue staying home. 
"We are not requiring it, but it is strongly encouraged that if you are able to stay home — continue to stay home," Walz said at the time.
What will now be open?
Restaurants and bars are now open — though with limited capacity — to indoor and outdoor diners. Hair salons and barber shops can open at 25 percent capacity, as long as patrons and workers wear masks.
Places of worship can reopen at up to 50 capacity, to a maximum of 250 people.
Gyms and fitness centers will be allowed to open at 25 percent capacity, and with several other related restrictions.
Some entertainment venues may also open, with restrictions.
Retail stores, malls and other businesses can reopen for in-person shopping if they have social distancing policies in place for workers and customers.
Minnesotans are also being called on now to limit private gatherings to 10 people from no more than three households.
Can I dine in at a restaurant?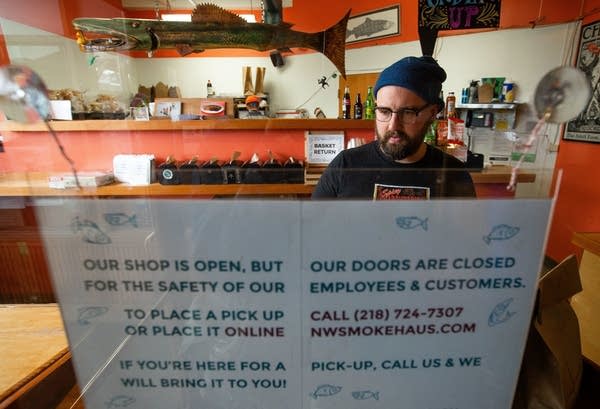 Yes — but with limitations.
Since June 1, restaurants have been allowed to serve sit-down customers outdoors only, 6 feet apart.
Indoor dining returned on June 10 — but restaurants are only allowed to serve customers indoors and outdoors at 50 percent of their seating capacity, as long as they don't go over 250 people.
Restaurant workers and customers are required to wear masks and customers should make reservations ahead to dine inside at restaurants.
Updated rules permit as many as 10 people seated together in restaurants and event spaces, up from four or six if they were members of a single household.
Starting Nov. 13, bars and restaurants can no longer serve alcohol and food to in-person customers after 10 p.m., but they will be allowed to sell to-go orders.
People eating and drinking in person have to sit at tables — and standing games such as darts and pool will be limited.
Curbside pickup and delivery will still be permitted.
Can I get a haircut?
Beginning in June, hair care businesses can provide in-shop services at a maximum 25 percent capacity. Both workers and customers are required to wear a mask and workers must be stationed and remain 6 feet apart. Reservations will be required.
The same guidance allows tattoo parlors and spas to reopen.
Businesses are required to have clear plans for social distancing, sanitizing and other safety measures to keep coronavirus risks down. That includes mandatory mask wearing and a 25 percent capacity at first.
Can I attend church services?
Starting May 27, places of worship opened at 25 percent occupancy if they adhered to social distancing and other public health guidelines, including the posting of a plan.
On June 10, that allowance expanded to 50 percent capacity, with the same social distancing and public health guidelines in place.
The maximum event gathering size is 250 people for both indoor and outdoor services, which applies to both weddings and funerals. It does not include "related celebrations or social gatherings," according to the guidelines.
Meanwhile, the state is phasing in new capacity limits on wedding receptions and other private events, from 50 people on Nov. 27 to 25 by Dec. 11.
When will gyms and entertainment venues open?
In this latest order, both gyms and entertainment venues will be allowed to open.
Gyms and fitness centers, and facilities like yoga and martial arts studios, can open at 25 percent capacity, with a maximum number of people of 250. Patrons must wear masks in between activities, and otherwise as often as is feasible. Group exercise is allowed if social distancing can be maintained.
Indoor entertainment venues, such as theaters and concert halls, bowling alleys, arcades and museums may also open at 25 percent capacity, with a cap of 250 people. State officials are taking this step faster than they anticipated; initially they had planned to open entertainment facilities in the next phase of reopening.
Outdoor entertainment events, including concerts and sporting events, may also resume, again with a 25 percent capacity limit, and no more than 250 people in attendance Pools may open at 50 percent capacity. The disease is not spread through water, Walz noted, but social distancing is still encouraged.
Are team sports allowed?
Team sports are allowed, for both youth and adults — with the Minnesota State High School League approving several fall and winter sports as well as a limited number of spectators.
State officials said they would post more detailed guidance on their website.
How will the capacity percentage rules be enforced?
It's a bit unclear. The new order allows businesses to open if, among other requirements, they operate at no more than 25 or 50 percent capacity at any time.
Throughout the stay-at-home order, state officials have repeatedly said they prefer to enforce the law through education, rather than fines. Walz has said he wants Minnesotans to voluntarily comply. 
"I'm not sure if every store is going to have someone standing out there with a clicker," DEED Commissioner Grove said of the capacity rule. 
"Each store is going to handle this in a way that makes sense for them," he said, to reduce the number of people in stores, and keep those people 6 feet apart. 
Can household workers like cleaners and nannies return to work in people's homes? Are there guidelines homeowners must follow?
Businesses that provide household services — like house-cleaning, maid services and piano tuning — can return to work. But they must develop plans that show how they intend to keep customers and workers safe.
Can I renew my driver's license or take a road test?
Many state driver and vehicle services are available once again as of May 19 — with some substantial changes to how office visits can be conducted.
Only 14 regional exam stations will open to start, including: St. Paul, Arden Hills, Anoka, Eagan, Plymouth, Rochester, Mankato, Marshall, Willmar, Detroit Lakes, St. Cloud, Duluth, Grand Rapids and Bemidji.
Available tests will include knowledge tests, permit applications and motorcycle and commercial driver's license road tests. Starting May 26 the open stations will also offer class D road tests in addition to other services.
There will be new regulations during your visit, too. DVS staff and customers are required to answer health-screening questions upon entering. Staff will also wear personal protective equipment, and customers are strongly encouraged to do so as well. And be prepared to social distance; signs will be in place to help customers stay 6 feet apart.
Those who have a driver's license set to expire soon, or one that has already expired, are encouraged to pre-apply for renewal online.
Walz also signed a bill into law on March 28 that provides an extension for Minnesotans whose driver's licenses or ID cards expire during the peacetime emergency, which lasts until July 13. Those with expired licenses will have two months after that to renew under the law.
Read more about the changes at the Department of Public Safety's website.
Are group gatherings allowed?
Yes, but still with limits. Indoor and outdoor group gatherings are now limited to 10 or fewer people, with no more than three households in attendance. People are still being asked to maintain 6 feet of distance from each other.
Ideally, people should also wear masks, said state Health Commissioner Jan Malcolm. She also encouraged people to meet outside, which she said presents a bit more of a "safe zone" as compared to confined indoor spaces, and also stressed not to gather if anyone in the group is ill. 
One big caveat: Officials strongly encourage the elderly and people with underlying health conditions to stay home as much as possible, because other people can transmit the coronavirus to members of vulnerable populations before they develop symptoms. And some people never develop symptoms, or the symptoms can be quite subtle. 
This is "a stealth virus," said state epidemiologist Ruth Lynfield.
Read more in our guide to gatherings here.
Does this change anything about summer school?
Distance learning continued through the end of the 2019-20 school year.
The state is allowing school districts and charter schools to offer summer programs, either through distance learning or a hybrid model that employs both distance learning and in-school instruction. 
Schools will only be allowed to offer in-person instruction if they follow state guidelines on masking, social distancing, cleaning, and other measures. 
Will camps and youth sports be allowed this summer?
Day camps that provide youth summer programming are allowed, but overnight camps are not. Those camps are working with the state Department of Health to determine how they may safely operate.
Can I go camping? 
Campgrounds, public and private, were allowed to reopen June 1 with new cleaning and social distancing protocols in place. Charter boats were also cleared to conduct business under this guidance.
What about other kinds of outdoor recreational activities?
Yes, activities like hiking, biking, golfing and fishing are allowed, and indeed encourage, for mental health and other benefits.
Should I continue to work from home if I'm able to?
Yes. Workers should continue to work from home whenever possible. 
The executive order states that "any worker who can work from home must do so."
My workplace is reopening but I don't feel safe. Should I worry about retaliation or losing unemployment?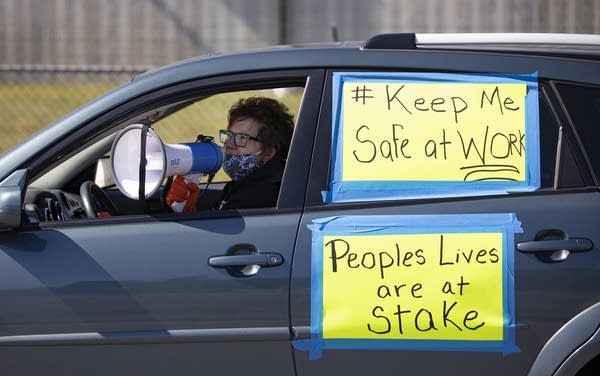 Walz issued an executive order that bars retaliation against employees who don't feel safe in their workplaces. The order says workers in those situations would qualify for unemployment, if they felt at risk of contracting COVID-19.
"We have to understand there are going to be situations where people say, 'I don't believe my store is safe or things are being followed,'" Walz said.
What happens if there's a spike in cases? Could restrictions come back?
Walz said that reopening businesses could worsen the spread of COVID-19 in Minnesota, and that if he needs to shutter businesses again he will do so.
What questions do you have about the new 'stay safe' order?
We'll continue to update this page with answers to your questions about the latest developments in Minnesota's work to combat the spread of the coronavirus.
---
COVID-19 in Minnesota