Minnesota's schools won't reopen this academic year: Here's what you need to know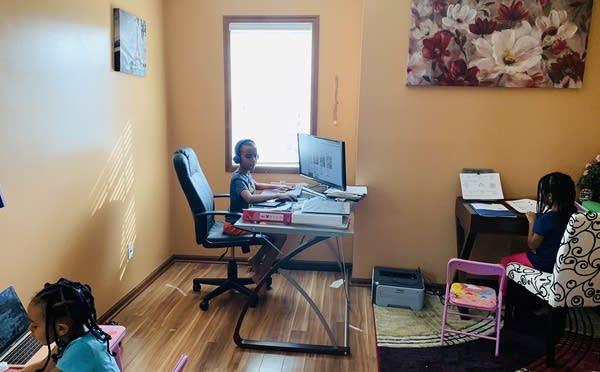 Updated 5:33 p.m.
Students across Minnesota haven't been in their classrooms since the middle of March.
Initially, that was all expected to be temporary: First, students in public and charter schools across the state were on extended breaks, then they moved into distance-learning mode, as Minnesota enacted a statewide stay-at-home order in its efforts to tamp down the spread of the coronavirus.
Now, the state has confirmed that distance learning will continue through the end of the 2019-20 school year.
How long will schools be closed?
Gov. Tim Walz closed public and charter schools in mid-March and directed them to switch to distance learning, affecting nearly 900,000 students and their families. 
MPR News is Member Supported
What does that mean? The news, analysis and community conversation found here is funded by donations from individuals. Make a gift of any amount today to support this resource for everyone.
Schools were due to remain closed through May 4,  but the new executive order has extended it through the end of the school year. The governor also made it clear that his stay-at-home order, which is set to expire May 4, will mostly stay in place for now.
What will distance learning look like through the end of the academic year?
Distance learning is perhaps better than nothing, but it is far from ideal. State officials say during this period, students must have access to appropriate educational materials and receive daily interaction with their teachers.
Across the state that means school buildings are closed to students, except for those places being used to provide childcare to essential workers. 
Many districts are connecting with students online, sharing videos and assignments through online platforms. They're also distributing digital devices and internet hotspots to those families that need them. 
Other schools — especially elementary schools or those with students who don't have great internet access — have been distributing analog learning packets either via bus route or parent pick-up systems. 
Whatever approach schools have used so far, they are likely to continue through the end of the academic year. 
And Walz's new executive order instructs districts to use May 1 and May 4 as planning days to prepare for the new extended distance learning period. It may be that districts will use that time to apply feedback from families to make changes in the way they're doing things.
What's happening with spring sports seasons?
Walz's order didn't cover the sports season, but in a separate announcement Thursday, the Minnesota State High School League canceled all spring activities and athletics for the rest of the school year.
What about standardized testing?
Minnesota has canceled its statewide standardized testing for the rest of the school year. This includes tests such as the Minnesota Comprehensive Assessment and the Minnesota Test of Academic Skills. 
ACT and SAT exams have been rescheduled — some as far out as September. 
Will students have access to meals they'd otherwise be getting at school?
Districts are continuing to distribute meals to students. Many have moved to handing out packages of food meant to last for several days. This will continue through the distance learning period. 
Non-profit organizations including food shelves, food banks and backpack programs have also stepped up their efforts to supplement school meals with food for weekends and evenings. Some have banded together and rolled out sites or apps to help connect families to food. 
What about summer learning programs and camps? 
It's not completely clear yet. 
Gov. Walz's executive order extends distance learning through the end of the 2019-2020 school year. This runs until the end of June for those districts operating on flexible learning calendars. 
State officials have not given many details of what summer learning programs will look like, although Walz has mentioned distance learning might continue, or summer programs might be a sort of hybrid model that combines distance learning and in-person instruction. 
This is the time of year when schools typically register students for summer activities — and start hiring staff to run them. But without clear guidance on whether students can start signing up for summer classes and activities, it's tough for districts to plan.
Will students be back in classrooms in the fall?
This executive order extends only through the end of the current 2019-20 school year, and doesn't cover the next one. 
Asked if parents should expect distance learning to continue into the next school year, Walz — a former high school teacher and coach — conceded: "The answer is I don't know yet." 
He said it is still under study.
Still, many schools have already begun to think ahead, and are preparing for the possibility that they might need to continue this approach into the fall semester. 
St. Paul Public Schools, the state's second-largest district, is starting to plan for a scenario in which school buildings would need to stay shuttered beyond this school year, affecting the district's summer learning programs and beyond.
In other parts of the country, state leaders have told schools to prepare for the possibility of not opening up in the fall. Others have begun talking about re-working schools with smaller class sizes, staggered start times, and new social distancing measures in the fall. 
What about students who don't have internet? 
There are many students and families who don't have access to the internet or to digital devices, which greatly hampers their ability to interact with teachers and classmates during distance learning. 
Education Commissioner Mary Cathryn Ricker said the state has been working with public and private partners to get broadband access and digital devices to every student who needs it.
"We know distance learning hasn't been going perfectly. It's actually been really hard," she said. 
Is there any help for students or teachers facing mental health struggles?
Mental health concerns have been growing for Minnesota students in recent years, even before the pandemic hit. A statewide survey published in October 2019 found declines in how students feel about their mental and emotional well-being. 
Many mental health providers — whether they're connected to schools or community providers —  are still providing telehealth services.
State officials are encouraging teachers, students and anyone struggling with mental health to text "MN" to 741741. Or to call **CRISIS.
"Living through this unprecedented time is a traumatic experience," said Lt. Governor Peggy Flanagan "And for those who've experienced trauma before, this is reigniting that trauma in unimaginable ways." 
What's happening in other states?
Minnesota now joins the majority of states around the country that have already decided to keep school buildings closed through the end of the year. At least 39 others have ordered or recommended that school buildings remain closed for the rest of the academic year, according to Education Week.
The announcement to keep school buildings closed through the end of the academic year didn't come as a surprise to most school leaders. Walz had signaled a few times leading up to the announcement that he was considering an extension of distance learning. 
Given all of that, many schools had already been planning their distance learning to go through the end of the school year.
What's the impact on students? 
Minnesota's education system was plagued with disparities before the pandemic. The emergency plan could likely widen those gaps.
Walz said he's concerned about students potentially falling behind, as distance learning continues. 
"I worry deeply on this," he said when he announced the extension.
He acknowledged the strain of distance learning and the lack of face-to-face contact with teachers and peers on students stuck at home. 
"These are decisions that will reverberate through a lifetime, potentially," he said. "We know what educational research shows if you fall a grade or two behind."
And distance learning is especially challenging for special education students, students of color, homeless students, English language learners, and students who don't have reliable — or any — internet access at home.
Many immigrant and refugee families are still navigating distance learning while also trying to find the right support needed to succeed online. 
What's the impact on students with special needs?
Distance learning doesn't affect all students equally. For families who have kids with special needs, it's particularly difficult. 
More than 16 percent of Minnesota's public school students — or roughly 140,000 kids — receive special education services. Schools are legally required to provide accommodations to students with disabilities, and state education officials have encouraged schools to continue providing instruction and services to these students while avoiding in-person interactions to slow the spread of COVID-19.
A lot of students with special needs would typically have one-on-one attention while they're in school — from paraprofessionals, therapists, teachers and nurses. Now, their parents are having to do all of that work. 
It's not only difficult work for parents — it's also making them worry about how it will affect their kids. Without in-person instruction and therapy, students and their families worry about regression.
One mother said she knows it's necessary for her kids to be out of school, and she would keep them out longer, even if the governor hadn't decided to keep them closed at this point in the pandemic. But she said her heart sinks and she cries every time those school closures are extended. 
This learning from home is not a snow day. Students generally seem to want to be back in school. They miss their friends, their routines, their teachers and their learning. 
This is a developing story. We will continue to update this FAQ as details emerge.