April 21 update on COVID-19 in MN: 160 deaths, most tied to long-term care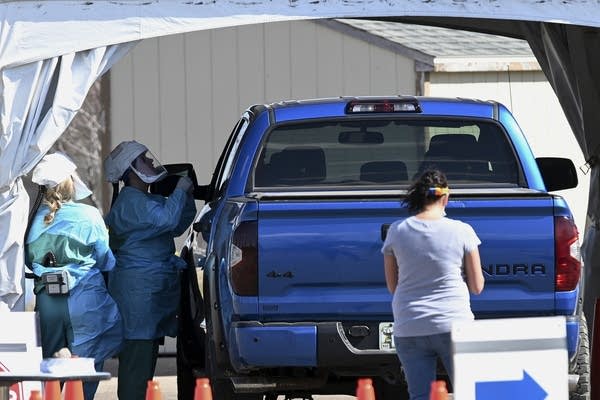 Updated 5:05 p.m. | Posted: 5:30 a.m.
State health leaders faced fresh questions Tuesday about the pace of COVID-19 testing and the numbers of deaths in long-term care facilities. With Minnesota cases continuing to climb, they made it clear that many curbs on daily life were still needed.
Federal guidelines recommend states don't start to reopen the economy before seeing a two-week downward trend in COVID-19 cases. "By that measure, we are not ready to reopen," Jan Malcolm, the state's health commissioner, told reporters, adding that won't be the only metric Gov. Tim Walz will examine as he weighs extending his current stay-home order beyond May 4.
Malcolm's comments came hours after her agency reported Minnesota's COVID-19 death toll jumped to 160, with 17 more deaths reported from Monday. Of the total deaths so far, more than 70 percent are connected to long-term care facilities. That includes 14 of the latest deaths.
The Health Department also noted a one-day dip in the number of intensive care patients from 126 to 117 while current hospitalizations tied to the disease remained stable.
Grow the Future of Public Media
MPR News is supported by Members. Gifts from individuals power everything you find here. Make a gift of any amount today to become a Member!
The total number of positive tests for the disease jumped again, hitting 2,567. Just under half of those infected since the pandemic began have recovered to the point they no longer need to be isolated. Officials say the number of cases identified represent only a sliver of the total number of Minnesotans carrying the coronavirus.
"It's not that the epidemic isn't growing. It's growing, so far, in a measured way that is not exceeding our capacity to respond," Malcolm said.
"This is not a situation where everything is going to be going in the same direction at the same time," Malcolm said of the overall trends around the disease. "It seems contradictory. This is a stable situation where every day we see more cases and more deaths."
Nobles County cases jump
The new numbers come a day after Gov. Tim Walz acknowledged the mounting deaths and hospitalizations may be the beginning of COVID-19 surge. "Minnesota has started potentially up the climb that we thought would come," Walz told reporters.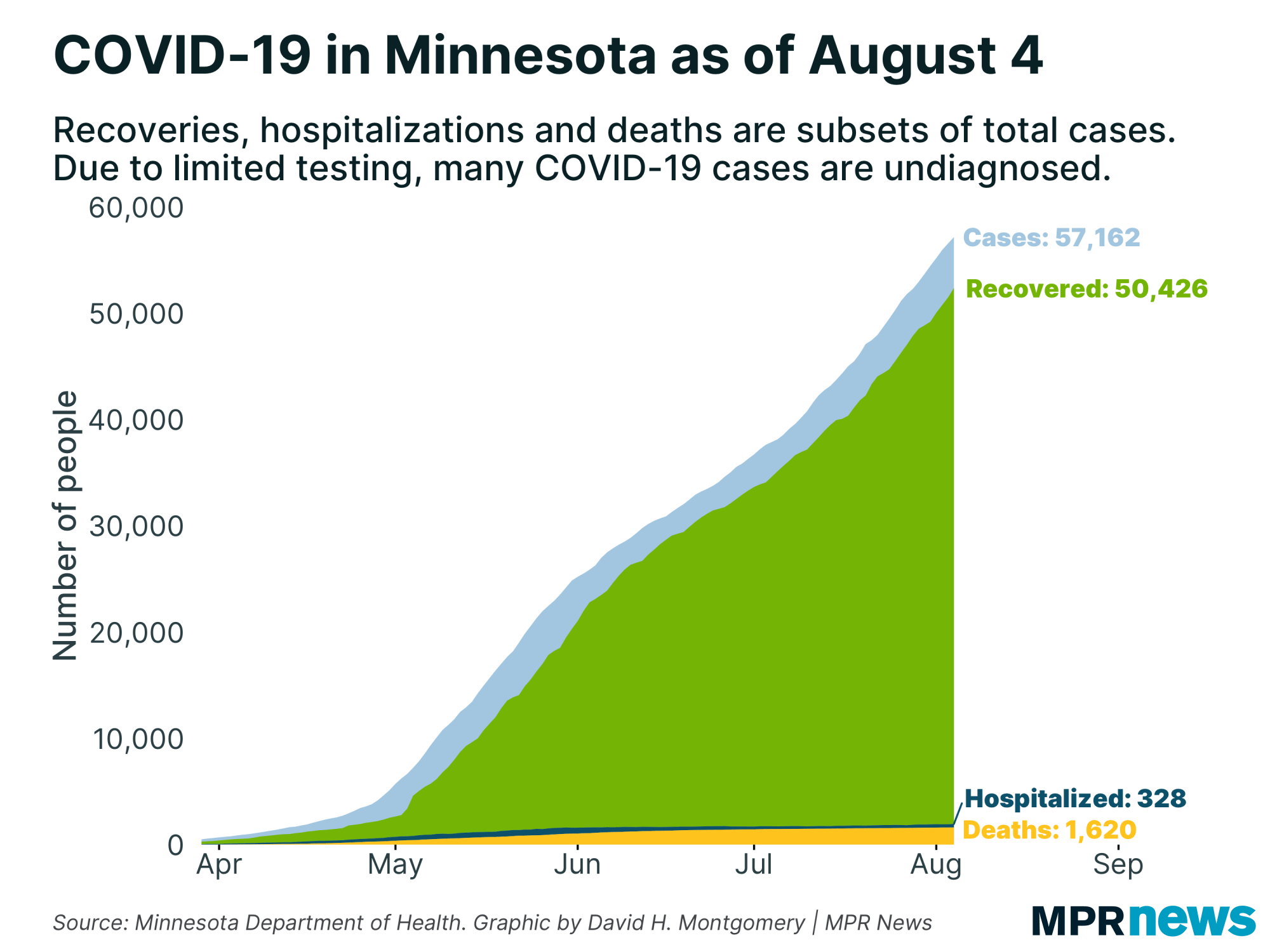 That climb was accelerated by an outbreak in southwestern Minnesota's Nobles County where cases have skyrocketed the past two days. State officials Tuesday reported 101 positive tests now for COVID-19 in Nobles County — up from two cases Wednesday and nearly triple the number reported Saturday.
The JBS pork processing plant in Worthington is at the center of that outbreak. On Monday morning, company executives announced they were indefinitely shutting the plant, which employs some 2,000 workers, to try and get control of the situation. State health officials say at least 33 of the Nobles County cases are JBS employees.
Nobles County has the largest outbreak in Minnesota outside the Twin Cities area and Rochester. It has the highest rate of COVID-19 cases of any county relative to its population.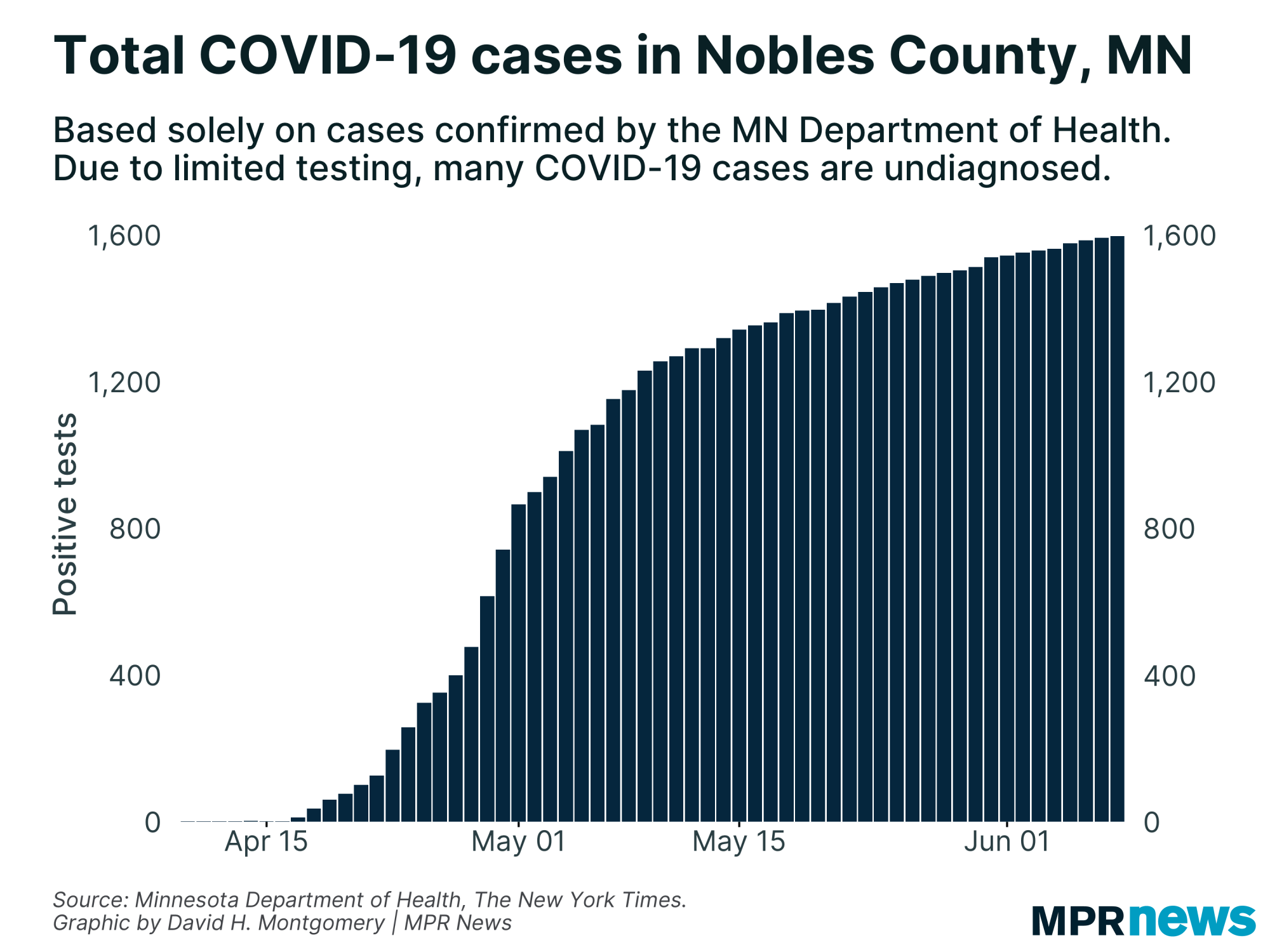 Although Walz faces new political pressure from Republicans to restart the economy, he said Monday that science will continue to drive his decision-making. He's moved already to open golfing, boating and other activities with safe distancing rules.
But he's cautioned repeatedly that restaurants, bars and big sporting events — places with big crowds close together — will be among the last pieces of the economy to restart. While the state is better positioned to cope with a spike in cases, the governor said complete normalcy won't return anytime soon.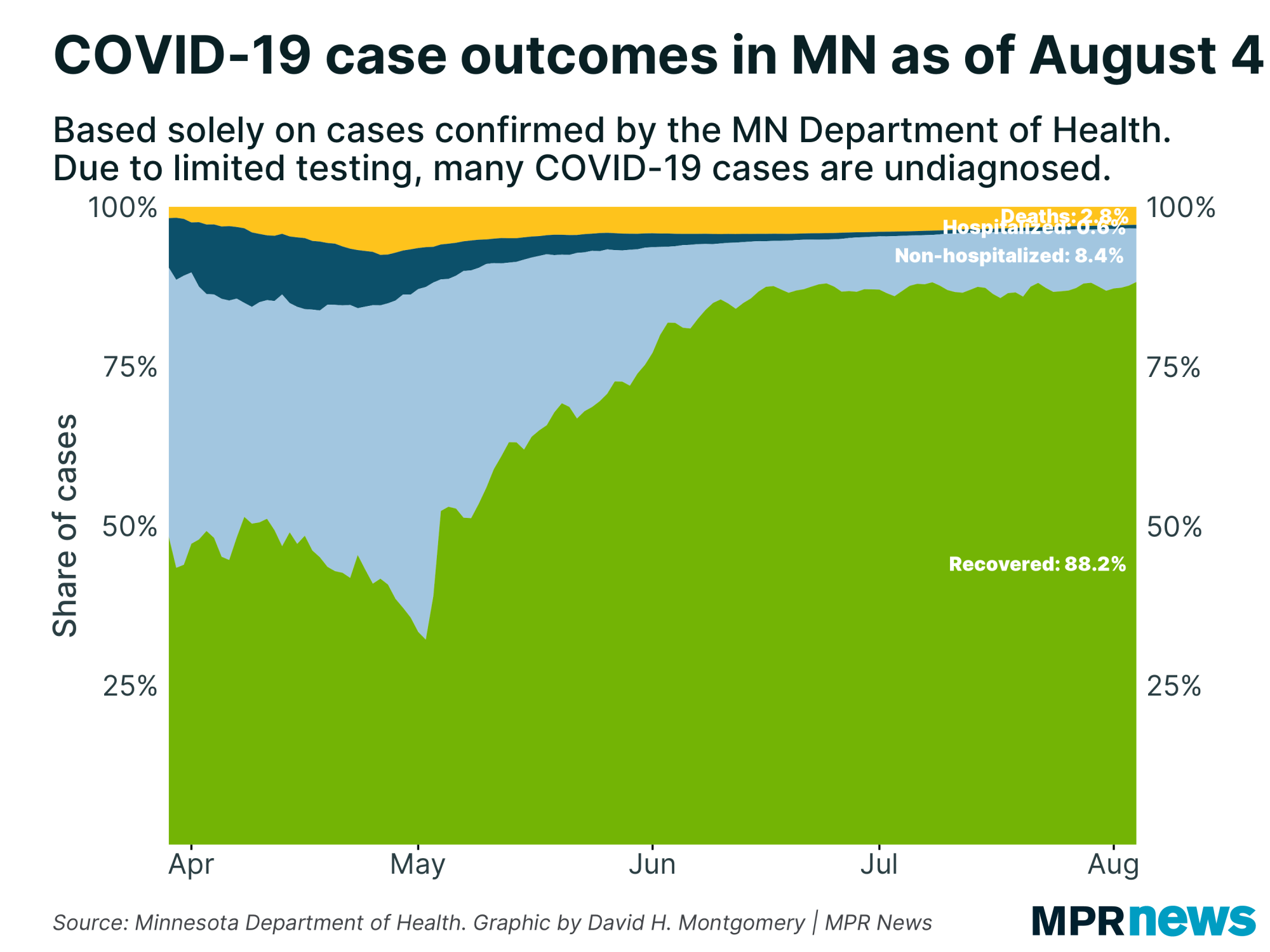 Even when businesses and retail establishments do reopen, they are "going to have to change the way business is done for the next 18 months," Walz said Monday. "The retail buying experience is going to change dramatically."
There must be a clear safety plan before businesses can reopen on a broad scale, he added. "If opening up the businesses were safe, we'd do it tomorrow," he said. "Just to say open up, that's not reasonable."
Need for high quality testing
Beyond the updates on deaths and cases, the Health Department on Tuesday also reported:
The youngest person in intensive care is 19 years old. For weeks, it had been 25; the Health Department noted a 20-year-old on Monday. The age range of deaths remains 56 to 104 years old.

Of the 160 deaths so far, 113 are associated with long-term care facilities, said Kris Ehresmann, the state's infectious disease director. Officials have said most of the deaths have involved people with underlying health problems.
More than 47,000 COVID-19 tests have been completed in Minnesota. That's still far below the 5,000 a day Walz says is needed by May 4, when his stay-at-home order is set to expire. Health Department data show fewer than 1,200 daily tests reported on average since April 14.
Malcolm acknowledged the frustration over the slow ramp-up on testing, noting that it's been difficult to secure lab supplies and other needed products and get the tests to those who need them, but she said that the state expected to push forward soon on the next phase of testing.
University of Minnesota scientists last week offered at least some hope on that score. The U said its researchers have invented a way to solve the state's testing shortage and dramatically expand testing statewide for COVID-19 and antibody resistance. The U is seeking $20 million from lawmakers to implement the plan.
"The last thing we want is a lot of testing that isn't of high quality, that produces tests that aren't very reliable," she said.
With the state at least able to manage the outbreak at this point so the system isn't overwhelmed, and no decision yet on extending the stay-home order, "it may seem like we're in a lull right now," said Ehresmann. "We know we're going to see more cases."
---
Developments from around the state
COVID-19 cases confirmed at Jennie-O's Willmar plant
Hormel says employees at the Jennie-O turkey processing plant in Willmar, Minn., have tested positive for the coronavirus.
A company spokesperson said on Tuesday that employees infected with COVID-19 are under quarantine, and their close contacts have been identified and are also quarantined. The spokesperson said those affected employees will receive full paychecks and benefits during their quarantine period. It is unclear how many employees have tested positive.
Amid the outbreak, the Willmar plant is stepping up its safety measures, including taking employees' temperatures daily, using masks or face shields and sanitizing the factory more frequently. The company also touts on-site nurses to help workers get tested for the coronavirus. Hormel said it's expanding remote work options as well.
As of Tuesday, Kandiyohi County, where the Willmar plant is located, has confirmed three COVID-19 cases, according to the state Health Department.
— MPR News staff
Hennepin County's coronavirus response depleting coffers
Hennepin County officials say spending related to COVID-19 is draining the contingency fund. The Hennepin County Board on Tuesday approved the transfer of $10 million from its general fund to the rainy day coffers which have been reduced to $1.9 million.
County Administrator David Hough said the bulk of the expenditures have gone towards providing housing for homeless people and purchasing protective gear. 
"Our burn rate is significant," said Hough. "All these things cost money."
Officials say currently more than 250 homeless people are using isolation rooms paid for by the county. The board also approved an additional $4 million to help acquire more space.
Both measures passed unanimously. However, Commissioner Mike Opat urged county staff to provide more real time data on COVID-19 spending. 
"We need to understand what exactly has been spent to date; what have we received to date; what are our liabilities to date," said Opat, noting that the county will have to provide similar information to state and federal authorities when it requests assistance.
Hough said so far the county has spent $6.7 million in COVID-19-related expenses and has received $6.2 million in grants from the state and the feds.
"We're applying for every resource and every opportunity either at the state or federal level," said Hough, adding he expects the county will receive enough to partially reimburse the county for its costs.
— Brandt Williams | MPR News
Beltrami Co. jail reports its first inmate COVID-19 case
An inmate of the Beltrami County jail has tested positive for COVID-19.
It's the jail's first case, but County Sheriff Ernie Beitel said his staff has been preparing for weeks. Judges released nearly half the inmate population last month. Guards stocked up on cleaning supplies and masks, and created new health screening and testing protocols with the local hospital.
Beitel said they even brought in a crew to rework the ventilation system in an 18-bed quarantine area, so healthy inmates won't be breathing infected air.
"They modified our systems to allow more negative pressure units. It pulls air in from the outside and exhausts straight to the outside, so we have a larger quarantine area if needed," Beitel said.
The inmate infected with COVID-19 is in quarantine and starting to feel symptoms. He'll remain under close medical supervision. The arresting officer is also under quarantine.
— John Enger | MPR News
Grand Rapids paper mill shuttered as business drops
A northern Minnesota paper mill is temporarily closing because of the economic fallout from the coronavirus pandemic.
UPM Blandin, which employs about 400 people, cites market forces for shutting down its Grand Rapids mill. The company did not provide exact details of the shutdown, but a representative from Teamsters Local 346 tells WDIO-TV the closure is expected to last about two weeks.
"The global response to the coronavirus pandemic has led to an overall slowdown of the economy. We are taking short-term measures to respond to market conditions. We rely on our global network of modern paper mills to meet customer demand," Scott Juidici, general manager of UPM Blandin, said in a statement.
— The Associated Press
Hibbing Taconite to lay off 650 due to coronavirus
Another mining company on the Iron Range is idling workers due to the coronavirus pandemic and the declining demand for steel.
Hibbing Taconite will end production May 3. As a result, 650 workers will be laid off, both salaried and hourly workers.
ArcelorMittal, which manages Hibbing Taconite and owns the largest stake in the mine, hopes to restart production July 6.
Hibbing Taconite is the third Iron Range mine and plant to announce it would stop production and layoff most employees.
Cleveland-Cliffs said recently it would idle Northshore Mining in Babbitt and Silver Bay and U.S. Steel said it would temporarily stop production at Keetac. Layoffs at the three mines total about 1,500.
— The Associated Press
---
Top headlines
Behind rallies to reopen economy, a Minnesota activist and his family: Across the country, Ben Dorr and his brothers, Chris and Aaron, have long opposed Republican legislators for not being conservative enough on issues ranging from guns to abortion. They are now promoting rallies to reopen businesses in the midst of the coronavirus pandemic. Their detractors say they spread disinformation to sow confusion among voters.
Students with special needs could slip behind: Without the kind of in-person therapists, instruction and support found in schools, special education students and their families are facing steep challenges. Many are beginning to worry about regression.
Coronavirus spread puts Minnesota's Willow River boot camp on edge: Just 8 miles from a coronavirus outbreak at the Moose Lake prison, another cluster of cases has emerged at a boot camp in Willow River, where up to 180 men live in very close quarters. It's an environment that some family members worry is ripe for the spread of the virus.
---
COVID-19 in Minnesota
Health officials for weeks have been increasingly raising the alarm over the spread of the novel coronavirus in the United States. The disease is transmitted through respiratory droplets, coughs and sneezes, similar to the way the flu can spread.
Government and medical leaders are urging people to wash their hands frequently and well, refrain from touching their faces, cover their coughs, disinfect surfaces and avoid large crowds, all in an effort to curb the virus' rapid spread.
The state of Minnesota has temporarily closed schools, while administrators work to determine next steps, and is requiring a temporary closure of all in-person dining at restaurants, bars and coffee shops, as well as theaters, gyms, yoga studios and other spaces in which people congregate in close proximity.