April 22 update on COVID-19 in MN: Deaths jump to 179; Walz unveils major testing push
Updated 8:08 p.m. | Posted: 5:30 a.m.
Describing it as a Minnesota moonshot and the state "inventing the wheel," Gov. Tim Walz Wednesday unveiled a massive COVID-19 testing plan — a crucial piece of the state's effort to control the disease's spread and slowly reopen the economy — with Mayo Clinic and the University of Minnesota playing key roles.
The governor for weeks has talked up the need for more tests — ones that diagnose people with the virus and others to see if someone has developed antibodies to fight the virus — as necessary cogs to restart parts of the economy.
Testing, however, has been the weak link in Minnesota and around the country in the fight against COVID-19 with states unable to secure needed supplies or people to do the testing, or build up the needed lab capacity to get results.
On Wednesday, Walz told reporters at an afternoon briefing that this plan would make Minnesota tops in the nation in terms of testing, even as he cautioned against people letting down their guard: "This is not a pass that everything is back to normal and it's all easy from here on out. It's one tool in the toolbox that leads us in that direction."
Grow the Future of Public Media
MPR News is supported by Members. Gifts from individuals power everything you find here. Make a gift of any amount today to become a Member!
20K per day?
Walz's office said the plan with U and Mayo has a capacity to ramp up testing to as many as 20,000 Minnesotans per day, far higher than the 1,200 or so daily tests the state is currently doing.
Health Commissioner Jan Malcolm said the plan would be ramped up quickly so that every Minnesotan with COVID-19 symptoms will be tested as soon as possible, with a focus first on vulnerable populations, including long-term care residents and the workers who care for them, as well as Native and other communities of color.
Malcolm said "critical infrastructure" workers, including day care operators, would also be a testing priority.
Collectively, the new, widespread testing plan will let investigators respond more quickly to hot spots when they break out around Minnesota, leading to better tracing and isolation of those who have the disease, she added.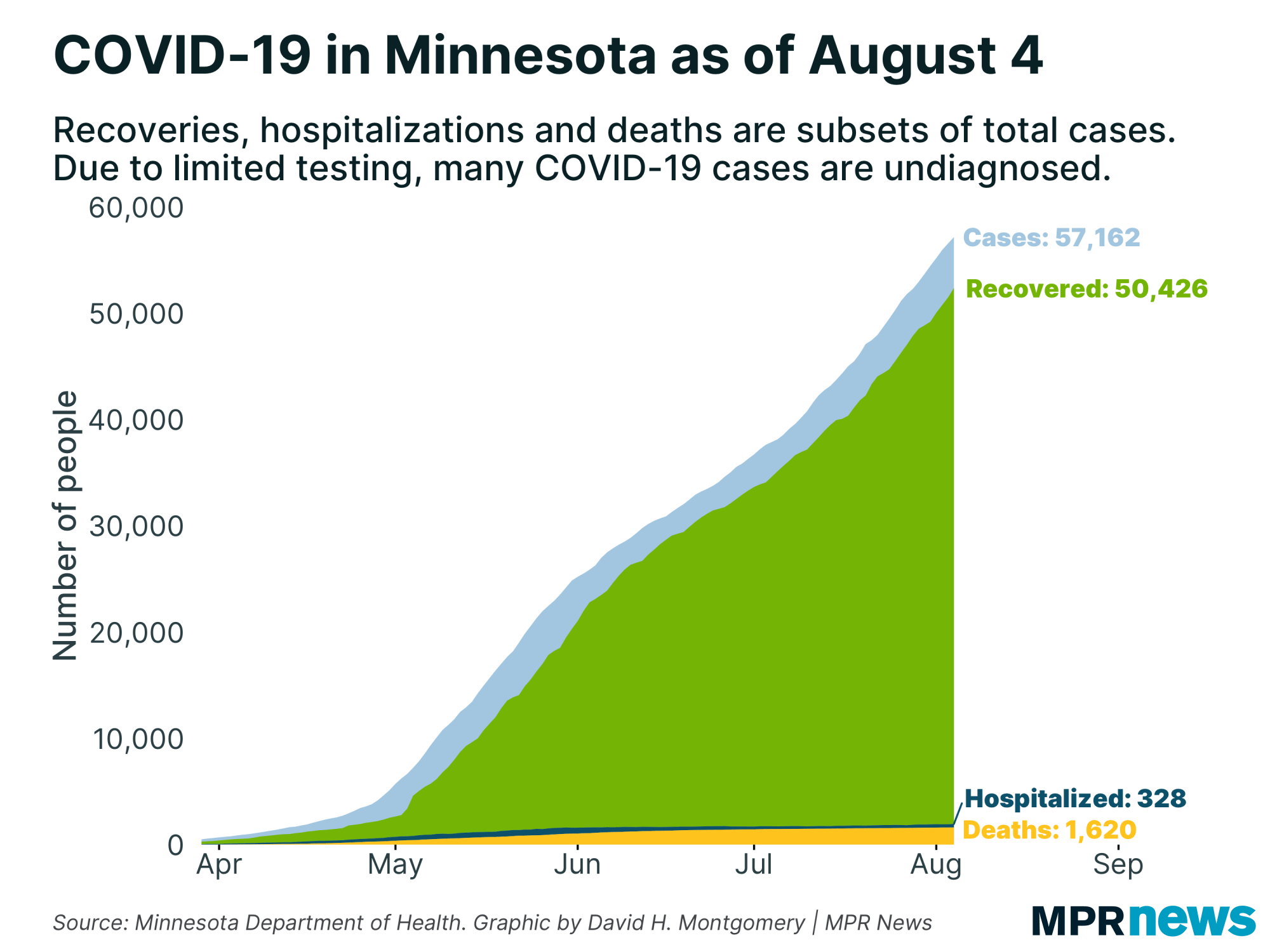 The testing push will be funded in part by $36 million from the COVID-19 Minnesota Fund. Walz had $124 million left in a state COVID-19 fund that could provide financial support to make testing more widely available and faster.
Some of the money will be used to build a central laboratory driven by the U and Mayo to meet the expanded testing.
Dr. William Morice, president of Mayo Clinic Laboratories, said Mayo will bring expertise on testing supply chains that has been "so vexing, to know that someone needs to be tested and can't get something as simple as a nasal swab."
One other important goal, he said, was "to restore public confidence. Without knowledge, there is only fear."
COVID-19 deaths jump
News that a massive testing effort would be set in motion came on the same day the Health Department reported Minnesota deaths jumped to 179, up 19 from Tuesday, the largest jump in deaths reported by the agency since the pandemic began.
The number of people currently hospitalized rose only slightly while the total number of patients in intensive care fell by 10 to 107, an indication that the state's ICU systems are not yet overwhelmed.
The state has now confirmed 2,721 total positive tests for the disease, up 154 from Tuesday. Of the total cases identified since the pandemic began, just under half of those patients have recovered to the point they no longer need to be isolated.
The latest counts come a day after health officials made clear that many curbs on daily life must continue.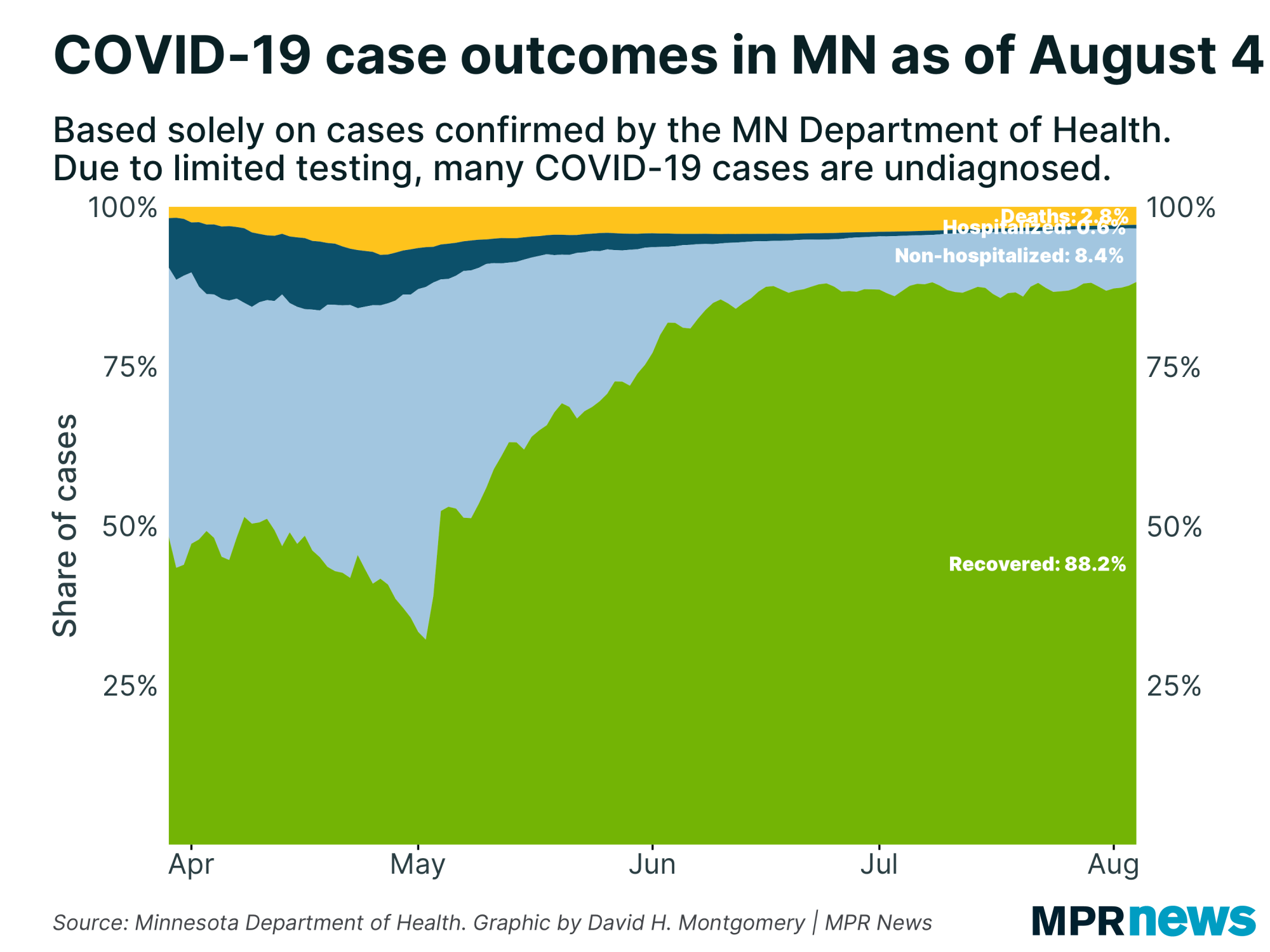 Federal guidelines say states should wait until they see a two-week downward trend in cases before beginning to reopen their economies. "By that measure, we are not ready to reopen," Jan Malcolm, the state's health commissioner, said Tuesday.
While officials were clearly excited about the coming ramp-up in testing, Michael Osterholm, director of the Center for Infectious Disease Research and Policy at the University of Minnesota, cautioned that the state would continue to see cases rise and that as many 70 percent of Minnesotans could end up with some level of coronavirus infection by the time it runs its course.
"We are in the very first innings of this game," he said. "Please take this seriously."
SW Minnesota outbreak
Nobles County in southwestern Minnesota continues to be a hot spot for COVID-19. It holds the largest cluster outside the Twin Cities area and Rochester and the highest rate of COVID-19 cases of any county by far relative to its population.
The JBS pork processing plant in Worthington is at the center of the Nobles County outbreak. On Monday morning, company executives announced they were indefinitely shutting the plant, which employs some 2,000 workers, to try and get control of the situation.
On Wednesday, the Health Department said Nobles County now has 126 confirmed positive tests for the disease, up 25 from Tuesday. It has just two cases last week. The county also recorded its first death from the disease.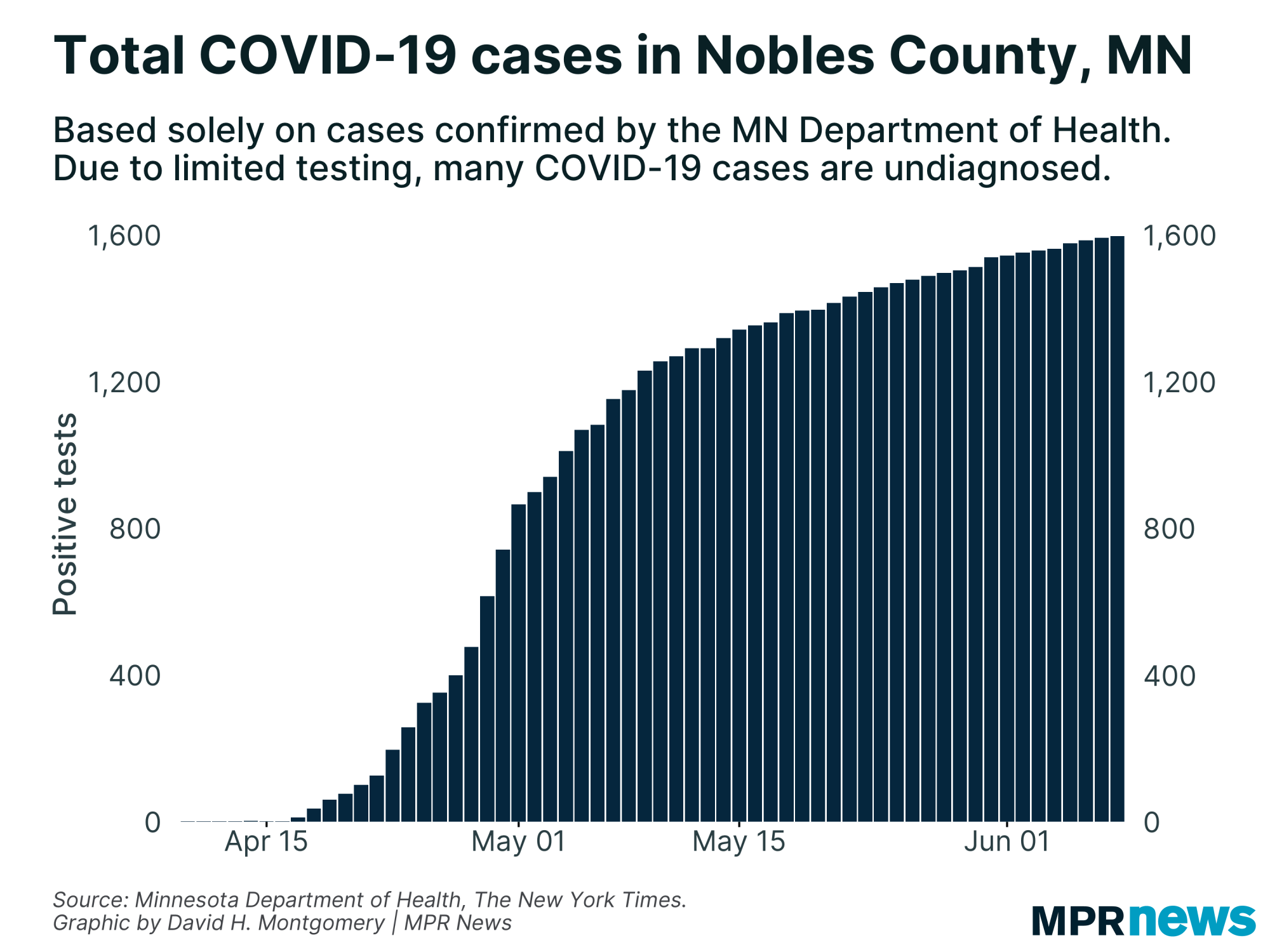 Updating that situation Wednesday, Walz and Malcolm said a huge effort was underway now to test employees at the plant and investigators have received the employee roster and were following up. Malcom said language barriers were making the process run a little slower than usual.
New guidance for business coming soon
While Walz has OK'd a restart to golfing, boating and other outdoor activities within social distancing rules, he's said that restaurants, bars and big sporting venues — places that draw big crowds close together — will be among the last to reopen.
He continues to face political pressure from Republicans and business interests around the state to restart the economy faster, but he's held to his plan of using science to drive his decision-making.
In central Minnesota, the Brainerd Lakes Chamber of Commerce launched a campaign late last week urging state officials to speed up development of health and safety guidelines, so businesses shuttered due to the COVID-19 pandemic can reopen.
On Wednesday, Republican House Minority Leader Kurt Daudt praised the testing plan, saying it "would more than meet the goal identified by Governor Walz to ease restrictions on businesses and get Minnesotans get back to work."
Fielding reporter questions Wednesday about when more businesses might open, Walz said he expected the state "in the next day or so" would be providing more guidance to businesses, what might be reopening and how. The governor's current stay-at-home order is set to expire May 4.
Overall, Walz praised leaders at the U and Mayo Clinic and as well as state and local health officials, for hustling to put the testing plan in place.
"The ship is on the launch pad today," he said. "It has been built by the best engineers. It is staffed by the best astronauts we have."
At one point, a reporter noted the public has heard the "you need a test, you'll get a test" vow before. Asked who should be held accountable if that doesn't happen with this new plan, Walz answered: "Me."
---
Developments from around the state
COVID-19 cases confirmed at Jennie-O's Willmar plant
Hormel says employees at the Jennie-O turkey processing plant in Willmar, Minn., have tested positive for the coronavirus.
A company spokesperson said on Tuesday that employees infected with COVID-19 are under quarantine, and their close contacts have been identified and are also quarantined. The spokesperson said those affected employees will receive full paychecks and benefits during their quarantine period. It is unclear how many employees have tested positive.
Amid the outbreak, the Willmar plant is stepping up its safety measures, including taking employees' temperatures daily, using masks or face shields and sanitizing the factory more frequently. The company also touts on-site nurses to help workers get tested for the coronavirus. Hormel said it's expanding remote work options as well.
As of Tuesday, Kandiyohi County, where the Willmar plant is located, has confirmed three COVID-19 cases, according to the state Health Department.
— MPR News staff
Hennepin County's coronavirus response depleting coffers
Hennepin County officials say spending related to COVID-19 is draining the contingency fund. The Hennepin County Board on Tuesday approved the transfer of $10 million from its general fund to the rainy day coffers which have been reduced to $1.9 million.
County Administrator David Hough said the bulk of the expenditures have gone toward providing housing for homeless people and purchasing protective gear. 
"Our burn rate is significant," said Hough. "All these things cost money."
Officials say currently more than 250 homeless people are using isolation rooms paid for by the county. The board also approved an additional $4 million to help acquire more space.
Both measures passed unanimously. However, Commissioner Mike Opat urged county staff to provide more real-time data on COVID-19 spending. 
"We need to understand what exactly has been spent to date; what have we received to date; what are our liabilities to date," said Opat, noting that the county will have to provide similar information to state and federal authorities when it requests assistance.
Hough said so far the county has spent $6.7 million in COVID-19-related expenses and has received $6.2 million in grants from the state and the feds.
"We're applying for every resource and every opportunity either at the state or federal level," said Hough, adding he expects the county will receive enough to partially reimburse the county for its costs.
— Brandt Williams | MPR News
---
Top headlines
For Minnesota restaurants, it's about survival now: Thousands of restaurants in Minnesota are trying to survive, more than a month into an executive order that put their dining rooms off limits. Some are selling takeout food and, now, alcoholic beverages. The owners of a Stillwater eatery describe a stark conundrum they're facing: Revenue is way down, but many of their expenses are not.
Petition urges Minnesota to 'reopen Brainerd Lakes': A petition urging state officials to allow businesses in the popular Brainerd Lakes Area to reopen as soon as possible has gotten thousands of signatures — but also some detractors.
More Minnesota counties grant tax deadline flexibility: More Minnesota counties are giving property owners extra time to get payments in. Several counties, including Crow Wing, Hennepin, Olmsted and Winona counties, have decided to delay penalties or interest on tax payments made after the May 15 deadline, giving property owners until June, July or even later in various cases to catch up.
Minnesota's long-term care facilities fight to control coronavirus spread: Nursing homes and assisted living facilities had hoped to keep the coronavirus mostly outside of their doors. But despite their efforts, COVID-19 cases have spread to more than 90 congregate care facilities. More than 70 percent of Minnesota's fatalities are traced to long-term care homes.
Coronavirus upends Ramadan traditions of family, charity, community: Ramadan, the holy month of prayer, fasting and celebration for Muslims worldwide, begins on Thursday. But as mosques are closed and large gatherings are discouraged under the stay-at-home order, Muslims in Minnesota are having to change their religious customs while trying to maintain close community ties.
---
COVID-19 in Minnesota
Health officials for weeks have been increasingly raising the alarm over the spread of the novel coronavirus in the United States. The disease is transmitted through respiratory droplets, coughs and sneezes, similar to the way the flu can spread.
Government and medical leaders are urging people to wash their hands frequently and well, refrain from touching their faces, cover their coughs, disinfect surfaces and avoid large crowds, all in an effort to curb the virus' rapid spread.
The state of Minnesota has temporarily closed schools, while administrators work to determine next steps, and is requiring a temporary closure of all in-person dining at restaurants, bars and coffee shops, as well as theaters, gyms, yoga studios and other spaces in which people congregate in close proximity.