Floyd protests: Protesters march, block traffic; Walz extends curfew
Updated 6:52 p.m.
A tanker truck drove at high speed onto Interstate 35W in Minneapolis late Sunday afternoon as it was clogged with people marching to protest the killing of George Floyd.
"It went right through the middle of the crowd … a lot of people got out of the way but a lot of people didn't know what was going on," one eyewitness said.
It is unclear at this time if anyone was hurt. Check for updates on this story in our latest reporting here.
Earlier in the day, protesters held a "Justice for George Floyd" rally in front of the State Capitol. During the rally, speakers and crowd members spoke out against police brutality and called for the arrest of the three other officers at the scene of Floyd's killing.
Grow the Future of Public Media
MPR News is supported by Members. Gifts from individuals power everything you find here. Make a gift of any amount today to become a Member!
A large, peaceful crowd later started marching onto westbound I-94 before heading down University Avenue. Roads are being closed along their route to protect the protester's' safety.
An even larger group of protesters marched along I-35W in Minneapolis. A truck moved through the crowd and was later surrounded by protesters. It is unclear at this time if anyone was hurt. We will update this story with more information on this developing story. Check our live blog for the latest on protests.
Gov. Tim Walz extended the curfew Sunday for Minneapolis and St. Paul that he and public safety leaders attributed to stamping down the looting, arson and mayhem that ripped through the cities for two days prior.
Walz, who was joined by state law enforcement leaders during a Sunday morning press briefing, called the mass deployment of the Minnesota National Guard, state police, local officers and county sheriff's deputies and corrections officials a success.
"We had no fires," he said. "We had no loss of life."
Public Safety Commissioner John Harrington said officers made 55 arrests through 2 a.m. Sunday and somewhere between 40 and 50 more by 6 a.m. He added most of those arrests stemmed from weapon violations. One officer was shot at, but not injured; officers confiscated an AR-15, military assault-type rifle, he added.
There were at least 15 civil unrest arrests in St. Paul Saturday night into Sunday morning according to the city's police department. The majority of those arrested were from St. Paul or Minneapolis.
In Hennepin County, 73 people were cited with curfew violations and there were 52 protest related arrests — which included arrests in connection to riot, weapons violations and assault. The majority of people cited and arrested were from Minnesota.
The response that started with the 8 p.m curfew Saturday and continued into Sunday morning was far more forceful than previous nights. Walz said repeatedly the actions of law enforcement was on his order and any criticism falls to him.
Sunday's curfew will start at 8 p.m. and expire at 6 a.m Monday. It applies to only Minneapolis and St. Paul. Several other cities in the state had already enacted curfews in their jurisdictions that extend until 8 a.m. Monday.
Walz also said freeway closures that had been in effect Saturday night would be in place again Sunday night into early Monday morning — though the closures will be more extensive than originally planned.
MnDOT said "routes will remain open for motorists to exit the downtown areas."
Metro Transit said all bus, light rail and Northstar service in the Twin Cities will remain suspended through at least the end of Monday.
Who were the people arrested?
Walz and the mayors of St. Paul and Minneapolis had previously pointed the blame at outside agitators for much of the destruction. They stepped that back on Sunday, but were quick to add that at least 20 percent of Saturday arrests were out-of-state residents.
"Candidly, I want to believe it's (from the) outside,'' Walz said. "This can't be Minnesota, this can't be Minnesotans."
Walz noted that there was a "sophisticated" hacking attempt on the state computers, but he declined to offer specifics only saying it was a denial of service attempt.
Walz, and the mayors of Minneapolis and St. Paul repeatedly said officials have far more work to do as it relates to police-community relations and equalizing justice.
George Floyd, 46, of St. Louis Park, died on Memorial Day after former Minneapolis police officer Derek Chauvin knelt on the back of his neck for more than nine minutes — despite Floyd's pleas that he could not breathe. Chauvin and three other officers who were at the arrest were fired. As of Sunday, Chauvin was the only officer to be charged. He faces third-degree murder and second-degree manslaughter charges in Floyd's killing.
Floyd's family and many protesters have called for first-degree murder charges and the other officers to face criminal sanctions in the killing.
Floyd's family attorney Ben Crump said he thinks more serious murder charges should be filed against Chauvin.
Crump said he believes there's enough evidence to show the officer's actions were premeditated.
Crump told CBS: "We don't understand how that is not first-degree murder."
On Sunday, Walz said he wants the other three officers arrested and charged.
However, he added, that he's not sure it would defuse unrest on the streets.
"It would start to move us forward. I think it would be naive to believe that it would stop some of this just by that,'' he said.
Many have also called for a special prosecutor to be brought in to replace the Hennepin County prosecutor's office.
Walz said he hasn't decided whether to take the rare step of appointing the state attorney general to that task.
"It would be incredibly negligent in the environment that we're in to not be exploring every option,'' Walz said.
Residents protect homes; state's response different
Residents of some neighborhoods took matters into their own hands, guarding blocks and in some cases barricading streets to keep outside traffic away. That's after looting and fires had gone unchecked in some areas the previous nights.
"Tonight it went far better," Paul Schnell, the state corrections commissioner and part of the leadership team overseeing the response, said just after 1:30 a.m. Sunday. There was an "overwhelming number of resources brought to bear" and "a tremendous level of community support for the curfew."
There were also protests in other cities around Minnesota and nearby states, including ones in Fargo and Duluth where protesters clashed with police.
In the Twin Cities, the larger law enforcement presence made for a faster response during the night. The National Guard said Sunday morning that it had more than 5,000 soldiers deployed in the Twin Cities, and that number could expand to more than 10,000 in the coming days. The soldiers guarded the Capitol in St. Paul and accompanied fire crews on calls.
The law enforcement effort included pushing back against a crowd in Minneapolis near the 5th Precinct police station, an epicenter of Friday night's mayhem. Days earlier, protesters overran and burned the Minneapolis 3rd Precinct headquarters.
Saturday was different.
Schnell said the crowd around the 5th Precinct on Saturday night scattered when confronted. That kind of response and reaction seemed to be the norm through the night.
"We are committed to do whatever it takes to bring order," he told reporters earlier in the evening.
On Sunday, Public Safety Commissioner John Harrington said rioters initially had a tactical advantage several days earlier. But on Saturday night, law enforcement took a different approach.
"Speed is of the essence. Stop the violence. Stop the criminal activity. Do not sit back and wait for enough resources to get there to have the perfect plan; get in there and get it done, rapidly," Harrington said of the new approach.
The law enforcement response included reports of journalists being arrested and residents being shot with marker rounds while standing on their front porches as law enforcement cleared the streets of Minneapolis.
Gallery
11 of 11
1 of 11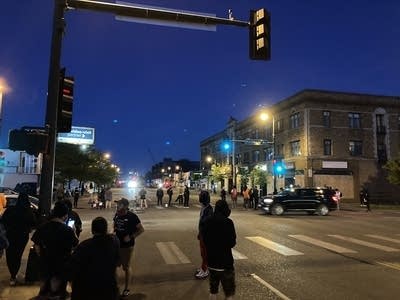 2 of 11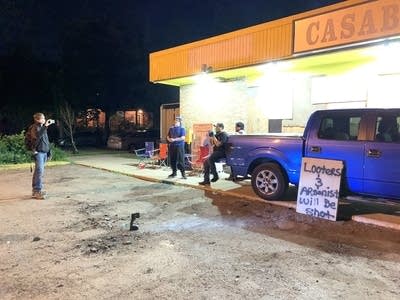 Schnell called those instances regrettable. He said officers faced extremely challenging conditions.
"They get into these situations in the cover of darkness, it's really difficult to see who's who. These people who are fleeing from police — are they going up on peoples porches? That is, in fact, what people have been doing," he said early Sunday.
Overall, crowds appeared to be significantly smaller and less organized than they were Friday night and early Saturday morning. There was action, but much less than in the past week.
Minneapolis police say they were shot at by one of three people they came across on patrol near the 1400 block of Lake Street. The three were arrested and a gun was recovered.
At the Lake Street/Marshall Avenue bridge separating St. Paul and Minneapolis, St. Paul police cleared hundreds of people from the area. Chief Todd Axtell said those protesters were believed to be headed toward the Capitol before they were turned back.
He told MPR News at 10:30 p.m. that overall St. Paul was staying relatively quiet. Close to 11:30 p.m, police were still holding the Marshall Avenue bridge.
St. Paul police said officers had stopped several vehicles during the night driving around the city without license plates. Each time officers stopped the vehicles, the people inside ran away.
Earlier in the evening, a National Guard helicopter scooped up water from Lake Nokomis to put out a car fire.
Cleaning up, helping others
Residents and business owners along Lake Street in Minneapolis spent another day Sunday assessing and cleaning up damage left by looting and fires.
While there fewer reports of damage than previous nights — there was still a lot of work and concern.
Esteban Jimenez is owner of La Lotería market on Lake Street at Fourth Avenue. He said some looters did break into his store while he was away briefly; since then he's been sleeping at his store each night to keep it safe.
And he's staying open to serve the community. He said there's been an outpouring of support.
"Something that made me break my heart, my tears came out — seeing the support of the community (Saturday), all these people coming and sweeping," he said. "They cleaned up the back door that (looters) broke into, they came and sweeped all the glass and everything. ... Tears came out with all those people asking you if you need any help."
And there was a huge response Sunday to food drives held at various locations around Minneapolis and St. Paul. A number of food stores in the cities are closed or were destroyed by fire and violence in recent days — and the shutdown of public transit over the weekend has made it hard for people without cars to get food.
One of the drives was held at Sanford Middle School in Minneapolis, to help students and other Longfellow neighborhood residents. A long line of cars filled the streets around the school Sunday morning, dropping off hundreds of bags of groceries and other supplies.
The Associated Press contributed to this report.