Ex-Minneapolis cop charged with murder, manslaughter in Floyd death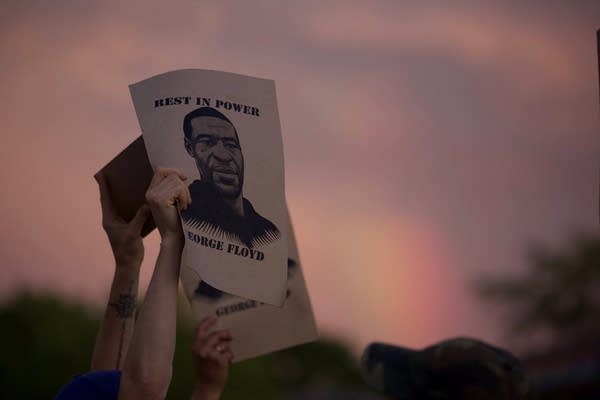 Updated: 6:10 p.m.
Prosecutors on Friday charged ex-Minneapolis police officer Derek Chauvin with third-degree murder and second-degree manslaughter in the killing of George Floyd.
Bystander video from Monday night captured Chauvin kneeling on the neck of Floyd, who was handcuffed and face down on the ground after police confronted him for allegedly passing a phony $20 bill to buy cigarettes. He pleaded that he could not breathe.
Hennepin County Attorney Mike Freeman said he anticipated charges for three other officers connected to the incident who were also fired, but "we felt it appropriate to focus on the most dangerous perpetrator."
Chauvin kept his knee on Floyd's neck for eight minutes and 46 seconds total, including two minutes and 53 seconds when Floyd was unresponsive, according to the criminal complaint.
Grow the Future of Public Media
MPR News is supported by Members. Gifts from individuals power everything you find here. Make a gift of any amount today to become a Member!
"Police are trained that this type of restraint with a subject in a prone position is inherently dangerous," the complaint reads.
911 call and confrontation
The initial emergency dispatch call on Monday had little urgency — a caller from the Cup Foods store on Chicago Avenue reporting someone using "fake bills."
In a transcript released earlier in the week by the Minneapolis police, the caller tells a dispatcher they asked the man to return the cigarettes he bought but that the the man is "drunk and not in control of himself" and refuses to give back the cigarettes.
According to Friday's criminal complaint, Chauvin and his partner Tou Thao arrived at the scene as two other officers, Thomas Lane and J.A. Kueng, were trying to get Floyd into the back of a squad, but Floyd said he was claustrophobic and didn't want to get in the car, and that he complained of not being able to breathe even while he was standing up.
As they struggled to get him in the squad, Chauvin at 8:19 p.m. pulled Floyd out of the passenger side of the squad. "Floyd went to the ground face down and still handcuffed," according to the complaint, which does not say why Chauvin pulled Floyd onto the street.
Kueng and and Lane held down Floyd's back and legs. Chauvin put his left knee in the area of Mr. Floyd's head and neck; despite the danger of that technique, the complaint says officers told Floyd that he could talk, so he was fine.
Prosecutors say the officers kept holding Floyd down even after he stopped talking and breathing. According to the charges Lane asked Chauvin if they should roll Floyd over. Chauvin allegedly said no and to keep him there.
Prosecutors say Lane persisted, saying he was concerned that Floyd was experiencing a syndrome called "excited delirium" which can lead to sudden death, but Chauvin allegedly refused to roll Floyd over.
'Road to justice'
Freeman said the charges against Chauvin are the same as those that came down against Mohamed Noor, the ex-Minneapolis police officer found guilty in the on-duty killing of 911 caller Justine Ruszczyk in 2017.
Minnesota's sentencing guidelines recommend 12 1/2 years for a conviction on the murder count and four years on the manslaughter charge. After he was convicted last year, Noor got exactly the 12 1/2-year guidelines sentence. The guidelines allow a range of nearly 11 years to 15 years for third-degree murder and less than 3 1/2 years to nearly five years for manslaughter, but the system is designed to result in close to the recommended sentence most of the time.
Ben Crump, the attorney for Floyd's family, said in a statement that while the charges against Chauvin are a "welcome but overdue step on the road to justice," the family expected the fired officer to face a first-degree murder charge. "We want a first-degree murder charge. And we want to see the other officers arrested," he said.
Chauvin was arrested earlier in the day by Minnesota Bureau of Criminal Apprehension agents, said John Harrington, the state's public safety director, who oversees the BCA.
During an earlier news conference Friday, Harrington referred to Floyd's death as murder.
"We'll call it a murder. That's what it looked like to me," Harrington said while noting that the majority of people protesting Floyd's death were doing so peacefully. "I don't want to prejudice this from a criminal perspective. I'm just calling it what I see it at that point."
Following Chauvin's arrest, Gov. Tim Walz wrote on Twitter that "Chauvin's actions were horrific. His arrest is a good first step toward justice for George Floyd. But it doesn't change the systemic problems and persistent inequities that led to his death or the pain our communities live with every day. We're committed to change."
Separately from the state probe, FBI officials say they are investigating Floyd's death for possible federal civil rights violations.
A couple of hours after Freeman announced the charges, Walz signed an emergency executive order to impose nighttime curfews in Minneapolis and St. Paul — from 8 p.m. Friday to 6 a.m. Saturday and from 8 p.m. Saturday to 6 a.m. Sunday in all public places in the cities. The order came moments after Minneapolis Mayor Jacob Frey issued a similar emergency curfew regulation for the city.
Overnight fury and fire
Earlier on Friday, Walz promised to restore calm and order to the streets of Minneapolis and St. Paul after chaos gripped the Twin Cities for a third straight night.
Walz called in the Minnesota National Guard and State Patrol to help contain spasms of looting and fire-setting that broke out in Minneapolis and St. Paul, including the 3rd Precinct of the Minneapolis Police Department.
"What the world has witnessed since the killing of George Floyd on Monday has been a visceral pain, a community trying to understand who we are and where we go from here," Walz said at a press conference Friday morning.
The governor pledged to tackle the long-standing racial issues at the root of the protests, but added, "None of us can tackle these problems if anarchy reigns on the street."
Walz and other state officials responded to criticism that they were largely out of sight during Thursday night's mayhem and didn't react quickly enough to the violence that erupted out of protests.
Walz and Jon Jensen, adjutant general of the Minnesota National Guard, said it was up to city leaders to outline clearly what help they needed, which didn't happen, they said. 
Thursday night into Friday, several fires raged in south Minneapolis and in St. Paul's Midway area where University Avenue businesses had been sacked earlier in the day.
Gallery
4 of 4
1 of 4
2 of 4
Just after 10 p.m. Thursday, crowds overran the Minneapolis 3rd Precinct station — one of the epicenters of conflict the night before — after officers withdrew.
Alondra Cano, a Minneapolis City Council member, told MPR News that she and others had requested that officers be removed from the precinct offices as a deescalation tactic.
Gallery
6 of 6
1 of 6
2 of 6
"The thing we're trying to avoid is more loss of life," she said. "I would much rather have an empty precinct with officers safe at home with their families and protesters damaging a building," she added. "We don't want any more dead people."
Cano said she expected it would be hard to control the crowd given the "heightened level of anger and frustration and hurt" around Floyd's death while in Minneapolis police custody.
Later, Frey said he made the decision to evacuate the 3rd Precinct station.
"Brick and mortar is not as important as life," he said, adding that patrols and policing will continue in the precinct's borders.
He defended the city's lack of engagement with looters — only a handful of arrests across the first two nights of violence — and said, "We are doing absolutely everything that we can to keep the peace." He said Guard members were being stationed in locations to help stem looting, including banks, grocery stores and pharmacies.
Around midnight, President Trump jumped in with tweets condemning violent protesters and saying that he had spoken to Walz. Trump indicated it would be acceptable to shoot looters.
That prompted Twitter to add a warning to his tweet, saying it violated the platform's rules about "glorifying violence."
Twitter did not remove the tweet, saying it had determined it might be in the public interest to have it remain accessible. It does that only for tweets by elected and government officials. A user looking at Trump's timeline would have to click to see the original tweet.
Frey was defiant Friday morning in the light of Trump's tweet.
"Weakness is refusing to take responsibility for your actions," he said. "We are strong as hell. Is this a difficult time period? Yes. But you better be damn sure we're going to get through this."
Frey said the unrest that left several parts of his city smoldering for the second night in a row Thursday night was unacceptable. He said the city's police and fire chiefs have his full support, as they calm what he called the most difficult situation the city has been through.
CNN crew arrested live on air
Early Friday, the State Patrol arrested a CNN crew live on the air as they reported on the protests in Minneapolis.
CNN said that the crew, which included reporter Omar Jimenez, was later released.
While live on air, Jimenez was handcuffed and led away. A producer and a photojournalist for CNN were also led away in handcuffs.
CNN's communications team said on Twitter that the crew was arrested "for doing their jobs, despite identifying themselves — a clear violation of their First Amendment rights."
The State Patrol said on Twitter that the journalists were among four people arrested as troopers were "clearing the streets and restoring order." The patrol said they "were released once they were confirmed to be members of the media."
CNN said that Walz apologized for the arrests, calling it "totally unacceptable."
'Is this criminal?'
Crowds took to the streets again Thursday night, demanding the four officers involved in the deadly incident be arrested and prosecuted. In downtown Minneapolis, thousands of peaceful demonstrators marched through the streets calling for justice.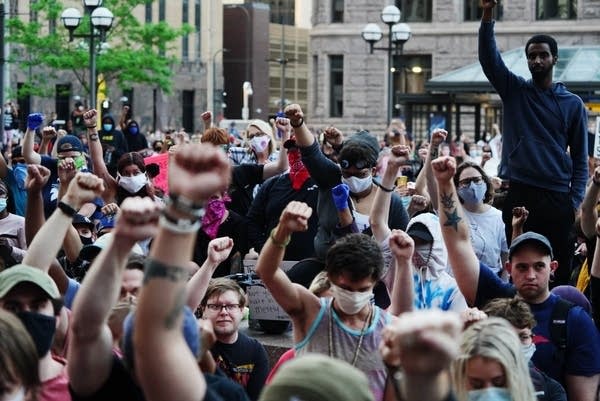 Earlier in the day, Hennepin County Attorney Mike Freeman asked for patience as authorities gather evidence.
"I will not rush justice because justice cannot be rushed," Freeman said. There was no doubt the officer's actions were "excessive and wrong," he said, but "the question in my business is — is this criminal?"
Ben Crump, the attorney for Floyd's family, said there's enough evidence to arrest the officer.
Crump told CBS News that the Hennepin County Attorney's Office has told him they are trying to dot every I and cross every T before bringing charges against any of the four officers at the scene. But Crump said the video footage shows probable cause to make arrests now. 
"You can continue your investigation, but every day these officers are not arrested is like another day of injustice," he said. "It's like they're killing George all over again. None of us can breathe."
In addition to local investigations of Floyd's death, FBI officials have vowed to move quickly on their civil rights probe and asked for anyone who was near the scene of Floyd's arrest to come forward.
By midnight Thursday, as the mayhem shook Minneapolis and St. Paul, Minnesota House Majority Leader Ryan Winkler, DFL-Golden Valley, called on Freeman to file charges, adding "the officers must be arrested as soon as possible."
The case, said Winkler, "must be won, and legal standards met in order to get a conviction, but we need to have a clear statement that a murder trial is coming. Now."
Earlier Thursday, Walz deployed the National Guard to supply personnel and equipment needed to "support emergency operations and response," despite some lawmakers' worry that military presence could further inflame the situation.
The Guard said a "key objective" was to make sure fire departments could respond to calls, and said in a follow-up tweet it was "here with the Minneapolis Fire Department" to assist. But no move was made to put out the 3rd Precinct fire. Assistant Fire Chief Bryan Tyner said fire crews could not safely respond to fires at the precinct station and some surrounding buildings.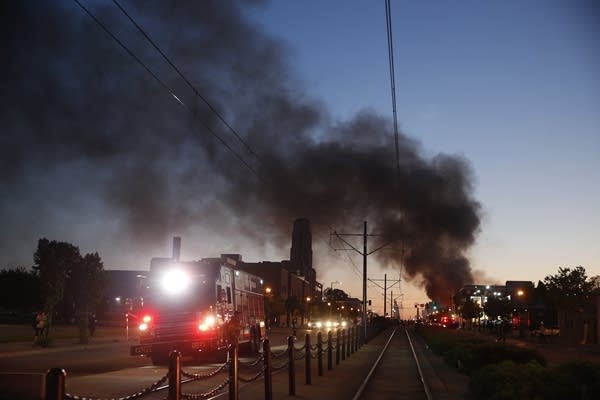 Protesters' anger over Floyd's death was understandable, said Andrea Jenkins, vice president of the Minneapolis City Council, given the long history of racism in Minnesota and the country and the need to push back against it.
"We feel there was a knee on all of our collective necks … a knee that says black life does not matter," said Jenkins, who is black.
However, Jenkins, Frey and Police Chief Medaria Arradondo said violence would not be tolerated, even though they understood the anger.
"You have no right to perpetrate violence and harm on the very communities that you say you are standing up for," said Jenkins. "We need peace and calm in our streets, and I am begging you for that calm."
Citing safety concerns, Metro Transit Thursday evening said it would suspend its bus and light rail service through this weekend. Its Blue Line airport shuttle between Terminals 1 and 2 and the Fort Snelling station will continue to operate.
Protests spill into St. Paul; several Target stores closed 'until further notice'
St. Paul police were also dealing with confrontations Thursday, largely in the city's Midway neighborhood, including looting at the neighborhood Target store.
Just before 2 p.m., MPR News producer Megan Burks reported looters had moved to a liquor store on the south side of University Avenue and that there were hot spots of trouble throughout the Midway neighborhood.
In the wake of looting continuing in the Twin Cities, Target on Thursday announced temporary closures of nearly 30 stores in the metro area "until further notice."
Rosedale Center in Roseville also said it would not be open on Friday and that entrances had been secured so no one could enter.
On the Capitol grounds in St. Paul, buildings and offices of lawmakers, state court staff and judges were evacuated out of precaution. Staff were urged to leave quickly and work from home for the time being.
As midnight approached on Thursday, St. Paul police said more than 170 business had been damaged or looted, with dozens of fires reported but no serious injuries.
The 911 call that started it all
The initial emergency dispatch call on Monday that led to Floyd's death in police custody had little urgency — a caller from the Cup Foods store in Minneapolis reporting someone using "fake bills."
According to a transcript released by police, the caller tells a dispatcher they asked the man to return the cigarettes he bought but that the the man is "drunk and not in control of himself" and refuses to give back the cigarettes.
The dispatcher asks three times to confirm the race of the suspect. The caller says he's sitting on a blue van, and provides a license number.
Floyd, 46, died in the ensuing interaction. Video shot by a bystander showed an officer pressing his knee into Floyd's neck for several minutes as he pleaded with the officer that he couldn't breathe.
The Twin Cities have already been through several high-profile police killings of black men — Terrance Franklin, Jamar Clark, Philando Castile. And there was the killing of Justine Ruszczyk, a white woman, by a Minneapolis officer.
In Minneapolis, allegations of racism by police and tensions between the department and the African American community have persisted for decades. And this week, long-simmering frustration over how people of color are treated by the legal system boiled over, Nekima Levy Armstrong, a civil rights lawyer and activist.
"For black Americans, it's very easy to look at the video and to know that something horrible and egregious and unlawful happened. It is not rocket science," she said.
"White people who are conscious can look at that video and they can see the same things that we saw, which is a man murdered in broad daylight in front of our eyes, on video, and the officers — all four of them — their callous disregard for a black life and human life."
The Associated Press contributed to this report.