Minneapolis to ban police chokeholds in wake of Floyd death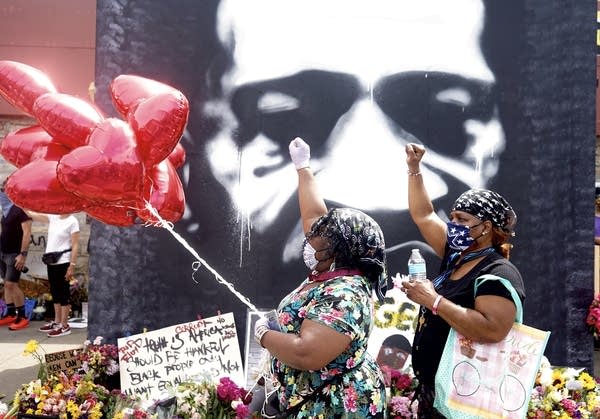 Updated: 4:35 p.m.
Negotiators for the city of Minneapolis agreed with the state Friday to ban the use of chokeholds by police and to require officers to report and intervene anytime they see an unauthorized use of force by another officer.
The changes are part of a stipulation posted online between the city and the Minnesota Department of Human Rights, which launched a civil rights investigation this week in response to the death of George Floyd. The City Council approved the agreement 12-0.
The agreement would require court approval and would become enforceable in court, unlike the department's current policies on the use of force and duties to intervene.
It would require any officer, regardless of tenure or rank, to immediately radio or phone in from the scene the use of any neck restraint or chokehold to their commander or their commander's superiors.
Grow the Future of Public Media
MPR News is supported by Members. Gifts from individuals power everything you find here. Make a gift of any amount today to become a Member!
Similarly, any officer who sees another officer commit any unauthorized use of force, including any chokehold or neck restraint, must try to intervene verbally and even physically. If they don't, they'd be subject to discipline as severe as if they themselves had used the prohibited force.
The agreement also would require authorization from the police chief or a designated deputy chief to use crowd control weapons, including chemical agents, rubber bullets, flash-bang grenades, batons, and marking rounds. And it would require more timely decisions on disciplining officers.
Human Rights Commissioner Rebecca Lucero said the changes are necessary to stop ongoing harm to people of color "who have suffered generational pain and trauma as a result of systemic and institutional racism."
"This is just a start," Lucero said. "There is a lot more work to do here, and that work must and will be done with speed and community engagement."
The stipulation also sets a process for the city and state to negotiate longer-term changes, such as changing state laws that make it difficult to fire problem officers.
"This is a moment in time where we can totally change the way our police department operates," Mayor Jacob Frey told the council. "We can quite literally lead they way in our nation enacting more police reform than any other city in the entire country, and we cannot fail."
"Those of you who protested peacefully over the last week changed the policies on chokeholds in Minneapolis," Gov. Tim Walz said. "This is what direct citizen engagement looks like."
Phillipe Cunningham, a Minneapolis City Council member, said he wants a complete transformation of how Minneapolis keeps its residents safe, adding that he supported Medaria Arradondo, the police chief.
"I am overwhelmingly hearing from constituents who want an entirely new system of public safety in our city," Cunningham said. "This complaint gives us new tools to make this happen, and Chief Arradondo is the right person to lead from the law enforcement side."
In a statement later in the day, Arradondo said he would soon propose other "substantative policy changes" for the department.
No curfew for Twin Cities Friday
For the first time in a week, there won't be a nighttime curfew in Minneapolis and St. Paul Friday.
Walz has decided against extending the restrictions on movement. A curfew was first imposed a week ago as protests over the killing of George Floyd in police custody devolved into violence and property damage.
The Minnesota National Guard has been pulling back on its presence. There have been predominantly peaceful protests the last few nights.