What democracy looks like: Election Day across Minnesota
Updated: 9:15 p.m.
When the sun rose on Election Day Tuesday, more than 1.8 million Minnesotans had already voted in the presidential election.
And thousands of in-person voters were expected at polling places statewide.
As the day progressed, MPR News reporters talked with people around the state — people who are voting, people who have already voted, people who are working the polls and people who are opting out this year, whether by choice or by circumstance — and together, their voices and experiences paint a picture of what democracy looks like on Election Day in a tumultuous, complicated year.
Grow the Future of Public Media
MPR News is supported by Members. Gifts from individuals power everything you find here. Make a gift of any amount today to become a Member!
Voting across Minnesota
22 of 22
1 of 22
2 of 22
The election judge: "Gotta vote, gotta vote, gotta vote."
It's not only voters headed to the polls. As many as 30,000 election judges are being deployed across the state.
Karla Houle will be working her 7th election this year. She got the political bug as a kid.
"I always went with my parents when they went voting," she said. "It was something they grilled into me: Gotta vote, gotta vote, gotta vote. And it just made me feel proud that I could."
Houle, 64, is a member of the Fond du Lac Band of Lake Superior Chippewa. And she's helping make history this year. It's the first time that all four election judges at her polling place outside Cloquet are band members. The thought of it has made her cry more than once.
"In the same ward," she said. "I'll cry again. That excites me."
Houle helped recruit two new judges this year. One guy, she convinced while he was out walking his dog. And she's seeing young people getting more and more engaged.
"They're learning that there's more to the world than just the reservation," she said.
Many older election workers are staying home this year because of the pandemic. Not Houle. She calls her polling place her baby. And she's going to be there to take care of it.
— Dan Kraker | Duluth
The guy with the bike: "Rain, sleet or snow, I don't care."
The gravel parking lot outside the tiny, rural Frohn Township Hall Tuesday morning was full of pickup trucks and SUVs — and one single, solitary fat bike.
"If you're going to buy one bike, get a fat bike," said Myles McDanel, the owner of that single, solitary bike. "It can go through snow, sand, pavement, dirt trails, everything. I hit everything on the way here."
McDanel is in his 30s and lives just outside Bemidji. He arrived at his polling place wearing a yellow mask with a big smile drawn on it.
McDanel has ridden five miles past cow pastures and pines to the polls every Election Day since Bush vs. Kerry, and he wasn't about to break that streak this year.
"My parents [and] all my friends have done mail-in voting from what I remember," he said. "This is my tradition. Rain, sleet or snow, I don't care. Civic duty to come out here, bro."
But Tuesday? There was no sleet. No snow. It was sunny and warm, even at 8:30 a.m.
A good day to vote, McDanel said, and pedaled away.
— John Enger | Frohn Township
The organizer: "The final step in everything I'm doing"
In the months after George Floyd was killed, high school senior Yezi Gugsa spent her summer registering people to vote and organizing protests. So being able to cast her own ballot for the first time this Election Day was especially momentous.
She was still 17 then, so, in some ways, she said, all that work has been leading up to this day.
She could have voted early. Or by mail. But no.
"This will be the final step in everything I've been doing," she said outside the polling place Tuesday. "It's inspiring to see all the people who come out here to vote. But to be able to it myself has been really emotional for me."
Yezi's mom, Natalie Jones, joined her at the polling site.
"I'm so proud of the work she has done," Jones said. "She's even educated me one some of the different platforms of some of the candidates. So, very inspiring."
What is Yezi hopeful for today?
"A brighter future," she said. "A future where I feel safe, and my rights are protected."
She turned to her 11-year-old sister, Abby, who joined her mom and sister at the polls, to watch.
"[And] that the generations who come after me won't have to worry about that," she said.
With that, the three of them lined up to vote.
— Catharine Richert | Rochester
The high school senior: "It was a really cool experience for me."
Sometimes, you need to look at an experience with fresh eyes to truly realize how special it is.
At least, that's what I took away from talking with high school senior David Hjort about his first-ever presidential vote.
"It felt, I would say, very grown-up," he said. "It was kind of a big deal, because you're handed your official ballot, and you walk over. And then, obviously, the top two names are the president and the candidate for president of the United States. And it's just like — wow — I'm voting for these people, myself. It was really a cool experience for me."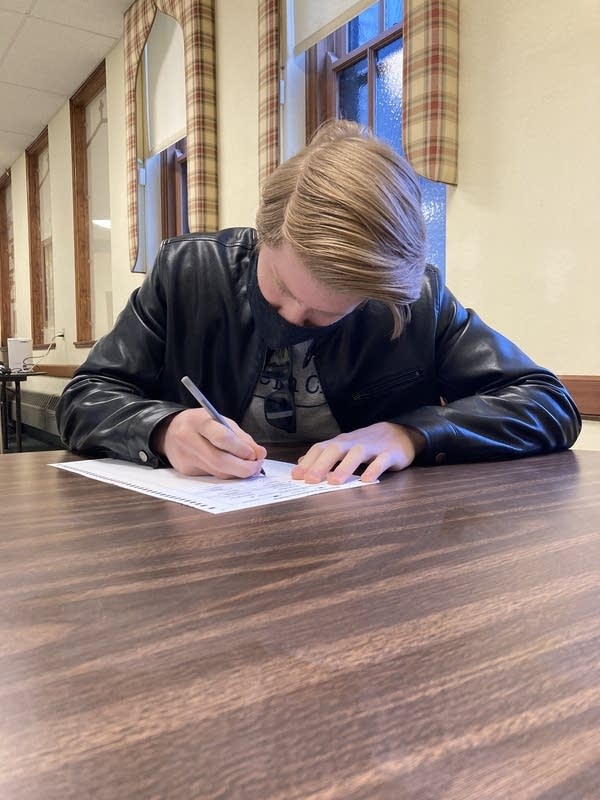 I asked Hjort if he felt as though his one vote makes a big difference.
"There are definitely times when I feel like, well, I'm one person, and how can one person possibly do anything at all to make a difference?" he said. "But then I think, it really does add up. Because all those people that are thinking that, there's more people that think that, and if they all put their vote in, it will affect something."
Everyone should vote, he said. Everyone should take part when they see things that upset them, or make them happy.
"Because it's our country," he said. "And I think we should strive to make it a better place."
— Dan Kraker | Duluth
The Moorhead voters: Nervous and distrustful
Moorhead resident Brynden Wallin voted Tuesday — and then stayed at the polling site, handing out water and snacks from the back of her car as a steady stream of voters came and went.
She was trying to encourage people to stay in line. It was that important, she said.
The federal government's management of the coronavirus pandemic was one of the key issues that influenced Wallin's vote this election.
She said she worries that other things — like the economy — will suffer until the pandemic is under control. Wallin, 34, said she has always been a voter, but this election feels much more stressful than elections past.
"I'm nervous. I think I slept, like, four hours last night, but fingers crossed things pull in our direction. I voted Biden," she said.
The election this year has caused divisions in Wallin's family that make even normal conversations challenging, she said, and she worries what might happen if divisions deepen after the election.
At another Moorhead precinct Tuesday afternoon, Darin Kuzl, 56, said he came out to vote for President Trump, as he did in 2016, because of what he calls extremism spreading across the country.
Kuzl said he does not trust the news media to portray candidates and issues fairly. But he has slightly more faith in the electoral system.
"I do believe there's going to be a lot of fraud going on," he said. "I am just very hopeful that they're able to get a reasonably accurate result."
— Dan Gunderson | Moorhead
The first-time voter: "I hope it matters, makes a difference."
There's been a push this year to get new voters to the polls.
Jon Mason, 21, was one of them. He and his mom made the trip from his home in the small town of Red Lake to vote for the first time at the Beltrami County Courthouse in Bemidji a few weeks ago.
"I think we had five or six other people with us that were first-time voters, and the ages ranged from 18 to … 56, I think," he said.
Mason, a member of the Red Lake Nation, said he didn't have much interest in politics before this year, but family members convinced him he needed to vote — for candidates who would help Native people.
"I really hope my vote did count," he said. "I hope it matters, makes a difference."
Mason says the voting part was easy. What was harder, he said, was the time he spent this fall, asking Red Lake residents to register to vote.
"[I'm] not much of an outgoing person," he said. "My previous jobs, I was in the back of a restaurant, cooking, [I] never really talked to anyone. This got me out of my little comfort zone, talking to people."
Mason says he expects to stay active in politics after this election.
"It was a nice experience," he said. "I liked it."
— Dan Gunderson | Moorhead
The birthday voter: "Every vote is extremely important"
Rebecca Reynolds celebrated her 18th birthday Tuesday — at the polls.
When she arrived at the Boys and Girls Club in Bemidji, the line looked long.
"[That's] a good thing, because that means people are actually coming here to vote, but also I'm very impatient," she said.
In the end, she only ended up standing in line for about 10 minutes. Afterward, she said she was glad she'd waited to vote in person.
"I knew that what I was doing was for my country, and that every vote is extremely important," she said.
Voting on her birthday was an important moment, she said.
"As a child, I was always very frustrated that, because I was a child, nobody would really pay attention to what I said," she said. "With everything that's happening now, I think — now, more than ever — I'm very happy that I get to show how I feel about things, and I get to participate in the things that I believe in."
She's already looking forward to making this a birthday tradition.
— Dan Kraker
The teenage voter: "My vote makes an impact, you know?"
Nagmo Amoud was actually still 17 when she cast her ballot back in September. She turned 18 not long after, a full month before Election Day — so was eligible to vote under Minnesota law.
"It was really exciting, voting for the first time," she said. "And my vote makes an impact, you know? That's really exciting."
The senior at St. Cloud's Apollo High School had some weighty issues on her mind when she cast her ballot, alongside her grandmother and aunts, including climate change and criminal justice reform.
Amoud's parents came to the U.S. from Somalia. Immigration is another political issue that's personal. She plans to attend college next year and major in political science.
— Kirsti Marohn | St. Cloud, Minn.
The bus driver: "If all the Native vote comes out, it could change a lot of things."
Election day will be busy for Lawrence Crowell.
Most days, Crowell, 66, drives a bus for elders in the tiny town of Pine Point, on the White Earth Indian Reservation in northwest Minnesota.
On Tuesday, he'll be driving voters of all ages to the polling place.
"We should be voting right here in our own community," he said. "Instead, we've got to go 5 to 7 miles north to vote."
He says he's seeing an unusual amount of interest in voting in his community this year.
"The Native vote has been suppressed for so long. If all the Native vote comes out, it could change a lot of things," he said. "I'm probably as excited about it as I was back in 1972.
That's the year Crowell cast his first vote.
"I'm hoping we can get a turnout of 50 to 60 people that have never voted before in their township," he said.
Crowell said he hopes that, if enough voters turn out this year, in the next election, Pine Point residents will be able to vote in their own town.
— Dan Gunderson | Moorhead
The new citizen: "I'm American. I voted. I think that's the most exciting part."
Jwokamer Debock is a new U.S. citizen — and this year, a new voter.
When she cast her ballot, she said, it was celebration of her yearslong quest to become an American. She moved to Minnesota from Kenya in 2005, when she was eight years old — and last year, she became a citizen.
Last month, she stood in line over an hour to vote early in Minneapolis.
"It was definitely worth it," she said. "I'm American, I voted. I think that's the most exciting part."
Debock studied political science in college and considers herself to be up-to-date on the candidates and issues, but she said that picking the right person in local, lesser-known races was daunting.
"At one point, it was overwhelming, because there were so many names on the ballot," she said. "And I kept going back and forth."
It was nerve-wracking, she said — with lots of questions. Could she use her phone to quickly research a candidate? Would she run out of time?
Despite her nerves, Debock said she never really questioned whether she should vote in this election.
In June, she was an employee of the Lake Street Target store in Minneapolis, which was looted during civil unrest after George Floyd was killed.
"Just waking up to see my city torn apart was heartbreaking," she said.
But the protests, she said, also inspired her to vote.
"The people we put in power are the ones that make decisions that will better this. We can do all the work on our side. At the end of the day, it's still at the hands of someone else," she said.
With voting now done, Debock is in the process of moving back to southern Minnesota — Austin — where she's starting a new job in the school district.
— Catharine Richert | Rochester, Minn.
The college students: "Start making changes in the world"
First-time voters Makayla Rice and Parker Buske, both 19, joined 20-year-old Chloe Lessard, who voted for the first time in the primaries earlier this year, at the polls on Tuesday.
The women, all sophomores at St. Cloud State University, said they didn't have any problems — or long waits — when they went to vote in St. Cloud.
"It went good," Rice said. "I registered and voted at the same time. It went pretty smooth. There was really nothing crazy about it. But I'm proud."
The three women said they had some big issues on their minds — racial justice, LGBTQ rights, abortion — that motivated them to get to the polls.
Buske said she's happy to see their generation taking an interest in politics and the future of the country.
"I think it's really awesome for young kids out there to use their voice and start making changes in the world," she said.
— Kirsti Marohn | St. Cloud
The 17-year-old: "Being a youth, I still have so much to lose."
Nick Brey is 17, and not yet old enough to vote this year.
So instead of preparing himself to hit the polls, he has joined some of his classmates at St. James High School to help prepare their peers who are eligible to vote this year.
"It's been a lot of conversations that are like, 'Oh, I'm 18, I can go vote,'" he said. "Or, like, 'I don't really get to do much at 18 except vote.' And I'm like, 'You get to vote. Like, you turned 18. You get to vote. Congratulations, you're there.' Be happy, because those [who are] still 17 and under are still stuck here, and have to wait a long time."
Brey said he's worked hard to emphasize to people that this election is still important to people like him, who aren't eligible to participate directly.
"Being a youth, I still have so much to lose," he said. "Since I cannot vote, and people are voting for me, they are making decisions that I may or may not want. And that can exclude me from things down the road."
Brey said he's anxious about how the results of this election might affect people who can't cast a ballot this year. But he said he hopes that those who can vote will think about their whole community when they fill out their ballots.
— Hannah Yang | New Ulm
The activists: "Keep in mind other people"
Phones rang endlessly at the Worthington offices of Unidos We Win, an immigration-focused political action committee. About a dozen volunteers were busy answering calls from voters, or sending calls out to remind community members to go cast their ballot on Election Day.
Volunteers cycled in and out of the office, leaving to give rides to voters who needed transportation to their polling places, and helping people find their polling place.
Beatriz Chonay, 18, graduated from Worthington High School last spring. Before this election, she said, she was not one to get involved in politics. But this year, she's been working alongside other young people who are first-time voters.
"Your vote can impact families and friends," Chonay said. "It might not seem like a big deal for some people. Rights can be taken away or things can be established and it can make things worse for them. It's more about thinking about yourself, but keep in mind other people."
A number of the volunteers in the office were too young to vote in this election — but they said they hoped others in their community would consider them, as they vote.
Saleen Thepmontry, 17, of Adrian, is a senior at Worthington High School. She said she wants to remind members of her community who are hitting the polls to remember those who don't have a voice and need to depend on others to represent them.
"I post on my social media almost every day about people going to vote, early voting and especially today since it's Election Day, I have told people to go out and vote because I can't," Thepmontry said. "Some people ask me, 'Have you voted?' and I say, 'No, because I am 17. But you should vote for me, because my future depends on it and so does yours.'"
— Hannah Yang | Worthington