6-year-old shot Monday in Minneapolis gunfire dies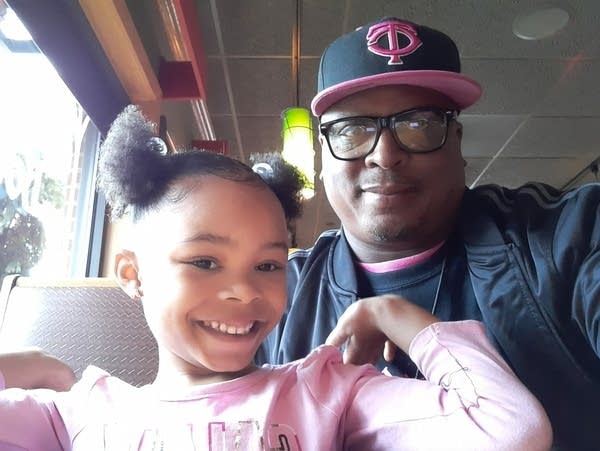 Updated May 19, 3:10 p.m.
A young girl who was in critical condition after the car she was riding in was apparently caught in a shootout in north Minneapolis Monday night has died.
Activist K.G. Wilson identified the girl as his granddaughter, Aniya Allen, his son's 6-year-old daughter.
Wilson said Aniya and her mother had stopped at a McDonald's on the way home near 36th and Penn avenues when the car was caught in the crossfire of a shootout around 11 p.m.
No one's been arrested in the shooting, which is now a Minneapolis police homicide investigation.
Grow the Future of Public Media
MPR News is supported by Members. Gifts from individuals power everything you find here. Make a gift of any amount today to become a Member!
In a sign of the scope of the tragedy, Richard Zimmerman, head of the Minneapolis Police Department's homicide unit, expressed condolences to the family Wednesday outside Hennepin Healthcare.
"We've got half a dozen detectives working on this case, and I hope to get some resolution for you. I hope to," Zimmerman said as he stood by Wilson.
They were joined by Marsha Mayes, mother of the 3-year-old boy who was killed in his home by a stray bullet in 2011. She called for the community to help find the killers before any more children are hurt.
Wilson, who's worked for years to quell gang violence in Minneapolis, called for the person behind the gunfire to step forward and take responsibility.
Anyone with information can call the CrimeStoppers line at 1-800-222-TIPS (8477).
On Tuesday, Wilson said he was heartbroken by the incident and called for swift action to stem gun violence in Minneapolis. 
"We just got to get these violent people off the streets. People doing this criminal behavior and the shooters off the street. As long as they stay out here, somebody else's kid. This is the third one. All three of them in the hospitals now," Wilson said. 
Antrice Sease, Aniya's mother, said on Tuesday that her daughter was wounded on a day that was, until that instant, joyful.
"You know what I did with my baby yesterday? I took her to the lake," Sease said. "I was going to make her happy. That's what parents do. Took her shopping. Got her some McDonald's on the way home. Coming through the alley, we get shot at for no reason."
Amanda Davis, Aniya's aunt, struggled to hold back tears and said the violence that has touched Aniya and two other children has to stop. She said Aniya is an innocent little girl.
"She don't know about gangs. She don't know about guns," Davis said. "That's not what mama teaches her, that's not what her family teaches her. So when you say, 'No snitching,' that's dumb, because this baby is innocent. What about her life? Her life matters."
A string of recent violence
Families have identified the two other children shot in Minneapolis recently as 10-year-old Ladavionne Garrett, Jr., shot in the head on April 30 as he was riding in a car with his parents, and Trinity Ottoson-Smith, a 9-year-old girl shot on Saturday, as she was jumping on a trampoline at a home. Trinity is in stable condition, according to her father.
Police have reported no arrests in any of the three cases so far. The cases each remain under investigation.
At a press conference Tuesday afternoon, community members urged City Council members to act immediately.
"Right now we're in a state of emergency," said pastor and civil rights leader Jerry McAfee at the conference. "I've been telling you that for over a year now. We won't get into the past. Get into that room with the mayor. Bring us something back. I don't give a damn what it is, but we want all of y'all heads together, on the same stage."
McAfee also announced a new program of church and community-based watch groups that will take action as soon as Wednesday. He'll share more details at a vigil at North Memorial Medical Center for Ladavionne.
Mayor, City Council response
The shooting came just hours after police Chief Medaria Arradondo and Mayor Jacob Frey announced new public safety initiatives to stem the violence that has resulted in 27 homicides in the city so far in 2021. City officials remain divided about how to proceed in the wake of the death of George Floyd and a growing toll of death and injury.
Frey and Arradondo's plan includes adding officers to the city's police force, assistance from federal law enforcement and putting American Rescue Plan funds toward violence prevention. Arradondo says the ranks are currently down by about a third.
Several City Council members pushed back Tuesday on Frey's proposals, including Phillipe Cunningham, who said the council put together a gun violence prevention plan last November — including outreach and group violence intervention — but that police are actually part of the problem.
"For us to be able to make this work, we need to have both community and law enforcement intelligence on identifying who the most active gang members are, and who their families are, who their networks are, so that we're able to wrap the resources around them," Cunningham said.
Cunningham and council member Jeremiah Ellison, both representing wards in north Minneapolis, say they both like some parts of Frey's plan, but acknowledge a rift in city leadership.
Correction: A previous version of this story misidentified Marsha Mayes. The above version is updated.