The Minnesota fall bucket list
Updated: Oct. 7
Fall has arrived, bringing with it mild temps, colorful foliage and plenty of fun. Using your suggestions, we're creating a list of all the events and activities folks should do to enjoy Minnesota's fall to the fullest—before it's over.
What are we missing? Tell us about your favorite fall activity. 
1) Peep the fantastic fall foliage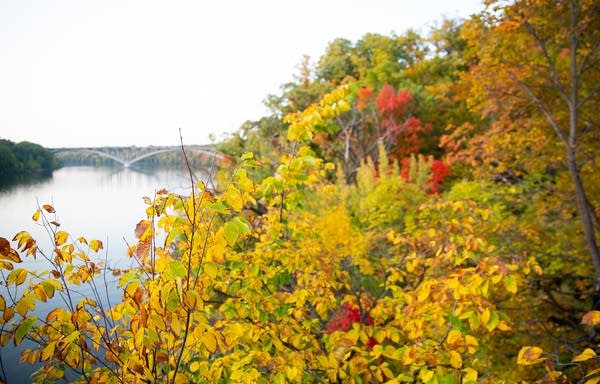 Easily the top suggested activity: Leaf peeping! Minnesota is home to 66 state parks and nine outdoor recreation areas, many of them bursting with fall color throughout the season. 
Not all areas of the state peak at the same time though, so you'll want to keep an eye on the Department of Natural Resources' "Fall Color Finder" for the best time and places to catch all your favorite reds, yellows and oranges. 
Grow the Future of Public Media
MPR News is supported by Members. Gifts from individuals power everything you find here. Make a gift of any amount today to become a Member!
You can also find a breakdown of the top parks to go to each week on our website. 
A few of you in the audience also shouted out these specific recommendations for great fall color views: 
2) Find the apple of your eye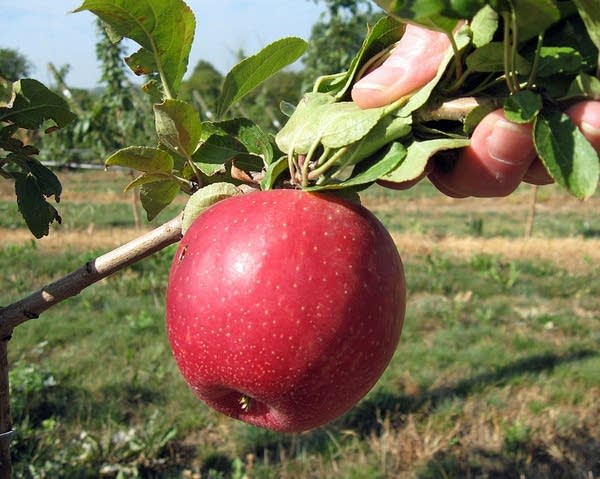 Apple picking is a fun, family friendly and frankly delicious fall activity you will not want to skip. 
You can find apple orchards scattered across the state, with many offering cider tasting, hayrides, petting zoos, baked goods and, of course, the opportunity to pick your own basket of apples to take home. Because they just taste better that way. 
Find an orchard near you using this handy directory from the Minnesota Department of Agriculture. 
3) Get scared on purpose 
Spooky season is creeping in. Thankfully, Minnesota is home to many haunted houses, hayrides and more. 
Looking to really scream? Or maybe you just want a few jump scares. Minnesota Haunted Houses is a one-stop online shop for finding a scary attraction near you, complete with a "Scare Factor" rating and customer reviews to help you pick a haunting in your comfort zone. 
4) Run in the Twin Cities Marathon (or cheer them on) 
Note: This event took place Oct. 3. Check out some of our related reporting about a blind runner who completed the marathon with the help of her guides.
The Twin Cities Marathon is one of the biggest running events in the state. Participants will dash from downtown Minneapolis to the State Capitol in St. Paul on Sunday, Oct. 3, and there will be events all weekend long.  
This year in order to combat the spread of COVID-19, there will be both in-person and virtual options for running the course as well as a new refund policy. 
And if you miss the marathon, here are some great running trails to enjoy in your own time. 
5) Camp among the changing trees 
Camping in Minnesota is a year round affair — yes, even winter camping comes with its joys. But it's extra refreshing to pitch your tent and gather around a campfire in the crisp autumn air. 
Just like in other seasons, fall camping comes with unique perks and challenges. Minnesota Monthly put together a helpful list of things to consider when planning your fall camping trip. For example: The colder weather means fewer pesky bugs, but the need for more layers and firewood to keep you warm. 
The extra packing is well worth it to wake up surrounded by the gorgeous colors of fall. 
6) Pick a pumpkin 
What screams autumn more than a pumpkin patch?
Similar to visiting an apple orchard, if you swing by a Minnesota pumpkin patch there's a good chance you'll get more than just a gourd. Tractor pulls, farm animals, decorative corn and more — find a patch with exactly what you're looking for using this online database listing farms by county. 
7) Get crafty with fall produce
Once you've found the perfect pumpkin, you can start work on the perfect Jack-O'-Lantern, find tips from a carving pro here.
If you'd rather not deal with all the pumpkin guts, there are plenty of other ways to create crafts with the fruits of the season or just a bit of paper. Check out these lists of fall-themed crafts for kids and adults.
And for inspiration, check out the above photo of a beautiful gourd display by audience member Colleen Gengler. Gengler also suggests decorating with cornstalks and straw bales!
8) Shop local fall farmers markets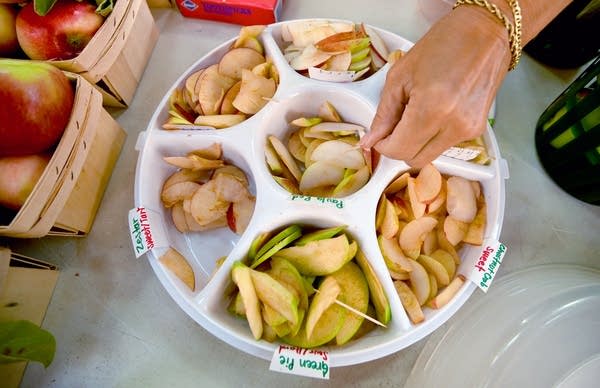 You'll soon see the summer fare swapping out for fall produce, homemade fall decorations and lots of cinnamon flavored baked goods. Enjoy a hot drink while you peruse and support local farmers and artists. 
Find a market near you using this handy map and database by Minnesota Grown. 
9) Cheers with a seasonal brew
Ciders, Oktoberfests and lots and lots of pumpkin flavored beer. Find your favorite seasonal spirits at a brewery near you or plan a trip to one of several brew events happening just for fall. 
To try a bunch at once, consider the Autumn Brew Review on Oct. 16 which will have over 80 breweries in attendance. Or the Nordeast Big River Brew Fest on Oct. 2 with over 30 breweries. 
For all the Oktoberfest fans, here's a list of celebrations around the state. 
10) Serve up your own seasonal treats 
Not sure what to do with all that pumpkin and squash? Looking for something warm to eat on a cold fall evening? 
The Splendid Table has pages upon pages of recipes for pies, soups and more delicacies perfect for the fall season. And if you already hit up an orchard, here are six recipes to help you use up those delicious apples. 
11) Watch our feathered friends fly south 
Many Minnesota birds will be flying the coop soon, heading for warmer climates. That makes this season a big one for birders. Check out our pro-tips for bird watching in Minnesota, then grab your binoculars and gaze toward the skies!  
Here's a look at which birds are still around, and how long you have to see them. 
12) Help grow Minnesota's forests 
Every year the DNR asks for the public's help finding seedlings for the Minnesota State Forest Nursery. And because of this year's ongoing drought, your help is more important than ever. 
You can find a list of the different seeds and cones in demand on their website, but before you go out searching, call your local forestry office to check what's needed in your area. 
Once you've done that, get a group of family or friends together to make the cone hunting easy and fun! 
13) Make s'more treats outdoors
Now because of the aforementioned drought, always check burn restrictions in your area before having a bonfire. But if you are able, audience member Anna Lucas makes a great case for busting out the marshmallows this season:
"My grandson loves s'mores and his parents often build a fire in their firepit and roast marshmallows and sausages," Lucas wrote. "Get a firepit if you don't already have one and have a campfire with your kids and your neighbors — with proper COVID precautions, of course! … What better way to celebrate the arrival of cool, crisp fall weather!"
Here are some listener submitted recipes for great s'mores and more.
14) Find your way through a maze of maize
Another unique regional offering: corn mazes!
Many farms and seasonal festivals feature these homegrown puzzlers. Here's a look at a few around the state and some only near the Twin Cities.
Audience member Alison Leathers suggests checking out the maze at Big Springs Farm in Lanesboro.
"The maze is a very neat design featuring the main draws to our area: fly fishing, kayaking, biking and more," she wrote. "The farm has hayrides, pumpkin picking, a corn pit and more. And it feels great to support a hard working multi-generational farm family."
15) Get ready for some football
NFL fans look forward to fall every year, but in Minnesota we have a great offering of local teams, too.
In fact, there's over 200 college and high school teams according to the FieldLevel database.
Check out your local team's website for game schedules, bundle up and cheer for the home team. For at-home viewing many of our college teams are broadcast on ESPN's various channels or online. And find the latest in high school football on the MN Football Hub.
16) Join the hunt
Fall hunting season is a big part of Minnesota outdoor recreation. Waterfowl season opens statewide Sept. 25 and archery deer season is already in full swing.
The deer hunting opener takes place in November. In addition to getting your permit this year, you'll need to read up on new regulations in place to help curb the spread of CWD among state's deer population.
Never been hunting before? The DNR has a series of helpful online resources to get you started.
17) Tour Minnesota wine country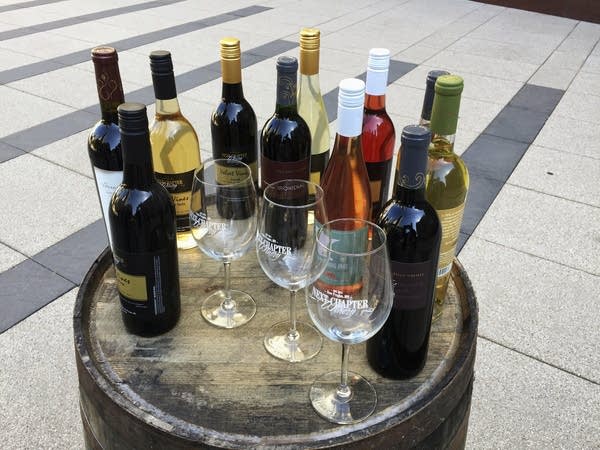 Many wineries around the state hold a harvest in September, but it can creep into early October. Making this a fun time of year to learn about the process of making wine in a Minnesota climate.
Many wineries are happy to share that process during guided vineyard tours and as part of fall celebrations. Plus, it's just fun to drink wine outside (weather permitting.) Find a winery near you using this helpful map.
18) Paddle through colorful rivers
Picture this: You dip your paddle into the cool waters of a Minnesota river and watch the fallen leaves float around your canoe on a quiet, crisp fall morning. Sigh.
Audience member Susan Seltz recommended paddling the St. Croix in Taylors Falls.
"Depending on the leaf color peak, the trees are spectacular. And, on an overcast or misty day, it's even more awe-inspiring. On those days, it's easy to imagine all the peoples who traveled on that river over the centuries," said Seltz.
Find more recommendations — and where to find rental canoes and kayaks — from the DNR or Minnesota Monthly.
Get tips on fun activities and events around the state every weekend by subscribing to The 'sotan newsletter.