Deal reached to end Minneapolis teachers strike; classes expected to restart Tuesday
District, union agree to transitional day for staff ahead of students returning
Updated 12:45 p.m. Saturday
The Minneapolis Public Schools and its teachers union say they've reached a tentative contract agreement to end a strike that's kept more than 30,000 students out of school for more than two weeks. Teachers and staff are expected to return to classrooms on Monday, with school expected to resume Tuesday for students. That's after the union and district agreed to a transition day for teachers and staff.
"These plans are, of course, pending the MFT vote on the contract," the district said in a update to parents. "The discussion yesterday revealed the very real need for teachers, ESPs and principals to have a day to ensure the best possible welcome for students." 
Union leaders described the agreement as "historic" with "wins for our students and the safe and stable schools they deserve." 
Ed Graff, the school system's superintendent, told reporters Friday that while negotiations were difficult the past few weeks, "at the end of the day we were all able to come together." He described it as a fair contract.
Grow the Future of Public Media
MPR News is supported by Members. Gifts from individuals power everything you find here. Make a gift of any amount today to become a Member!
The Minneapolis Federation of Teachers released a statement saying "major gains were made on pay for education support professionals, protections for educators of color, class size caps and mental health supports."
The tentative agreement, which district leaders said came together just before 4 a.m. on Friday, includes wage increases for union members. 
Shaun Laden, president of the education support professionals chapter of the union, said the wage increases will benefit the lowest-paid education support professionals or ESPs whose hourly pay starts at around $15 per hour and $24,000 per year. The new agreement would raise that pay to more than $4 per hour, bringing union members who were in the low $24,000 per year range up to almost $35,000 per year, close to the goal the union set for the contract. ESPs also got increased hours and increased days. 
Wage increases will also go to other ESPs. Laden said the vast majority of ESPs in the district currently make a starting wage of $19.83 per hour. This tentative agreement would raise that to almost $24 per hour.
"We are very pleased with the outcomes of what we've seen," Laden said. "We needed fundamental change in the Minneapolis Public Schools. And that was a big part of what this was about."
Deal reached, ending 3-week teachers' strike
15 of 15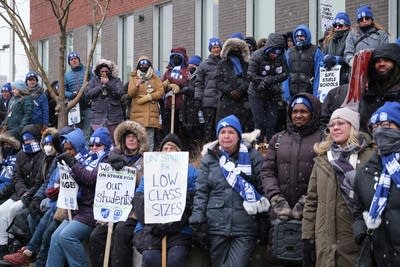 1 of 15
2 of 15
Laden added that the tentative contract also addresses things like seniority-based layoff protection for teachers of color. The licensed teacher population in Minneapolis Public Schools is majority white, and often when layoffs happen, those teachers are protected from losing their jobs by seniority clauses in their contract and educators of color are laid off instead. 
Union leaders said Friday that the new contract also includes agreements that would exempt teachers of color from seniority-based layoffs, which means, when layoffs come, the next senior person not covered by those protections would be laid off. 
There are also seniority and placement rights for associate educators who are majority people of color. Laden said that means about half their unit — hundreds of educators of color — will now have job protections, seniority and placement rights similar to what other licensed teachers in the union currently have.
Mental health supports for students have also been increased. Greta Callahan, president of the teachers chapter of the union, said the new agreement includes double the number of nurses and counselors in elementary schools as well as a social worker in every building. 
Teachers remained on the picket line throughout Friday. The strike will not officially end until members ratify the agreement by vote. The union said its members are expected to vote on the tentative contracts over the weekend.
Hodan Hassan, mother to five children, has worked as an education support professional for the district for six years. She said her wages were so low that she had to take a second job to get by. But the strike, during which she and other striking teachers received no pay, has been difficult for both her and the students and families she's been in touch with. 
"My anxiety was like, how am I going to be able to take care of my kids?" Hassan said.
"(It's been) a lot of anxiety, stress. I was worried about my students. My students were calling me … right now they're saying 'Oh, we want to go back to class.'"
For Lucy Nevels, a second grade teacher who joined the profession after working as a flight attendant, the new agreement would make a big financial difference.
"For me, it will bring me hopefully out of poverty level," said Nevels "I don't even make $50,000 as a five-year teacher. So right away this is going to be a huge jump for me because it'll bring me above $50,000 to hopefully a living wage for my daughter and I."
Union representatives said they would have more information about the tentative agreement as well as a return to classrooms in coming hours and days.
Discussions are underway about how to make up the 14 missed school days during the strike.
Tentatively, the district and union have agreed make Friday April 1 a school day for students. Beginning on April 11, 42 minutes would be added for the remainder of the school year. And the end of the school year would be extended to June 24, according to the district update.
The strike — the first by Minneapolis teachers since 1970 — started March 8, with educators pushing for higher wages and limits on class sizes, among other demands. The district had long maintained it could not afford to meet those demands.
Earlier this week, the two sides had continued to appear far apart — with the district saying it had released "last, best and final" offers, and the union accusing the district of walking away from negotiations.
But both sides had indicated Thursday that there had been significant progress toward a compromise — with the deal then announced early Friday.
Watch Minneapolis Public Schools officials speak on the agreement:
Watch Minneapolis Federation of Teachers leaders speak on the tentative deal: