Brighter by Sunday after showery weekend start; tropical trouble brewing
Historic Fiona and likely Hurricane Hermine may deliver damaging blows
"It's been a great summer."
It seems like I utter that brief sentence at least once this time of year. It both honors the beautiful, warm season we savor in Minnesota and concedes that the cold season is descending upon us once again.
We earn our summers in Minnesota. With an average annual temperature of around 45 degrees, Minnesota is a challenging climate to live in. There are many warmer places to call home. But few are more beautiful.
Our first weekend of astronomical fall brings Octoberish chill levels. Friday's temperature map shows chilly 50s hovering across Minnesota.
Occasional scattered rain showers and a possible thunderclap peak in coverage Friday evening. Spotty showers will linger into Saturday.
The National Oceanic and Atmospheric Administration's NAM 3 km model shows the showery trend lines. The loop at the top of this post runs between 5 p.m. Friday and 7 p.m. Saturday.
Sunny, windy Sunday
Late September sunshine returns to most of Minnesota Sunday. That will help boost temperatures to near 70 degrees in the Twin Cities and southern Minnesota Sunday afternoon. But a brisk northwest wind will remind us that the season is changing.
MPR News is Reader Funded
Before you keep reading, take a moment to donate to MPR News. Your financial support ensures that factual and trusted news and context remain accessible to all.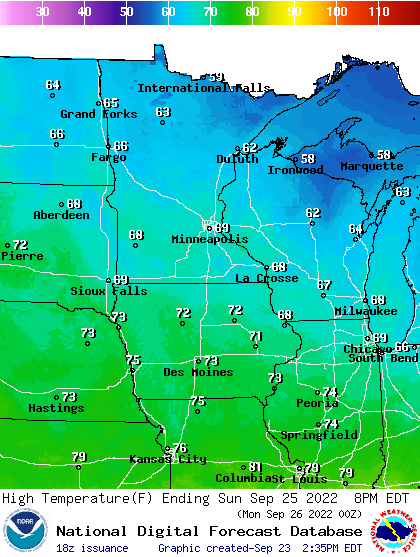 Next week brings a fall-like weather pattern with abundant sunshine and highs mostly in the 60s south with some 50s north. There are signs of another milder air mass by next Friday, with temperatures rising into the 70s once again for southern and western Minnesota.
Big tropical trouble ahead
There are two major hurricane threats that look likely to make landfall in the next week. The first is Hurricane Fiona which has already delivered devastating blows to Puerto Rico and other islands.
A warm bubble of water in the northwest Atlantic will keep fueling Fiona as it accelerates into the Canadian maritime provinces Saturday. Fiona is still a major hurricane with 130 mph winds Friday afternoon. Many hurricane experts are saying it could bring record low pressures, winds, and surge to the Canadian Maritime Provinces as it races ashore Saturday.
Hurricane Hermine ahead?
A potential major hurricane threat is growing likely now for the southeast United States next week. Tropical Depression Nine is forecast to become Hurricane Hermine by Monday just south of western Cuba.
The bulk of hurricane forecast models build Hermine into a major hurricane by the middle of next week. The most likely storm tracks favor the west coast of Florida sometime around next Wednesday.
Storm track and intensity forecasts can and will likely change in the coming days. But the theme of a potentially major hurricane with massive storms surge and wind damage somewhere along or near Florida's west coast next week is looking more likely by the day.
Stay tuned.