We tried it: Non-alcoholic bottle shop Marigold opens in south Minneapolis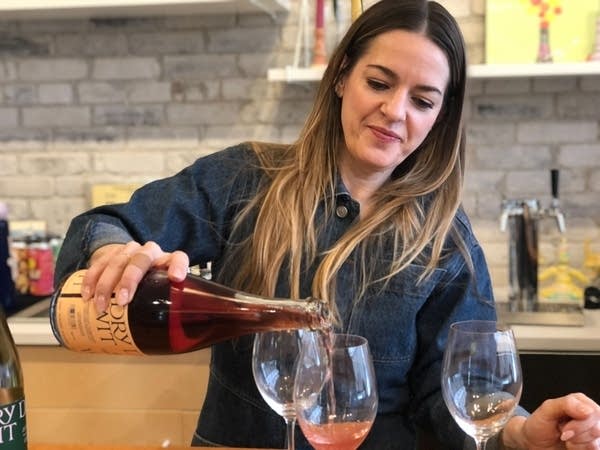 Enter scene: Oranges, pinks, greens and yellows surround you. Think 1970s meets ice cream parlor, in the best way.
You're standing in Erin Flavin's newest creation, full of creations on its own, called Marigold. It's a new non-alcoholic bottle shop off Nicollet Avenue and West 36th Street in south Minneapolis, connected to Flavin's Honeycomb Salon next door.
She welcomed MPR News host and newscaster Emily Bright, who got to see — and taste — what Marigold is all about.
This interview has been lightly edited for clarity. To hear the full conversation, click the audio player above.
Grow the Future of Public Media
MPR News is supported by Members. Gifts from individuals power everything you find here. Make a gift of any amount today to become a Member!
You opened in November. Tell me about your store, and your story.
Through a very puzzling process, I purchased this building and expanded my business. And I decided that I could not be drinking while trying to do this huge thing in my life, and the pandemic really showed what my focus was. And drinking was one of the main focuses.
So I guess that's what spawned the whole idea of opening a non-alcoholic bottle shop. Well, we counted liquor stores as a central business.
What kind of response have you seen after opening the store?
It feels so good, like everybody's got a story. There are people who have been sober for so many years and there just hasn't ever really been anything like this for them, where they can feel included rather than feel like a pariah for having a problem with alcohol.
And a lot of people have some very good self control when it comes to moderation. I unfortunately, am not one of those people. And I have a lot of people in my life that have the same issue and you know, just being able to have something to take a break and kind of discover where they're at with alcohol is so helpful.
And there are so many cool makers out there who are making very wonderful drinks in the non-alcoholic beverage category.
To you, what makes a good non-alcoholic adult beverage?
I want something that's going to excite my palate. I want to enjoy something with a meal.
…In a pretty glass, too.
A pretty glass is most important in all of this.
Could we try something?
Do you want to be the first to try some Dry Wit? It came out last week and it is so lovely.
That's good. It's light and dry and it's got kind of a sourness to it. Which is really nice.
The way it is described is a peppery ripe fruit, lingering dry finish with persistent familiarity. Serve chilled in stemware.
That is a legit description. Looking at this Dry Wit, what are the ingredients?
Bay tea (water and bay leaves), verjuice (which is a grape), cherry juice, apple cider vinegar and salt. Absolutely zero percent alcohol, but like you tasted, they're interesting and adult. You want to drink that with a meal — it would be so lovely.
Marigold is located at 3506 Nicollet Ave., and is open noon to 6 p.m. Monday through Saturday.
A previous version of this article misspelled Erin Flavin's name. The current version is correct.