Fourth of July chaos in Minneapolis parks ends in arrests, injuries
Updated: 11:13 p.m.
Authorities in Minneapolis arrested more than a dozen people, including a teenager that fired a fireworks barrage at a Minneapolis police car, during a night of chaos wrapping up the Fourth of July.
Minneapolis and park police arrested at least 16 people, almost all of them minors, after a night that police termed a riot at one point. 
Minneapolis police chief Brian O'Hara said officers came under repeated fire from Roman candles and other aerial fireworks among throngs of gawkers. 
"There were definitely instances of very dangerous behavior, very egregious behavior and it is very frustrating, because it is increasingly challenging to deal with," O'Hara said at a Wednesday afternoon news conference.  
Grow the Future of Public Media
MPR News is supported by Members. Gifts from individuals power everything you find here. Make a gift of any amount today to become a Member!
O'Hara said his agency had staffed up throughout the weekend, preparing for a repeat of the fireworks battles and chaos that broke out in the Mill District last July. The disturbances spread to parks across the city this year. 
"There were some folks shooting off fireworks and aiming them, unfortunately at both the public and our police officers and our squad cars and in a couple of locations," said Minneapolis Park and Recreation Board spokesperson Dawn Sommers. 
Minneapolis Park Police say the initial disturbance was at Boom Island Park. About 11:30 Tuesday night, police responded to reports of a crowd of teens and young adults shooting fireworks from the Plymouth Avenue bridge and targeting people and police officers with aerial fireworks. A 17-year-old was arrested for shooting fireworks at a police squad vehicle, watched thousands of times online in a social media post. 
Another teen was seriously injured when fireworks he was lighting exploded in front of him. His family said he required two surgeries to treat the wounds from the explosion. O'Hara said the 17-year-old was injured by his own explosive.
About an hour later, police responded to another crowd at Bde Maka Ska, in what police described as a "riot." Videos on social media showed people milling around the lake shore, shooting fireworks at people in the area and in the surrounding neighborhood. 
Police also reported two gunshot victims early this morning, at Columbia Park and in Harrison Park.  
Authorities also arrested four people and recovered a gun after finding commercial fireworks being launched from a vehicle at Minnehaha Falls Regional Park.
Around 2 a.m. Wednesday morning, police responded to a report of gunshots at Lake Nokomis Park. Officers said people were launching fireworks and there were around 100 vehicles at the beach parking lot.
Officers stopped a vehicle they say was driving recklessly from the scene. They found fireworks in the vehicle and cited the 20-year-old driver for multiple offenses, police said in a statement.
It was the second year of Independence Day disturbances in the city. Last year, crowds raced through the streets in the Mill District, shooting fireworks at nearby buildings and passersby. Seven people were also shot and wounded in 2022 as fireworks were being set off for the Fourth of July on Boom Island. 
O'Hara said gunfire had subsided somewhat since last year, but gun violence remains a very serious problem. 
"There were 12 shooting victims through the Fourth of July weekend in Minneapolis. But this is compared to 25 during the same period last year," O'Hara said.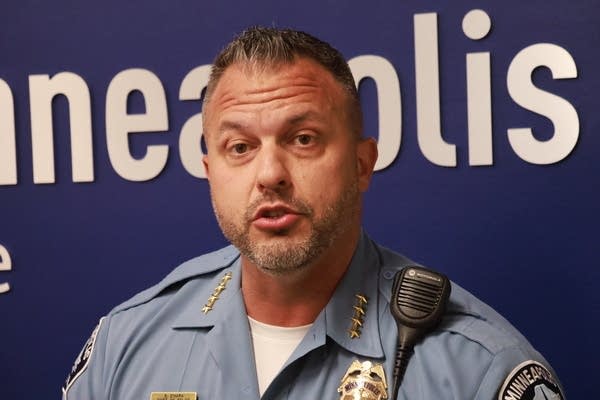 He also noted that police had used 40-millimeter crowd control weapons, so-called less-lethal munitions, in response to fireworks being fired at them and that they believe at least one person was struck by one of the rounds but left before police could identify them. 
Minneapolis officials shut down the Stone Arch Bridge this year to try to control movement around the city's riverfront. The city moved its holiday display to Monday evening; instead of fireworks, it featured a laser light show on Boom Island. 
Sommers said the evening had been mostly uneventful until the chaos erupted late Tuesday night and early Wednesday morning. 
Police in St. Paul said they responded to more than 130 fireworks calls during the holiday and the next morning but said they did not face the large crowds or disruptions reported in Minneapolis.
Police in Orono, Minn., said they were called to a private marina on Browns Bay early Wednesday morning and found five boats burning. Hennepin County Sheriff major Pat Enderlein said surveillance video showed a group of people setting off fireworks on the dock and a fire starting soon after. An 18-year-old was arrested for criminal damage to property.