Best Buy workers weigh company's ruin or revival
Best Buy, the nation's largest consumer electronics retailer, is in the midst of a dramatic upheaval. Its sales are sagging and its business model is under siege from online and bricks-and-mortar rivals with lower prices. Both the CEO and founder resigned recently after a scandal, and it could be the end of the year before a new leader is in place.
Best Buy employees continue working amid layoffs, store closings, uncertainty about the company's future leadership and a steady flow of negative news. Some Best Buy employees who spoke to MPR News are still confident in the company's future, while others are planning their exit strategy.
Five current and eight former employees from Best Buy's headquarters were willing to express their views. Most current employees would only speak on the condition that they not be identified by name, owing to company policies prohibiting them from discussing the company with the media.
Though the workers represent a small fraction of Best Buy's some 5,000 employees at the Richfield headquarters, some clear themes emerged from the conversations with them, as well as with executive recruiters and industry analysts.
Grow the Future of Public Media
MPR News is supported by Members. Gifts from individuals power everything you find here. Make a gift of any amount today to become a Member!
Some Best Buy employees worry that absent strong stewardship, their company will disappear, like its one-time archrival, Circuit City. Others are confident the company can once again survive a crisis and thrive.
Best Buy is still the nation's leading consumer electronics retailer, with some $50 billion in annual sales. And it's profitable, generating lots of cash.
But Best Buy faces relentless competition from Walmart, Amazon.com and other rivals intent on grabbing bigger shares of the consumer electronics market. Consumers are buying more and more electronic gizmos online, where they can easily compare prices -- and avoid sales taxes.
EXIT STRATEGIES
All this makes some employees pessimistic about their own and the company's future.
"It's not like there is a mass exodus of people," said a BestBuy.com worker. "It's not like 50 people are leaving every day. But would you say the stronger people have already left? Maybe."
In recent months, the company lost several top leaders in addition to CEO Brian Dunn -- founder and board chairman Richard Schulze; chief technology officer and Geek Squad founder Robert Stephens; and chief marketing officer Barry Judge.
Clearly, other Best Buy employees are ramping up their career networking.
Within the past three months, nearly 1,800 have joined LinkedIn, the employment-oriented social networking website. That's more new LinkedIn members just from Best Buy than from Cargill, 3M, General Mills, Medtronic and St. Jude Medical combined.
"There are a lot of people trying to peer into the crystal ball and try to figure out what is the next right move for their careers, and is it with Best Buy or isn't it," said Flora Delaney, a retail consultant and former Best Buy executive.
Delaney established and administers the 6,000-plus-member Best Buy alumni page on LinkedIn.
"Best Buy has always been telling its people, 'We're No. 1. We're the biggest in the market. We're the best. We'll have fun,'" she said. "Now, people are very concerned and saying, 'This is the first time I'm starting to realize we probably don't have a rosy future and this is going to maybe get worse before it gets better.' And that's hard for them to deal with."
Some Twin Cities corporate recruiters report an uptick in Best Buy headquarters employees seeking jobs outside the company.
"We've been contacted by a number of Best Buy execs," said Teresa Daly, co-founder and managing partner of Navigate Forward, a Minneapolis firm that helps executives find new jobs.
"This is common. They realize pretty quickly whether they're part of the new in-group or the new out-group," Daly said. "For many of them, rather than wait -- because they're bright people and worried about their careers -- they start to look around."
WORKERS QUESTION BEST BUY'S DIRECTION
Leadership is one of the concerns among the more pessimistic employees.
The BestBuy.com worker laments that the retailers' leaders have not spelled out a convincing path to success.
"There's a segment of employees who feel there are serious, serious fundamental challenges to the business," he said. "And leadership doesn't get it. They maybe understand the gravity of what's going on, but don't have a sound strategy in place to go after it."
He said higher-ups often rely too much on their past achievements -- they know how to open stores and put merchandise on the shelves. But that's not what's needed in today's retail environment.
"They're like: 'I've been in this business 15 years. I saw that no matter what we put in the store, we'd sell a million of it. It's like, I know how to do this thing really well and it's worked,'" said the employee.
He added executives also focus on issues that are not crucial to Best Buy's competitiveness or survival. For instance, he argues Best Buy has exaggerated the advantage enjoyed by online retailers that don't collect sales taxes.
"That's not the problem," he said. "That's not why Amazon is stealing share from us. It's not because of the tax laws. It's because they provide a better experience. When you shop Amazon, it's just better. And so when you see an e-mail from leadership celebrating the tax thing, that means they don't get it."
A former district sales manager said Best Buy faces a huge challenge in figuring out what it can sell competitively.
"The scary thing about the big-box, 45,000-square-foot stores is they don't have merchandise to fill them," he said. "CDs and DVDS ... that market is dying quickly. In areas like appliances, they [Best Buy stores] have competitors -- Sears, Home Depot and Lowe's -- that are stronger. Cell phones? You've got multiple vendors in every shopping mall."
MANAGEMENT MELTDOWN
Employees do not seem chagrined by the departure of former chief executive Brian Dunn.
He resigned in April, as the Best Buy board investigated what it later determined to be an inappropriate relationship Dunn had with a much younger female subordinate.
Board chairman and company founder Dick Schulze stepped down after directors learned Schulze had confronted Dunn about his relationship with the employee -- but failed to disclose Dunn's misconduct to the board.
A Best Buy employee who deals with the company's customer call centers said he respected Dunn as a motivator and leader of people.
"But I always thought there would be trouble with him as a CEO, because he didn't have that [former CEO] Brad Anderson personality," he said. "Brad was more forward thinking. He was able to visualize better what Best Buy could become. Brian was more of a rally-the-troops type person."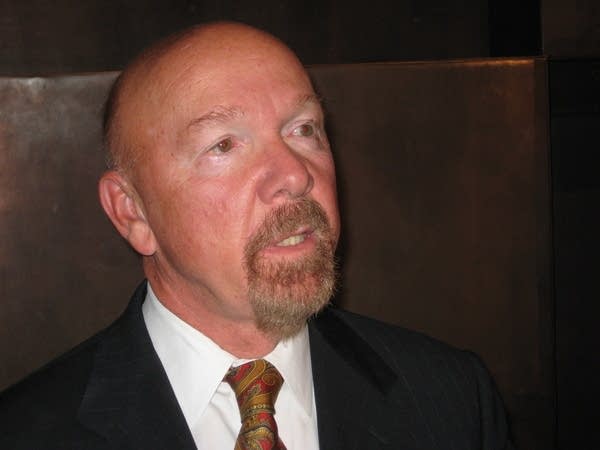 To be sure, some employees -- and a number of Wall Street analysts -- thought Dunn was not strong in the CEO role.
A mid-level manager at the Richfield headquarters said Dunn and other executives were in denial about the company's troubles.
"They'd say, 'Everything is fine. Everything is fine. We're still No. 1 in the world in electronics.' There's been a lot of that talk," he said. "But they reacted very slowly. That was where his [Dunn's] failing was ... not recognizing soon enough that he had to redefine the company to succeed in the future."
Mike Mikan, the interim CEO, is a former executive vice president at UnitedHealth Group and Best Buy board member since 2008, and a candidate for the permanent job. Mikan's lack of a retail background is a serious shortcoming in some employees' eyes.
"If they don't pick someone [as CEO] who has a tech background, that's really bad," said the BestBuy.com worker. "That would be horrible. I don't know if I can convey how horrible I would feel if that happened."
SCHULZE'S HAND
Meanwhile, founder Richard Schulze is contemplating what to do with his huge 20 percent stake in the company. He is not saying what is on his mind. But one possibility is to lead a leveraged buyout that would take Best Buy private, saddle it with great debt and almost certainly lead to widespread store closings and cost-cutting.
Still, some employees believe Best Buy would perform better as a private company, free to do long-range planning and avoid the pressure from Wall Street and its obsession with quarterly profits.
Chad Bell, who was laid off from his job as senior director of new business this spring, said he has long thought Schulze would take Best Buy private.
"That was one of the great conversations we had in bars: 'Why isn't this place going private?'" said Bell. "Frankly, it might even help morale. It's hard for an employee to read, 'Hey, your company is going out of business' for months and months and months, even if you don't agree with it."
STEPS IN THE RIGHT DIRECTION
Even as some workers worry about Best Buy's strategy for the future, there also are Best Buy employees who are unfazed by the recent turmoil at the company. There's even cautious optimism that fresh thinking and leadership could get Best Buy rolling again.
Mikan, the interim CEO, is winning the confidence of some employees.
"Mike Mikan has done a fantastic job of coming in and saying, 'Hey, here's what I'm hired to do right now, and here's the direction you're going in, and hey, keep moving in that direction.' He just told us to continue to do our work," said the Best Buy worker who deals with call centers.
Mikan has won over some employees, who think he's been a good leader for Best Buy, despite his lack of retail experience.
"I personally knew and liked Brian Dunn, but I have to say the leadership we have now -- Mikan and Stephen Gillett -- is a breath of fresh air," said the mid-level manager at the corporate headquarters. "They're bringing in nonretail ways of doing retail, and that's what we need. There [were] a lot of ... sacred cows here and now there aren't."
Mikan took over as interim chief executive in April. Gillett, who was Starbucks' chief information officer, joined Best Buy in March and is charged with accelerating its e-commerce businesses.
The manager adds that the company is redefining its story as a retailer.
"The people who can see that are now here," he said. "They weren't here six months ago."
HOLD ON AND MAYBE EVEN MOVE UP
Lars Leafblad of KeyStone Search, an executive search firm, said some Best Buy employees may see the CEO transition as a chance to move up the corporate ladder as things get shaken up.
"There are folks who are seeing this as a moment of opportunity for themselves within Best Buy," he said. "With departures or people being recruited out, they see a chance to expand their portfolios and take on new roles and responsibilities."
Indeed, some Best Buy employees are benefiting already. MPR spoke with one employee who was recently promoted to a management position. He's feeling very optimistic about the company.
"We have a clean slate," he said. "The potential is there for us to really redefine the company in a very different way. It's going to be tough, but it's going to happen."
Chad Bell, the former senior director of new business at Best Buy, said some of his friends at the company are looking to leave, but most aren't.
"The majority of the people I've talked to want to stay and fight and make the company better," he said. "There is a reason for optimism. They feel like the changes are good and see how things can get better. So, I would actually say there's more ... optimism than pessimism."
Bell said Best Buy is a tough place to leave. The reasons range from the company's results-oriented work environment -- which lets employees determine when, where and how they get their work done -- to Best Buy's Richfield corporate headquarters, which offers 5,000 employees the amenities of a small town. It has everything from on-site daycare and a dry cleaner to a Caribou Coffee shop and a bank.
"The products are fun," Bell said. "The campus has a cool vibe to it. More than anything, people seem to like it and have fun there. You might not find a culture like that at another place."
TURBULENT TIMES/DEJA VU
When employees join Best Buy, they're told about its early struggle to overcome adversity.
In 1981, a tornado nearly put "Sound of Music," Best Buy's predecessor, out of business, leveling a store in Roseville.
But in what has now become a defining legend at Best Buy, founder Dick Schulze figured out how to capitalize on the storm, turning it into an opportunity for a tornado sale or "best buy," where shoppers could snatch up discounted merchandise.
For some workers at Best Buy, the tornado sale story still resonates today, at a time when the consumer electronics giant faces major competitive threats and uncertainty about its leadership. Others dismiss it as corporate Kool-Aid.
"You get told the story of the tornado sale the first day of new-hire orientation and it is repeated often," said one data support employee. "And each time it is compared to another challenge that everybody said would be the end of Best Buy and how we overcame that one, too."
The worker said there are enough Best Buy employees "who really believe this myth, and if there is any group that can see the company through this newest challenge from the trenches, it is these folks."
The Best Buy board says it'll be five to eight months before it picks a permanent CEO.
But according to the call center worker, regardless of who's in the top job, there are legions of employees who know what they're doing and can keep the company going in the interim.
"As a retail company, we work from holiday to holiday -- from Christmas to Christmas," he said. "I don't think anyone is going to come in and turn things over before this next holiday. So our direction is very clear -- how do we win for December 2012."
Still, analysts say the company and its workforce must be leaner -- and its merchandise mix, store count and layouts transformed -- to reflect the realities of retail and technology today.
The question for Best Buy's employees is how many of them will be part of the company's transformation -- or casualties of it.
Gallery
1 of 1