Hey Minnesota, here's our Super Bowl preview. If you want it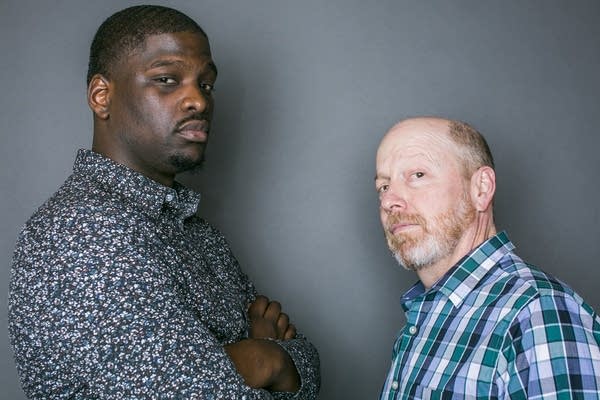 Meh.
With the Vikings tanking last Sunday in Philadelphia, our enthusiasm for anything football-related has, uh, deflated.
But since Super Bowl LII happens down the road Feb. 4 in Minneapolis, and billions of people will watch it, we decided to stop thinking for a minute about how cool it would have been for the Vikings to play in the NFL's championship game to focus on what happened to the Vikes and what to watch for in Patriots-Eagles Super Bowl. (Yeah, we know, but keep reading.)
Jeffrey Bissoy-Mattis
There was no fight left in the Minnesota Vikings Sunday night at Lincoln Financial Stadium. In a one-sided affair, the Philadelphia Eagles dismantled the Vikings 38-7, wiping away any hopes of playing at U.S. Bank Stadium for the Super Bowl.
The Vikings looked like they had logged too many minutes ahead of this match, or perhaps that they were still high from last weekend's victory against the Saints.
Either way, the Eagles took advantage scoring 38 straight points on the NFL's No. 1 ranked defense. The last team to score that many consecutive points in a conference championship was the New York Giants in 2001 against — wait for it — the Minnesota Vikings.
On the game's opening drive, quarterback Case Keenum connected with tight end Kyle Rudolph to put the Vikings up by 7. It was a sharp drive, which had the Vikings brimming with confidence. In their next offensive possession, Keenum threw an interception that the Eagles ran back for a touchdown. The Eagles took firm control of the game after that and never looked back.
The Eagles dazzled with a creative run-and-pass offense. They got good protection for quarterback Nick Foles, who looked like an MVP candidate, completing 26 of 33 passes for 352 yards and three touchdowns. The Eagles also got support from a motivated defense that overpowered the Vikings offensive line and took the Vikings receiving corps out of the game.
Credit Philly. That team did its homework. While the Eagles plan for the Super Bowl, the Vikings start looking at next season. Vikings general manager Rick Spielman and head coach Mike Zimmer must find a new offensive coordinator, start scouting for the NFL draft, free agency, and decide upon a starting quarterback for next season.
Eagles and Patriots
It's a rematch of teams from Super Bowl XXXIX in 2005, when Tom Brady's Patriots beat the Eagles 24-21. Thirteen years later, it's backup quarterback Nick Foles Eagles' looking to accomplish what their predecessors could not: take down Brady and win Philadelphia's first NFL championship since 1958.
It won't be easy, however, as Brady continues to display his abilities and his legendary will to win. In this year's AFC championship, down 17-10 against the Jacksonville Jaguars, Brady completed a comeback in the waning minutes of the game.
The 40-year-old Brady has aged well, saving his best for the playoffs and driving the team to win despite an injury to star tight end Rob Gronkowski and the ongoing drama within the Patriots organization.
In his fifteenth season, Brady still has a lot on the line. If he wins this year's Super Bowl, he'll have six championship rings, two more than his closest quarterback competitors, Hall of Famers Terry Bradshaw and Joe Montana.
Fearless prediction
The Patriots prevail in the final moments of Super Bowl LII. Deflategate or not — I've never been one to doubt Tom Brady's greatness. Patriots top Eagles on Feb.4, 20-16.
Phil Picardi
The winner of the Super Bowl gets the Vince Lombardi Trophy. It's a seven-pound sterling silver football sitting atop a three-sided pedestal, and it's etched with Lombardi's name. Lombardi, of course, was the legendary Green Bay Packers coach who won the first Super Bowl and set the NFL standard for excellence.
Now, 51 years after Lombardi's first Super Bowl victory, the league should probably rename the prize the Lombardi-Belichick Trophy. Since 2001 it's been raised by New England Patriots Head Coach Bill Belichick more than any other coach, and it's covered by the fingerprint smudges of his QB, Tom Brady. Belichick and Brady aspire to hold it aloft for a sixth time in less than two weeks after the Super Bowl in Minneapolis.
Lombardi's Packers won five NFL championships in the 1960s including 1967, the first time the championship was called the Super Bowl. Chuck Knoll's Pittsburgh Steelers won four Super Bowls in the '70s and 1980. Bill Walsh won three with the 49ers in the '80s and the Patriots under Belichick have won five Lombardi trophies in the oughts and teens.
Brady has been the starting quarterback of the Patriots for 16 seasons. He has played in the Super Bowl an astonishing seven times (winning 5, losing 2). That means for nearly half of his long career, Brady has finished a season in the Super Bowl.
Football fans across the nation certainly admire the success of Belichick, Brady and the Patriots. Fans marvel at how the team constantly retools and rebuilds with casts of relatively unknown players, aside from Brady, and still competes at a high level.
However, outside of the greater Boston area (excluding New England expats), it may be difficult to find someone rooting for the red, silver and blue. Ask them why and they cite Patriots fatigue. Belichik and Brady win too much. It's tiresome.
This is where the Philadelphia Eagles come in. The Eagles lost to the Patriots in the 2005 Super Bowl. Belichick and Brady led the Patriots in that game, Brady threw two touchdown passes in a 24-21 win.
But things have changed dramatically for the Eagles since then. They have new coaches and different players. This Eagles team is led by backup, journeyman quarterback Nick Foles. Last Sunday, he showed the Vikings there's still a lot of zip in his right arm.
Foles threw for over 350 yards and three touchdowns as the Eagles beat the Vikings to advance to the Super Bowl. This Eagles team has a former Patriots running back, LeGarrette Blount, who breaks tackles and could be bent on revenge. This Eagles team has big, fast receivers and a lockdown defense. This team's coaching tandem of Doug Pederson and Jim Schwartz outcoached Vikings coaches Mike Zimmer and Pat Shurmer.
The Eagles can win this game. They have a better offensive line and defensive front seven, and controlling the line of scrimmage is always a vital part of winning a championship. However, the Patriots have Belichick and Brady, who can never be counted out. Belichick is New England's hooded Emperor Palpatine.
Fearless prediction
If Nick Foles plays as well as he played last week, the Eagles will fly to a 27-26 win and prevent Brady and Belichick from hoisting the Lombardi Trophy for a sixth time.
As the impish Disney character appropriately named Panic says: "If...if is good!"
Jeffrey Bissoy-Mattis is an assistant producer for MPR News and was a research fellow for APM Reports. Phil Picardi is a newscaster for MPR News who admits to watching too much football. But, yeah, he was right about the Eagles winning.
Your support matters.
You make MPR News possible. Individual donations are behind the clarity in coverage from our reporters across the state, stories that connect us, and conversations that provide perspectives. Help ensure MPR remains a resource that brings Minnesotans together.