Noor sentenced to 12 1/2 years in death of 911 caller Justine Ruszczyk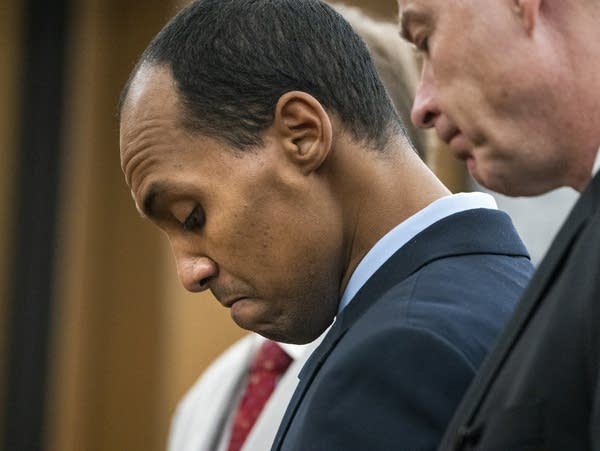 Updated: 2:37 p.m. | Posted: 12:01 a.m.
Former Minneapolis police officer Mohamed Noor was sentenced Friday to 12 1/2 years in prison in the shooting death of 911 caller Justine Ruszczyk.
"The law does not allow lenience because someone is a good person," Hennepin County District Judge Kathryn Quaintance told Noor as she handed down the sentence.
Grow the Future of Public Media
MPR News is supported by Members. Gifts from individuals power everything you find here. Make a gift of any amount today to become a Member!
Her decision followed tearful statements from Ruszczyk's loved ones, including her fiance, Don Damond.
"How can I provide the court the impact of a lost future and what would have potentially been 30 or 40 years filled with love, with family, with joy, with laughter?" he asked. "I cannot, except to say: The day of July 15, 2017, was the last time I felt happiness, a sense of trust and that everything could be OK."
Representatives also read statements from Ruszczyk's father, brother and sister-in-law, who live in Australia.
"I will never be whole," wrote her father, John Ruszczyk. "I ask that this convicted murderer be given the maximum sentence for the crime of killing my daughter."
Following the statements, the court watched a video Ruszczyk's family put together that included memories from friends about her life, such as how she loved animals. A video of Ruszczyk rescuing a group of ducklings near her home surfaced after her death.
Prosecutors had recommended the 12 1/2-year prison sentence, saying Noor is an experienced adult with full police training.
But Noor's defense attorneys asked the judge to give him probation, provide for meetings between Noor and Ruszczyk's loved ones, and for Noor to turn himself in at the workhouse for a week on the dates of Ruszczyk's birth and her death every year for as long as he's on probation.
"A prison sentence only punishes Mr. Noor for a culture that he didn't create and, by all accounts, a culture that he would have liked to see change himself," defense attorney Thomas Plunkett said. "What really caused this (tragedy) is the fear that continues to permeate our society. The police are afraid of the people, the people are afraid of the police."
Noor apologized to Ruszczyk's family and told the judge he didn't want to be absent from his son's life.
"I worked to be good at my job and bring people together. I hoped to make individual lives better. That was my hope," Noor told the court. "Taking a life so tragically goes against all of that. I caused this tragedy and it is my burden."
In a statement issued after Friday's hearing, Plunkett and another of Noor's attorneys, Peter Wold, said "the tragedy surrounding this case has only deepened.
"We have concerns with the process that will need to be addressed. We are not done fighting for Mohamed Noor."
Noor has 90 days from Friday's sentencing to appeal the verdict. He is the only law enforcement officer ever convicted of murder in Minnesota for an on-duty incident.
Noor fatally shot Ruszczyk, also known as Justine Damond, in July 2017 after she called 911 to report what she thought was a possible sexual assault happening in the alley behind her south Minneapolis home.
A jury in April found Noor, 33, guilty of third-degree murder and second-degree manslaughter. His monthlong trial included testimony from dozens of police officers and investigators.
Noor will serve his sentence at the Minnesota Correctional Facility at St. Cloud, according to the sentencing order.
Prior to sentencing, the defense had filed 44 letters of support for Noor, who was the first Somali-American cop hired at the city's 5th precinct. The letters, written by family, friends and members of the community, attested to Noor's character and contributions to the Somali community in an effort to persuade the judge to impose a lighter sentence than what the guidelines recommend.
Members of the Muslim community came to the Hennepin courthouse Friday holding signs that expressed their frustration with the case. They say Noor was scapegoated and that he wasn't given the same protections as other police officers.
Muna Abdirahman came wearing a t-shirt that said "wrong complexion for blue protection." She said she was glad Ruszczyk, who was white, got justice and accountability that no other Minnesota victim received.
"We're not against justice, we're advocates and proponents of justice, but not selective justice. We want accountability for all victims. If Noor is committed, if Noor has to serve time, then all other police officers who take the lives of innocent victims need to as well."
On the eve of his sentencing, hundreds of Noor's supporters gathered Thursday night outside the Hennepin County Government Center to show their support for the former officer. Among them was Noor's father, Mohamed Abass, who said he was hoping the judge would deliver a fair sentence.
"My son needs justice," Abass said. "The Hennepin County Attorney's office charges were unfair."
Nationally, only three other police officers have been convicted of murder for an on-duty death, said Phil Stinson, a criminologist at Bowling Green State University in Ohio who's tracked the data since 2005. The average sentence for those murder convictions is 12 1/2 years in prison — the same as Noor's sentence on Friday.
The only times police officers who were convicted in an on-duty death have received no prison time were for manslaughter cases where the officer shot someone and the bullet ricochet killed someone else, according to Stinson.
Since 2005, 104 police officers were charged in on-duty killings nationwide. And of those, 36 have been convicted of a crime, Stinson added, so it's a small sample of cases to begin. He said the sentences for those cases ranged from no incarceration on the low end to 40 years in prison on the high end.
Jason Van Dyke, who was convicted of murder for shooting Laquan McDonald in Chicago was sentenced to about seven years.
In Colorado, James Ashby received a 16-year sentence for killing Jack Jacquez after a confrontation in 2014.
Roy Oliver, of Texas, was the officer who shot 15-year-old Jordan Edwards as he rode in a car after a party. He was sentenced to 15 years.
Elizabeth Dunbar, Martin Moylan, Simone Cazares and Cody Nelson of MPR News contributed to this report.